This content was published: November 11, 2019. Phone numbers, email addresses, and other information may have changed.
Students set designs on helping low-income homeowners with city permit issues
Story by Taylor To. Photos by James Hill.
Portland Community College's Architectural Design and Drafting Program students are meeting a crucial need for disadvantaged homeowners in the City of Portland.
These residents are typically low income and many are non-native English speakers or are disabled. All of them need help meeting the city's building codes and obtaining permits for remodeling projects on their properties. 
Last spring, with assistance from the City of Portland, a dozen students from instructor Denise Roy's class, "Intro to Residential Building Codes," participated in the Portland Permit Solutions Program. Ami Fitzgerald, a program coordinator with the city's Bureau of Development Services, reached out to Roy and proposed the idea. PCC piqued Fitzgerald's interest because of the strong connection between the college and the City of Portland.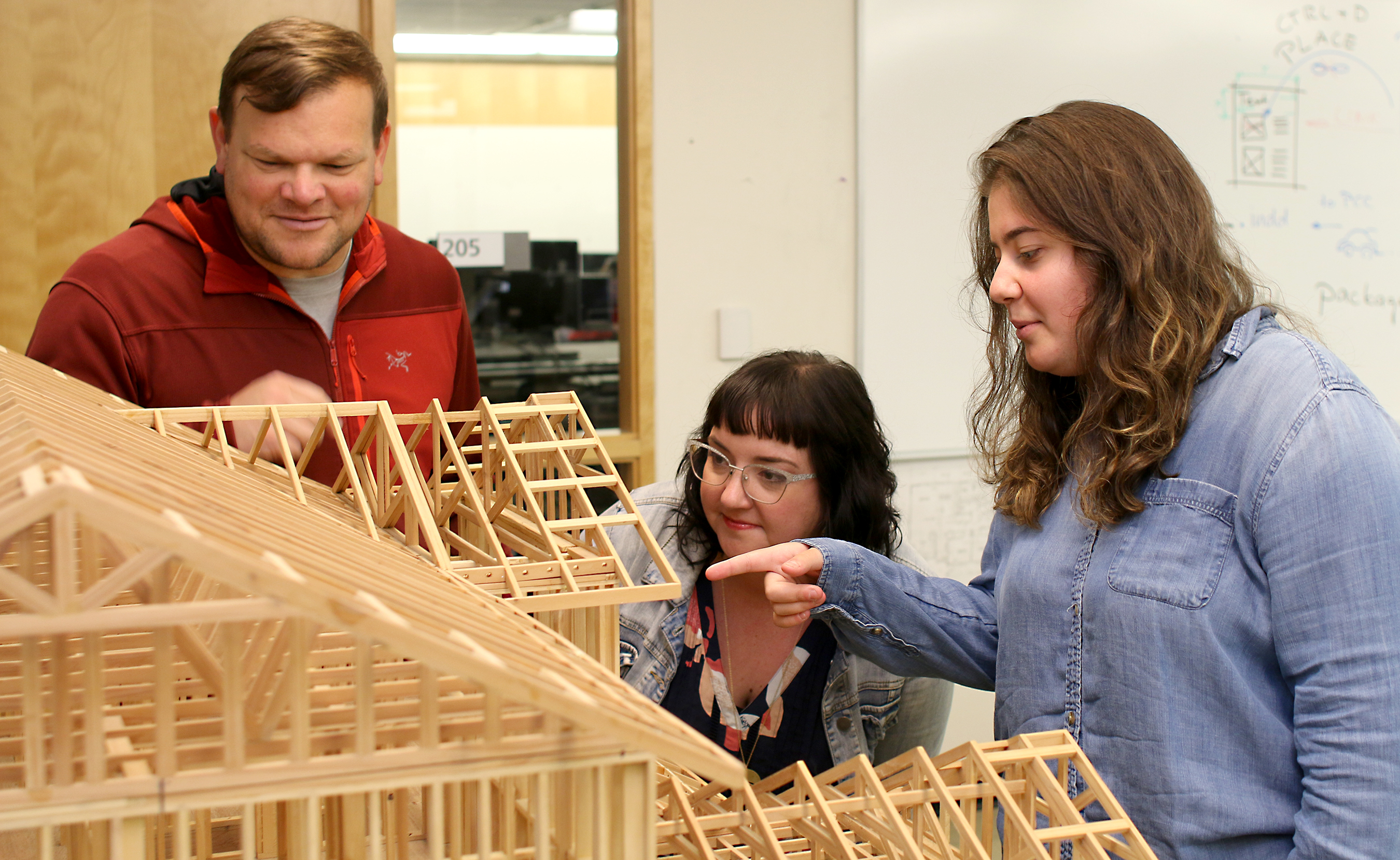 Architectural Design and Drafting
Students are not only taught drafting and design fundamentals, but also how to apply problem-solving skills to residential and commercial buildings using architectural history as a guide.
The program provides the fundamental building blocks necessary to begin a career as a residential designer/architectural drafter.
"The city is full of planners, architects, and inspectors who all came from PCC programs," she explained.
The problem for Fitzgerald was clear. The city had a number of cases where homeowners had modified their homes or properties, unaware that a building permit was required. The homeowners were unable to obtain the required drawings due to financial, language or disability barriers. Enter the Portland Permit Solutions Program, which is an equity program designed to serve clients of color and those with disabilities. Homeowners who have limited or low incomes were matched to PCC students to assist them in the permit process.
As part of the project, Roy's students would visit a homeowner's property with a permit inspector. They would measure the spaces and create architectural drawings. They eventually met with the homeowner at the Permit Center downtown to walk them through the plan review process and obtain the proper permit. 
For students Kyra Littlefield and Corina Giamakidis, their homeowner was 89 years old, blind, and spoke only Croatian. 
"On our first visit, it didn't really seem like anybody understood what was going on because the whole family was there and there was a bit of hesitancy having us come in and look at their stuff," said Littlefield of the site visits. "By the third visit, the homeowners were super happy we were there and really appreciative of all the work that we had done."
Littlefield has a background in the art industry and graduated with a degree in textiles 10 years ago. Her interest in interior design stemmed from her attempts to save a neighborhood building that had been targeted for demolition a year ago.
"I learned a whole lot about city codes and historical buildings," Littlefield continued. "We also remodeled our home, which was an original schoolhouse built in 1892. Those two experiences made me realize how much I love the building environment and interior design with my textile background. It really felt like the right direction." 
Giamakidis moved from Alaska to Portland to enroll in the Architectural Design and Drafting  Program, located at PCC's Sylvania Campus in Southwest Portland.
"Up until a year ago, I knew nothing about architecture," she said. "I dove into it. I always had a thing for design and sketching things out, and I thought let's put it to use and help people and make buildings."
Student Toby Hatcher had to start from scratch. He hadn't inherited architectural blueprints for his homeowner's property so it was up to him to get creative. This is his second career after retiring in 2017 from the military. In his retirement, Hatcher planned to pursue small home remodels and architectural design. 
"Especially in Portland, with the tiny-home movement and homelessness, there's a need for people to do what we're doing," Hatcher said. "It's great to do pro-bono work." 
Roy and Fitzgerald hope to continue to grow the Portland Permit Solutions Program to give more students the opportunity to apply their skills and help Portland's under-served homeowners.
"When Ami first approached me with the project, I was hesitant, because I knew that it would be a stretch for our students," Roy recalled. "But the real life, hands-on experience proved to really engage the students, and they did a fabulous job with the projects."