This content was published: October 7, 2019. Phone numbers, email addresses, and other information may have changed.
Diverse sounds highlight Experience Music Series 2019 fall season
Story by Pam Beaty
From modern jazz to Americana roots, to classical piano and an a cappella women's chorus, the fall season of Portland Community College's Experience Music Series will showcase a diverse array of genres and musicians. Now in its sixth year, the latest series of concerts and lectures kicks off on Oct. 15 and is presented in conjunction with the Tuesday evening "Music Appreciation" class at the Rock Creek Campus. All events are open to the public (with an optional donation).  
The concerts begin at 7:30 p.m. in The Forum, located in Building 3. All concerts are followed by a question and answer session with the performers. Admission is free for PCC students. Parking is available on campus for $2.
The Experience Music Series is sponsored by grants from the Beaverton Arts Program, Cultural Coalition of Washington County, and the Reser Family Foundation.
Experience Music Series 2019 Fall Season
Oct. 15 | Modern Jazz with "Theoretical Planets" & George Colligan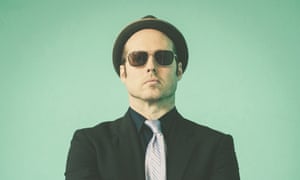 Portland jazz icon George Colligan is well-known as one of the country's best pianists. He is also a master drummer and will lead his group Theoretical Planets (with soprano, sax, tenor sax and bass) in a concert of post-bop original music.
Colligan, a New York-based pianist, organist, drummer, trumpeter, teacher and bandleader, is known as one of the most original and compelling jazz artists of his generation. He was on the faculty of the Juilliard School of Music and is currently an assistant professor at Portland State University. He was recently awarded an Artistic Focus grant from the Regional Arts and Culture Council to develop his work with this new ensemble. 
Oct. 29 | Classical Pianist Susan Chan
Susan Chan has been described by The New York Concert Review as "a thoughtful musician and a sensitive player," and by The New Yorker as "an energetic advocate for contemporary music."  
Chan has performed as a soloist and chamber musician on four continents, and actively promotes music from Asia and music written by women composers, in addition to traditional repertoire. She has performed at the Weill Recital Hall at Carnegie Hall in New York, Chopin's birth house in Poland, Hong Kong City Hall Concert Hall and Steinway Halls in New York, London and Tokyo, among many other venues.
She holds a Doctor of Music degree from Indiana University and degrees from the University of Hong Kong. She has also released three CDs and currently serves as professor of Music and piano area coordinator at Portland State University, where she is also founder and director of the PSU "Steinway Piano Series." 
Chan will hold a master class from noon to 2 p.m., Friday, Oct. 25, in the The Forum. Admission is free and all are welcome.
Nov. 12 | Caleb Klauder and Reeb Willms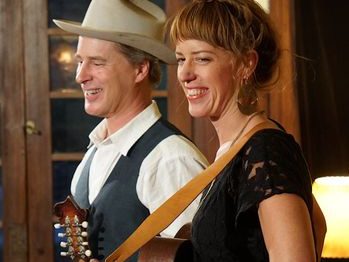 "Caleb Klauder and Reeb Willms stake a claim as two of the finest traditional musicians in America." – NPR Radio
Caleb Klauder and Reeb Willms, members of the internationally acclaimed Foghorn Stringband, hold their own as a duo, performing classic country music in shows across Europe, Australia, and North America (including Portland's Pickathon festival). With pure harmonies, lyrical mandolin and strong guitar, the duo performs original songs and tunes as well as their favorite old gems from traditional and country repertoires. It is a music rooted in the essence of American roots. Their haunting and captivating sound will take you back in time and leave you wanting more.
Nov. 19 | Women's A Cappella group "In Mulieribus"
"In Mulieribus," the Latin phrase meaning "amongst women," is a female vocal ensemble dedicated to the promotion and enrichment of community through the art of music with a focus on works written primarily before 1750.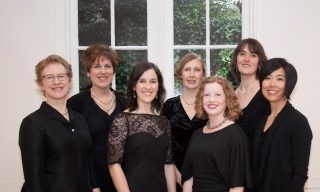 Founded in 2004, In Mulieribus presents its own annual concert series in Portland. The ensemble has also appeared at the Portland Art Museum, the University of San Diego, the Gorge Music Festival, the Abbey Bach Festival, and the Linfield Lively Arts Concert Series at Linfield College. It has self-released four recordings to date, two of which have been featured as Critics' Picks in The Oregonian newspaper.
For more information about the series and Portland Community College Rock Creek's music program, contact coordinator Pam Beaty, visit the music department website, or the Series Facebook page.