This content was published: June 3, 2019. Phone numbers, email addresses, and other information may have changed.
Portland Teachers Program celebrates three decades of making a difference
Photos and Story by Abe Proctor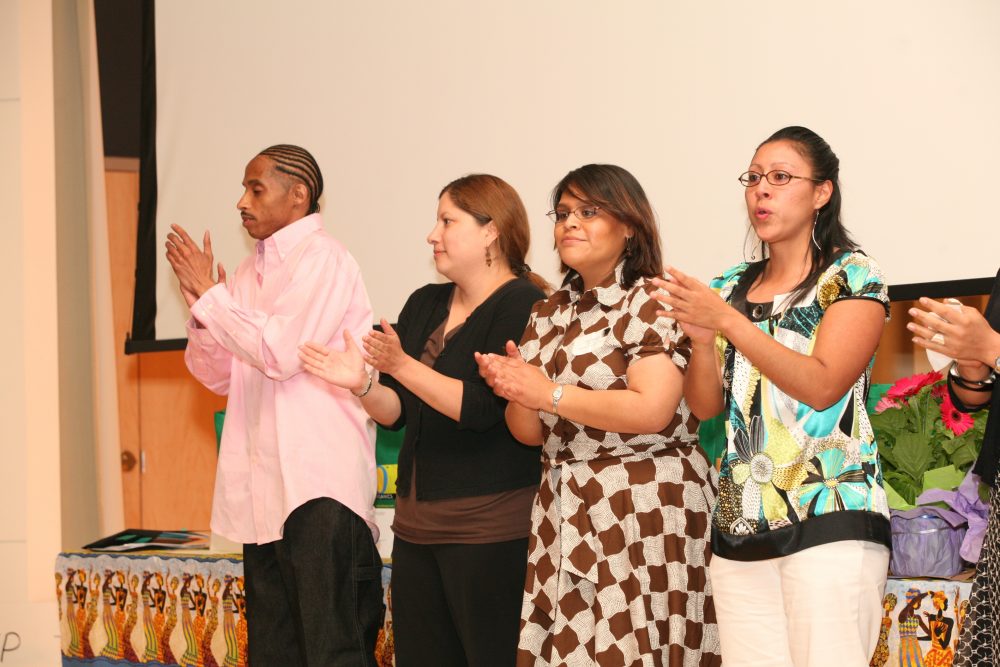 For three decades, the Portland Teachers Program (PTP) has trained and educated generations of teachers of color for Portland-area public school classrooms.
The program, based at Portland Community College's Cascade Campus, will mark this milestone with its 30th annual celebration of its students at 5:30 p.m. Friday, May 31, in the Moriarty Building auditorium.
PTP has produced 220 teachers of color who have positively impacted the lives of thousands of students and families in more than 40 schools in the Portland and Beaverton school districts. Current students in the program also work and volunteer in a multitude of schools, SUN programs, educational organizations, and community centers.
This year, another 11 PTP graduates will join the teaching ranks, and 13 more will begin their period of student teaching. A number of program educators have gone on to become administrators, mentors, and educational specialists.
Graduate Mercedes Munoz is an instructor at Franklin High School and was recently named a 2019 Regional Teacher of the Year by the Oregon Department of Education. This honor places her in contention to win the Oregon Teacher of the Year award.
"We have a number of outstanding educators who build authentic relationships with students and set high expectations for them, while using culturally responsive pedagogy in their classrooms ," said  Director Deborah Cochrane, who has run the program since its inception in 1989. "Most of the PTP teachers grew up in this community, went to some of schools where they now teach, and have long been active members in their neighborhoods."
Culturally responsive pedagogy is an approach to teaching in which the students' unique cultural strengths are identified and nurtured to promote achievement.
An Effective Partnership
The Portland Teachers Program is a partnership between Portland Community College, Portland State University, Portland Public Schools, and the Beaverton School District. Studies have repeatedly shown that students of color respond better to and learn more from teachers who look like they do. And as with many other professions, people of color face a range of barriers to entry into a career in education. PTP was intentionally created and designed to help would-be teachers overcome these barriers.
"Even with the Portland Teachers Program and several other local pipeline programs designed to increase diversity in our schools, we are a long way from equity and balance in representation." Cochrane said.
But at its core, the program is about much more than simply boosting the number of teachers of color in Portland-area classrooms. The curricula includes concepts and practices around social justice, equity, excellence, environmentalism and core values necessary for living in healthy, collaborative, democratic communities.
"If we are ever to find answers to the most troubling challenges — racism, war, poverty, ecological devastation — we must work harder to raise up young people who are creative and critical thinkers, who have courage, compassion, and humbleness," Cochrane said. "Strong teacher-leaders cannot do it all, but they can be a driving force for helping to build a better world."
Courses are Challenging
And it's not easy. PTP's curricula are rigorous, and the program is work-intensive. Prospective teachers spend two years studying at the Cascade Campus, and then transfer to Portland State where they spend two more years earning a baccalaureate degree in their chosen field and an additional year attending PSU's Graduate School of Education.
Cochrane emphasized that program participants carry an extra workload and time commitment in addition to their regular coursework. They must take part in a number of conferences and workshops covering everything from issues in education for African American, Native American, Latino and Asian American students; race and class in America; white privilege and how it impacts education in America; teachers as leaders; multiculturalism; and much more.
"If we are to move beyond the oppressive, colonizing mentality we now live in, we must have teachers who can help students question everything, including who defines success," Cochrane continued. "We have to look back and face the truth in our past so that we can create a more honest and equitable future."
To learn more about the Portland Teachers Program, call (971) 722-5444 or e-mail dcochran@pcc.edu.