This content was published: June 19, 2019. Phone numbers, email addresses, and other information may have changed.
Feedback fairs inform plans for accessing and navigating Sylvania
Story by Katherine Miller; photos courtesy of PLACE
With recent bond measures, Portland Community College has been able to construct new buildings at some of its locations. But at Sylvania, PCC's first and oldest campus, the challenge is to modernize a '60s-era design to help it better serve today's diverse student body.
A key part of this process has been listening to the campus community. Starting in winter 2019, the college's office of Planning & Capital Construction has provided a number of engagement opportunities for students, staff and faculty regarding the Sylvania Campus improvements funded by the bond approved by voters in 2017.
A design team led by Hacker Architects has hosted visioning workshops, open houses and feedback fairs. The input gathered will be used to create a "framework vision plan" that identifies a series of phased improvements based on priorities and budget.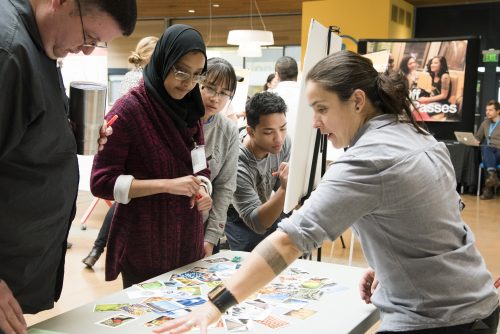 The project will also include the renovation of the Health Technology Building, which houses STEAM and health professions classrooms. The remodel includes updated science and biology labs, nursing education suites, faculty workspace for radiographic technology, anatomy and physiology, and other health-related career fields.
This phase of improvements also includes seismic and security upgrades, as well as alleviating $20 million of deferred maintenance.
The latest engagement events at Sylvania have been two feedback fairs held this spring to gather faculty, staff and students' input on how they perceive and utilize the campus.
The first was held in College Center in April and facilitated by Hacker and PLACE, the landscape architectural firm hired for the site improvements. The design team sought input on several topics, including improving campus traffic flow and parking, mass transit access, bike safety and pedestrian navigation.
The design team set up a series of large boards with several "visioning exercises" that targeted a variety of topics, such as how people commute to campus, what pathways they take as they move from building to building, and which open spaces students prefer for studying or relaxing.
One exercise tapped into "critical race spatial theory" to discover how an individual's self-recognized identity — ethnic, cultural, economic, gender or sexual — might affect how they experience certain environments or spaces.
Another exercise asked viewers to choose their two most important sustainability concepts from a group of nine, such as natural light, views to nature, and on-site renewable energy production.
Madison Klementyn, an electronic engineering student, said that while she might not be at the college to see the final improvements, she wanted to be part of the process. "The most important thing in terms of the physical space would be reducing the sterile-ness and increasing the amount of study spaces available. There are a lot of people who have a split schedule and large gaps in their day, and finding places to study where you're not around too many people while still engaging with school isn't easy."
Eric Lange, who works at the Veteran's Resource Center, praised the fair as "really interactive, fun and engaging." Raisa Basargin, a first-year student exploring environmental programs, said she liked "that we have a say in what happens," calling the identity exercise "a little bit eye-opening to see students' reasons why they want change."
The input that Hacker and PLACE gathered in April was then summarized and shared with the Sylvania Campus at another feedback fair held in May, when students, faculty and staff were again invited to enjoy free pizza and engage with new visioning activities.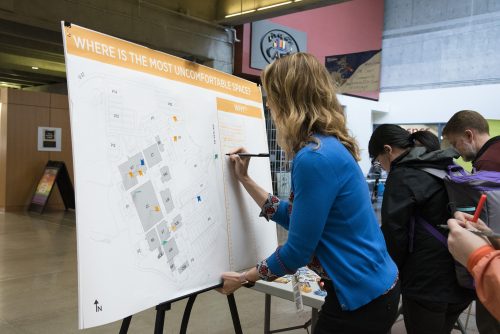 One board asked viewers to vote on whether they would use proposed solutions such as affordable housing on or near campus; a MAX line along Barbur Boulevard with a shuttle to campus; or a parking app for a smartphone.
Charles Brucker, principal at PLACE, said designers were impressed with the ratio of what's called "mode split."
"More than half of people who come to campus arrive either by public transportation or by PCC shuttle. That was more than we expected," he said. "We also got a greater diversity of appreciation for outdoor spaces. (Students reported using) spaces all over campus, versus being concentrated in what we were thinking were the logical places, like plazas. They named the tree grove by the parking area, the walking trails and garden spaces throughout campus."
Sterling Rung, a project designer for PLACE, was also surprised by feedback the team had received. "We've been hearing that the campus doesn't necessarily feel very welcoming or very green, even though it's surrounded by this beautiful nature. … So the challenge for us as designers is how to make those outdoor spaces more accessible and nicer to be in."
By fall 2019, the design team will hold a large forum to share a summary of findings and progress report regarding the campus framework and Health Technology Building projects.
Learn more about PCC's Planning and Capital Construction work here.