This content was published: June 3, 2019. Phone numbers, email addresses, and other information may have changed.
Centro Cultural, Northwest Compounders and Vigor Industrial earn PCC honors
Photos and Story by Kate Chester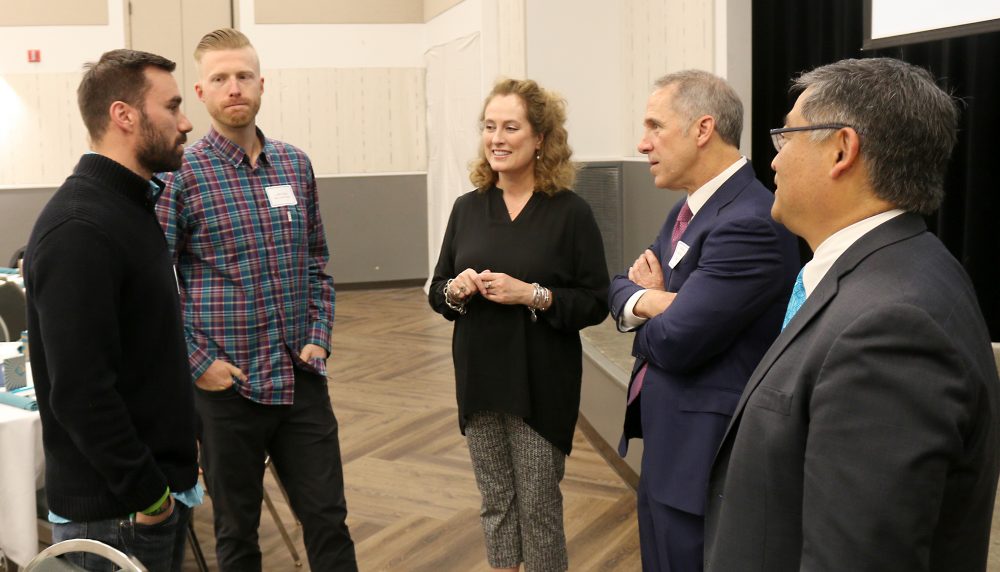 The mood was celebratory at Portland Community College's second annual Employer Partnership Awards celebration on May 21, which was co-sponsored by the Portland Business Journal.
Nearly 100 attendees, representing a variety of PCC's key employer partners throughout the region, streamed into the auditorium of the Oregon Museum of Science and Industry. There they enjoyed an early morning breakfast, networking opportunities, and kudos from the college for the role they play in helping PCC to educate and train a skilled workforce.
It was also the chance to shine a spotlight on the efforts of three organizations chosen as PCC's 2019 partners of the year in the categories of Small Business (Northwest Compounders), Large Business (Vigor Industrial), and Government/Non-Profit (Centro Cultural).
"For PCC to effectively prepare its students for career opportunities in high growth industries offering economic mobility, we need strong partnerships with local employers," said Marc Goldberg, associate vice president of Workforce Development and Continuing Education at PCC.
"At its heart, the event is a means to thank our partners, whose input, support and generosity enables PCC to educate a skilled workforce — and this is what drives Oregon's economy. Together, we're making a difference, in the lives of our students and for the community as a whole," he said.
PCC's inventory of employer partners from across its service area tallies more than 1,600, representing a variety of fields and industries. The college's partnerships vary in look and structure depending on the needs and size of the collaborating organizations. Examples include employers who hire PCC graduates; offer work-based learning opportunities for students such as internships, co-ops, clinical rotations, or apprenticeships; serve on career technical education (CTE) advisory committees at the college; and donate equipment for specific CTE programs, among many models.
Such partnerships "expand the pipeline of trained workers, ready to enter the workforce," said PCC President Mark Mitsui. "This helps to bolster the 'middle class'; education is the bridge to opportunity for our students."
A college-wide Employer Partner committee considered more than 40 nominees this year and evaluated them using criteria such as the type of partnership they had with PCC, the length of time an organization has been a PCC partner, their support for hiring PCC students and graduates, comparable values and missions to grow a diverse workforce in the region, and other ways they contribute to student success at PCC by partnering with the college. Following are this year's award winners:
Northwest Compounders was founded in 2005 when Tom Eilers, who had spent 25 years as a pharmacist and manager at retail chain drug stores, opened an independent pharmacy with his son, Luke. Their mission from the outset was simple: Provide the highest quality compounded medications to patients in a prompt, efficient, and friendly manner, at reasonable prices. After just four years, Northwest Compounders had outgrown its 400-square-foot space, moving to a 5,000-square-foot, state-of-the-art laboratory in Tualatin.
"I do really appreciate the relationship I have with PCC, because I know that PCC's program has produced quality applicants. I know that the representative that I work with has a good idea about what I'm looking for in terms of experience and dedication to work. I know that when an applicant comes from PCC, I'm likely to hire them." — Tom Eilers, owner and CEO of Northwest Compounders.
Vigor Industrial is the leading provider of shipbuilding, complex fabrication and ship repair and conversion in the Pacific Northwest, operating in six primary locations with 2,300 employees in Oregon, Washington and Alaska. As a longstanding PCC partner, Vigor supports the college's Career Pathways program and apprenticeship training at PCC's Swan Island Trades Center, specifically in maritime welding, and also serves as an active CTE advisory committee member.
"PCC has been an advocate for Vigor, and we have been an advocate for PCC. We're both interested in the same thing– which is making sure that people have opportunities for education and for good paying jobs in the community. It's a win-win all around." — Sue Haley, Executive Vice President, Human Resources and Administration, Vigor Industrial.
Government/Non-Profit category — Centro Cultural
Centro Cultural is Oregon's oldest Latino non-profit. Founded in 1972, its legacy is built on community leadership and Latino heritage. Today, its mission promotes personal growth and empowerment for Washington County communities of color and low-income families. It serves both Washington County and the Portland Metro Area by offering courses and workshops in Arts & Culture, Civic Leadership & Advocacy, Community Wellness, Economic Empowerment through its Centro de Prosperidad, and Youth Development Services. At the core of its programming is a commitment to engage and activate the potential of local families to achieve community resilience.
"Over the past three years, our partnership with PCC has grown through our employment and training services that we offer at Prosperidad. We work very closely in collaboration to provide training programs and classes that some of our clients need to be successful in a job." — Maria Caballero-Rubio, Executive Director, Centro Cultural.