This content was published: May 13, 2019. Phone numbers, email addresses, and other information may have changed.
Summit focuses on creating educational opportunity for underserved students
Photos and Story by James Hill
Portland Community College is trying to upend a system that is centuries old. Hundreds of colleges like PCC are rethinking higher education to improve completion rates for those who have been historically underserved.
That's why PCC's Yes to Equitable Student Success (YESS), a little more than a year old, is important to this change. Hundreds of faculty, staff, students and leaders have worked on the YESS initiative, which is aligned with the national Achieving the Dream project that aims to strengthen student success and create robust guided pathways.
Rob Johnstone, founder of the National Center for Inquiry & Improvement, helped to develop the first national guided pathways project called "Completion by Design" in 2011. He recently visited PCC to help build a foundation for the college's guided pathways and upend the "business-as-usual" model in higher education.
"We're working with a model that is 800 years old," Johnstone said of higher education. "Who went to universities 800 years ago? The rich offspring of the ruling elite and men. It was built for people with unlimited time and resources, and it still works really well for them. We democratized access to higher education with the GI Bill and the formation of community colleges in early 20th century. The problem is that we didn't democratize the model that students use to complete."
The idea behind the guided pathways model is that students are more likely to complete a credential or transfer to a four-year institution if they have a clear roadmap of what courses they need to take, as well as get support along the way to make sure they remain on track. Colleges that have adopted guided pathways have reported that their students are completing degrees faster and taking on more courses, according to the Community College Research Center. Those successes have prompted more than 250 community colleges to shift toward the model.
After more than a year in the planning stage, YESS at PCC is taking flight. Now, the really hard part is implementing those guided pathways and creating the infrastructure to move the project forward.
"We know we are engaged in the critical enterprise of changing lives and making a difference," said PCC President Mark Mitsui of the YESS efforts. "The question for us is how do we do this systemically with limited resources, and in a way where the impact we have is the norm and the change that we make is significant."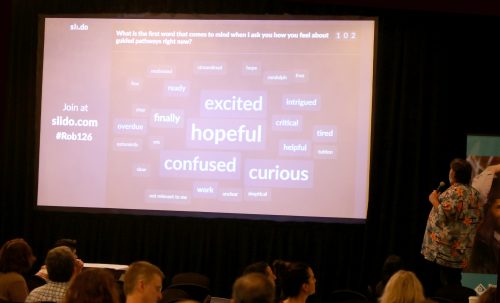 Four priorities have been developed through intensive engagement activities the past year since YESS was started. These are building a foundation for guided pathways; centering diversity, equity and inclusion in everything PCC does; increasing data and technology capacity; and implementing a strategic enrollment management plan.
"We have a lot teams working tirelessly," said Heather Lang, dean of Student Success, during the YESS Summit in April. "They are the ones that are engaging in a focused way, and getting to design our strategies and mapping our pathways to achieve our goals set out under our priorities."
Lang said there are 22 teams engaged with developing YESS. She said they have collectively met 194 times for a total of 380 hours that have been intensive and productive. In addition, there have been 231 presentations to campus community stakeholders about YESS, and more than 300 hours of training and development. This includes conferences, webinars and internal training to prepare PCC advocates for the work needed to serve students in a new way.
"These efforts have been really critical," Lang continued. "We cannot do this work without the unique contributions of our faculty and staff."
Delinda Martin-Huggins, a PCC alum and the current student life and leadership development manager at the Southeast Campus, provided context of why the YESS initiative at PCC is so critical and why the old system must go.
"I had two young boys, was taking classes and working," Martin-Huggins said of her college experience. "The exhaustion factor of taking classes and doing the homework, and dealing with life, including the emergencies that would come up, was big. There were many times where I thought I could not do this any longer. Luckily, I had a lot of guided support from faculty, staff and individuals who got me through it."