This content was published: May 20, 2019. Phone numbers, email addresses, and other information may have changed.
Hilary Campbell shows her students the future of kitchen and bath design
Photos and Story by James Hill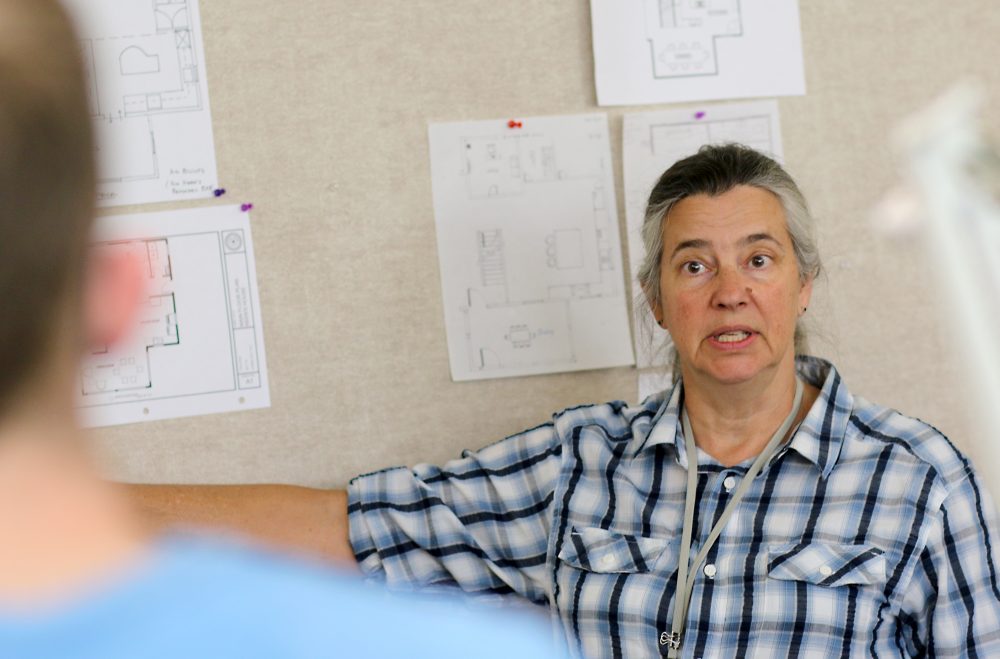 According to reports, the construction industry is in crisis due to a lack of skilled labor and an aging workforce.
Last year, the non-profit National Kitchen & Bath Association (NKBA) released its Workforce Development Study. It found that the labor shortage continues to have a significant impact on the kitchen and bath industry, specifically on hiring, and the costs associated with construction and renovation projects.
There's hope and it's right on Portland's front step. Portland Community College's Building Construction Program (BCT) is meeting industry's need for more trained kitchen and bath remodel contractors. BCT has an industry advisory board that instructors consult with regularly to ensure that the curriculum is meeting the needs of employers.
Building Construction Technology
For more than thirty years, the program has prepared students to enter the construction industry as skilled professionals.
BCT is the only accredited program of its kind in the Portland area offering degree options in hands-on construction skills, construction management, and design/build remodeling.
"One of the things we are really focused on is partnering with our employers to create more opportunity for students," said PCC President Mark Mitsui. "We are leveraging those partnerships for students as much as we can."
Building Construction Technology is the only program of its kind in the Portland area where an accredited institution offers associate degree options in hands-on construction skills, construction management, and design/build remodeling.
Instructor Hilary Campbell, who co-chairs BCT, oversees the nationally respected Design/Build Remodeling Program. The National Kitchen and Bath Association (NKBA) awarded BCT a School of Excellence award in 2017, as well as honored Campbell for her tireless work in further developing BCT's remodeling program, which started in 2007. As a result, Campbell was asked to speak at the 2018 Educators Forum at the Kitchen and Bath Industry Show in Orlando, Fla.
"It is a great entry into the remodeling industry," Campbell said of her program. "We are proud that our BCT program has received the NKBA's award for Excellence in Education over the past years, as well as our students earning awards for their local design competition entries."
Campbell is a longtime faculty in the program (since 2010), which makes sense considering her DNA. Her father was an architect and as a result she grew up around construction sites and loves teaching the craft to others.
"I played with blocks from age 1 and moved on to LEGOS as well as a lifelong love of constructing things," she said of her desire to build.
Campbell has used that love of building to construct an impressive career in teaching. She holds degrees in architecture from the University of Virginia (bachelor's) and Princeton (master's).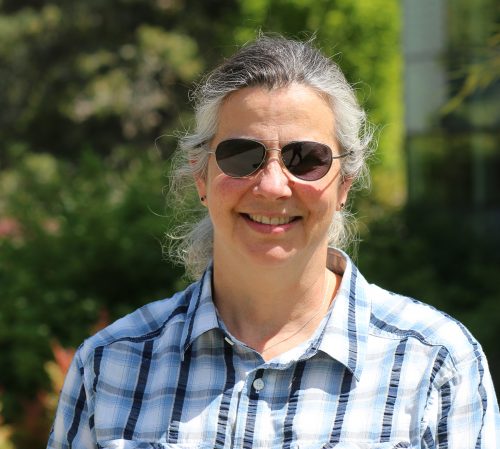 In addition to teaching, Campbell volunteers for Habitat for Humanity's Women Build Day, where she works alongside students to create homes for low-income residents. She also donates her time every year teaching the "Construction System" section of the yearly NKBA Study-Group, which is held for students and industry professionals looking to prepare to sit for certification.
Watching people transform their lives and transition into meaningful careers has been a highlight for Campbell, who mentors women entering the construction field.
Her classes are focused on training students on the latest tools in kitchen and bath design and remodeling. She shows students how they can develop documentations for a remodel project, like the floor plan drawings, and how materials get selected to enrich those plans. Students learn the value of design, as well as what the remodel process looks like from the construction side, and the process of designing and building.
"Every year, I watch students come in hesitant and shy, and transform into confident, outgoing professionals," Campbell said. "It gets me every time. I get to have fun researching things every day to share with others; enjoy what our students bring to the conversation; and, hopefully, give meaning to people's lives."
An introductory class Campbell teaches focuses not only on the look and feel of a kitchen and bathroom's design, but also on how it functions. BCT Students go on to take an advanced class in "Kitchen and Bath Design" through the Interior Design Program at the Sylvania Campus where they qualify to sit for certification through the NKBA in the final term of their second year. This partnership between programs gives them a head start in the remodeling industry, Campbell said.
"Construction is a problem-solving job and being able to sketch and draw is just another communication tool to help solve the problem," she said.
On a warm day during spring term, Campbell puts all of her skills to good use. She is instructing her students on their pinups of bubble diagrams for their first space planning exercise. Exposing these future contractors to the design side of a construction project helps students to fully understand the remodel process, she said. Campbell gets them out of their chairs and away from their design tables to review their diagrammed space concepts tacked to a bulletin board.
It's an exercise that is core to the learning environment of the program.
"BCT students are building their lives, more than a just a job or a career," said instructor and BCT Co-Chair Shannon Baird. "All of us in our department feel proud of their accomplishments."