This content was published: February 11, 2019. Phone numbers, email addresses, and other information may have changed.
PCC earns global honors for fighting climate change through innovation
Photos and Story by James Hill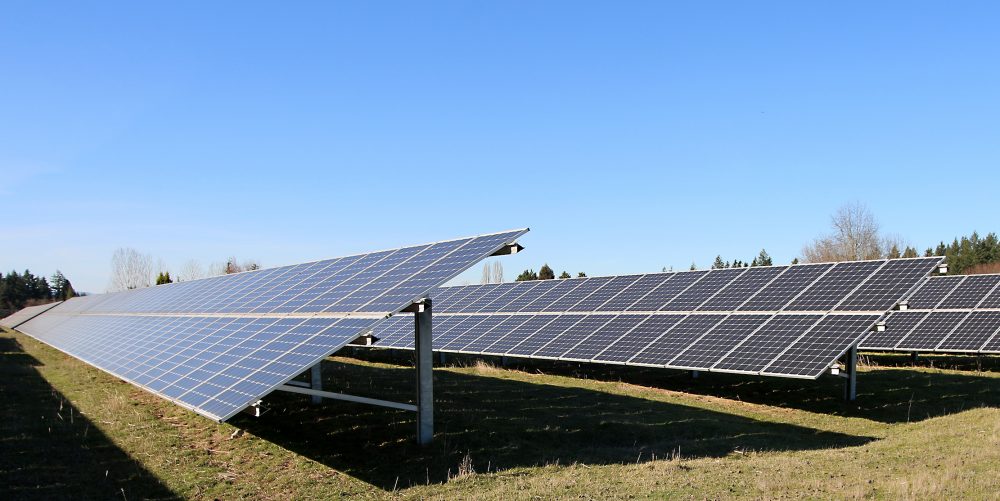 As global emissions of carbon dioxide reach their highest levels on record, Portland Community College is doing its part to reduce these harmful gases.
PCC has earned Second Nature's "Marks of Distinction," which recognizes the performance, participation, and goal setting of colleges and universities to reduce harmful emissions. Marks of Distinction features data submitted by signatory institutions and showcases their progress. More than 500 colleges and universities, including PCC, became members by signing the 2007 climate leadership agreement, with approximately 140 institutions receiving Marks of Distinction.
GPSEN Sustainability Symposium
Who: PCC and the Greater Portland Sustainability Education Network (GPSEN), part of the United Nations University's Regional Center of Expertise on Education for Sustainable Development, are hosting a symposium.
When: Friday, March 8 at the Cascade Campus (705 N. Killingsworth St.).
What: Great chance to network and work on sustainability education, with a focus on collaboration, diversity, innovative problem-solving, and sustainability projects in the community. The PCC community is welcome!
Since signing the agreement, the college has instituted two climate action plans, created an annual progress report, and formed an oversight advisory council to track progress. According to the Second Nature data, PCC has reduced its energy-related emissions by 40 percent, even though the college has increased its square footage by 30 percent thanks to voter-approved bond projects.
Briar Schoon, PCC's sustainability manager, said these savings can be attributed to efficiency upgrades, emphasizing sustainability in new construction, and increasing renewable energy production and procurement. In addition, the college will look at other ways to reduce emissions, like employee transportation, waste management, and consumption of goods and services.
"PCC has stepped up its climate advocacy and educational efforts in the international sphere with partnerships through Second Nature, the Association for the Advancement of Sustainability in Higher Education, and the United Nations," Schoon said. "These efforts have positioned the college as a leader on the global stage."
The college has a history as a sustainability leader. In 2017, PCC earned the 2017 Climate Leadership Award from Second Nature and participated in the UN Climate Conference as a member of the "We Are Still In" coalition in Bonn, Germany. In 2013 the United Nations University designated PCC as a Regional Center of Expertise on Education for Sustainable Development.
Schoon and the college have capitalized on their global sustainability momentum. Last fall, Sustainability Coordinator Elaine Cole led a tour at the Rock Creek Campus for 14 energy executives from Japan. They got to learn about the college's efforts in renewable energy, conservation, and policy as the country looks to transition to clean energy.
In addition, Heidi Sickert, business faculty and chair of PCC's sustainability committee (Sustainable Practices for Academics and Resources Council), presented at the Symposium on Green Campus Development at Tsinghua University in China. She highlighted the college's work incorporating sustainability in curriculum and how PCC awards "eco-social justice" grants to fund green projects.
"My presentation was one of many that discussed how colleges in China, Indonesia, and the US are seeking to build dynamic, interactive curricula, programs and campus environments, and this remains a challenge for PCC," Sickert said. "We also focus on building a community of compassionate, civic engagement and on empowering student leadership that has direct, positive impacts every day."
Student Joe Culhane and sociology faculty Kim Smith traveled to the Philippines for the UN Regional Center of Expertise on Education for Sustainable Development's annual conference. Culhane won an Acknowledged Flagship Project award for his PCC Sustain Me! Podcast , while Smith accepted an Honorable Mention Project honor for the Greater Portland Sustainability Education Network's (GPSEN) Fellows Program.
GPSEN leaders, including Smith, spoke to conference attendees during opening remarks. Smith, who also presented in China last year, is the international liaison for the Association for the Advancement of Sustainability in Higher Education (AASHE), representing PCC and AASHE at UN conferences.
"We all returned (from the Philippines), not only with increased understanding and appreciation of sustainability education efforts occurring around the world, but also having earned global recognition awards," Smith said.
Culhane's podcasts make up an ongoing series centered on storytelling that highlights his passion for sustainability and environmental justice.
"Having the opportunity to travel to present and attend conferences in the US and internationally has been an incredible honor and is rather surreal," Culhane said.