Bond Program renamed the Office of Planning and Capital Construction
Photos and Story by Kate Chester
With enrollment booming, Portland Community College put forth its first bond measure to voters in 1992, 31 years after the college first opened its doors. The $61.4 million bond was approved, earmarking critical funds for facilities expansion at all PCC campuses, and repair and upgrade of existing buildings.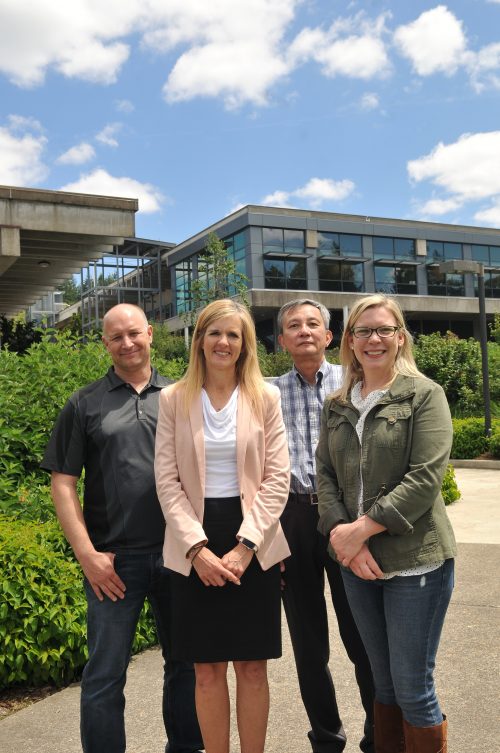 Since then, PCC's Bond Program has overseen facilities planning and construction associated with three additional voter-approved bond measures ($144 million in 2000, $374 million in 2008 — at that time, the largest bond ever in Oregon — and $185 million in 2017). Last year's bond, passed in November, is heavily focused on workforce development, which includes expansion of PCC's healthcare professions and STEAM (Science, Technology, Engineering, Arts and Mathematics) programs, as well as meeting needs across the district for safety, security, disability access, and overall building longevity.
"We're eagerly rolling up our sleeves and getting to work," said Linda Degman, who directs the bond program. "We're taking a big picture approach that weaves in pertinent data, findings and feedback so that current and future endeavors are strategic, thoughtful and aligned with the college's needs."
For certain, the Bond Program is an important resource for design and construction services tied to major college capital projects. Moreover, the program has evolved to become a vital resource to the college related to regional development and land use planning, real estate counsel, transactions and negotiations, and expansive district projects.
An example of regional planning partnerships includes that with the City of Portland and its comprehensive plan. It offers a long-range approach to help the city prepare for and manage expected population and employment growth, as well as plan for and coordinate major public investments between now and 2035. Another example, specific to Washington County, is the Southwest Corridor Plan. PCC has been a key partner in the project, which features a new 12-mile MAX line from downtown Portland to Tigard and Tualatin, whose impact will be felt mostly by the Sylvania Campus.
Given the breadth and depth of its purview for PCC, the Bond Program's name was officially changed in June to the Office of Planning and Capital Construction.
"The name change was made to recognize and more accurately reflect the scope of the program's work—work that has already been occurring for many years," said Sylvia Kelley, PCC's executive vice president, who has oversight of the Bond Program. "We know that coordinated, district-wide regional land use development and planning models national best practices. Having that service line nested within the bond program makes sense," she said. "The name change also points to the critical need to support existing relationships, and to develop new ones, with external regional entities."
The Southwest Fourth and Montgomery project is testament to the power of external partnerships. Thanks to voters approving the 2008 bond measure, PCC is part of an exciting venture to build an education and health center in the heart of downtown Portland. The collaboration will transform a surface parking lot into the new home for PCC's Dental Program, Oregon Health & Science University, Portland State University's School of Public Health and Graduate School of Education, as well as City of Portland offices.
"This is a unique collaboration that takes us to a new level of community cooperation with the city," said Rahmat Shoureshi, PSU's president. "With PCC and OHSU as partners, we're able to leverage our resources and train Portland's future health and education leaders."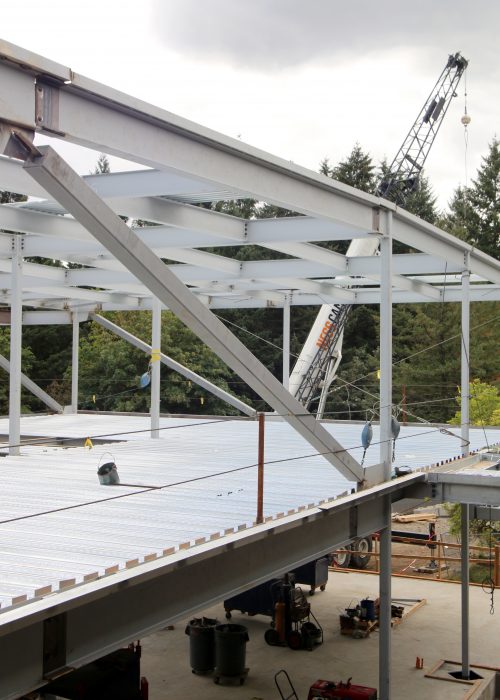 Other 2008 bond projects underway are the Sylvania Campus Child Development Center (slated for completion in winter 2019) and the training facility as part of the Oregon Manufacturing Innovation Center, estimated to open in fall 2020 in Columbia County. Meanwhile, completed projects include the expansion and development of the Cascade, Rock Creek and Sylvania campuses; the construction and launch of the college's fourth comprehensive campus (Southeast); and the opening of several new centers—Downtown, Newberg, Swan Island and Willow Creek.
As the 2008 bond projects wrap up, the 2017 bond projects, or the planning for them, are readying for take-off. The Child Development Center at the Rock Creek Campus broke ground this spring. A construction calendar is being developed as planning continues for other projects like the Sylvania Campus Health Technology Building, the Metropolitan Workforce Training Center, and the Cascade Public Safety Building, among them.
This seamless dovetailing of project management exemplifies the college's move toward integrated planning. Specifically, bond planning will incorporate findings from the first phase of PCC's comprehensive facilities planning, a two-year effort to gather data related to overall college infrastructure. Results will assist with decisions regarding campus growth and future capital investment.
"Two pillars of PCC's mission are to deliver access to quality education, and to advance economic development. Efforts surrounding planning and capital construction, and the bond, do just that," said PCC President Mark Mitsui. "We're improving the environment in which teaching and learning happens, and we're contributing to the local economy through construction and partnerships. We're living up to our middle name by building a better community."