This content was published: March 12, 2018. Phone numbers, email addresses, and other information may have changed.
CAMP Program returns to Rock Creek Campus to strengthen relationships, outreach
Photos and Story by Janis Nichols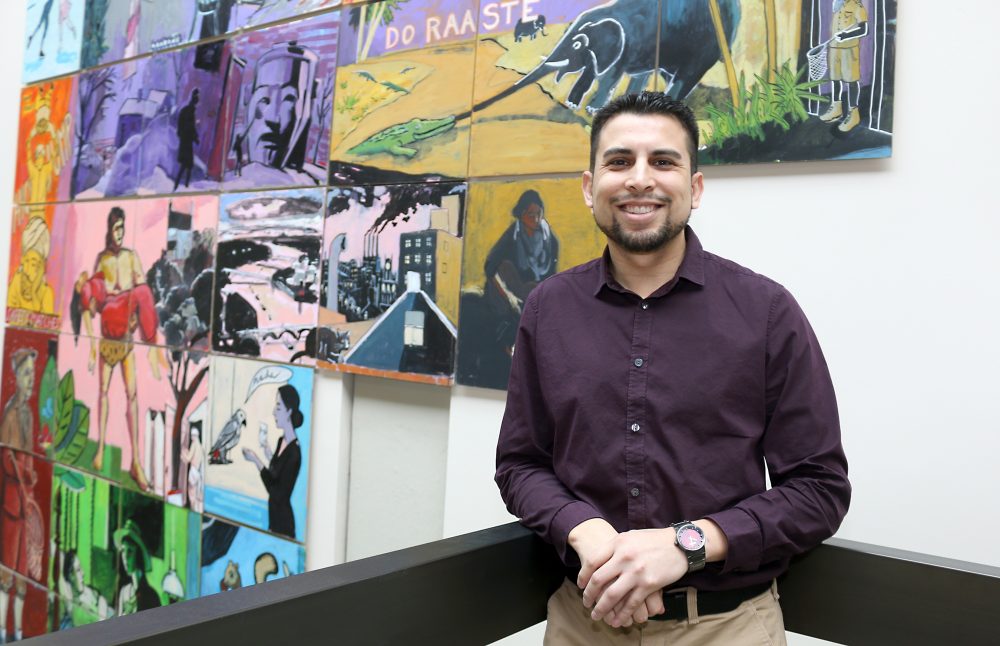 Greg Contreras and his team are in the business of changing lives.
As the new director of the College Assistance Migrant Program (CAMP) at the Rock Creek Campus, he leans on his personal experience to help understand the needs and challenges of the migrant students in his care.
"My parents were migrant workers, and every morning they would drop me off at the Migrant Head Start Program in Nyssa before they went to work in the fields," Contreras said. "When I started middle school, I joined my family each summer to weed in the onion and beet fields, and pick fruit. We were paid every two weeks, and all the money went to support my family…except for the $20 they gave me. I thought I was rich!"
After high school, Contreras saw the value of community college and quickly enrolled at Treasure Valley Community College in Eastern Oregon.
"Community college was the right choice for me," he said. "Eventually I transferred to Oregon State University, where I earned both my undergraduate and graduate degrees."
While at Oregon State, fate confronted the young Contreras. He volunteered at the school's acclaimed CAMP Program — an experience that would lead him to where he is today.
"After college, I worked as the academic counselor at OSU CAMP for five years before transitioning to PCC Rock Creek CAMP," Contreras explained. "Now my staff and I have the exciting challenge of building a new, successful program for migrant students in Washington County."
For the 2017-18 academic year, 45 migrant students were selected to participate in CAMP at Rock Creek. To qualify for the program, students must be migrant or seasonal farm workers or dependents of people who meet this requirement. Additionally, they must be high school graduates or hold a GED, be a U.S. citizen or resident, have a 2.5 grade-point average or better, and be eligible to apply for federal student aid.
"Forty-five is a big group when you consider the level of service each student receives," he said. "That's why we work to build emotional ties with the students and their families. It's that sense of community that holds us together."
CAMP offers many student services including financial aid, advising, leadership development, parental involvement and opportunities to attend state and national conferences. It also offers mandatory tutoring and mentoring services — critical to student success — to ensure that students succeed in their academic journey.
"I have an inspiring team," Contreras boasted. "Rosa Maria Sanchez is a dedicated and enthusiastic CAMP advisor. Gera Araujo is an honest, thoughtful and detailed administrative assistant. And Angela Vasquez is a sincere and ambitious CAMP recruiter. We are all passionate about serving the migrant population."
The federal government now supports more than 50 CAMP projects across the country. CAMP grants run in five-year cycles, and Rock Creek is now in its second year of a cycle. The services are important, but Contreras said the thing that holds CAMP together is the sense of community and belonging.
"We engage the family, not just the student," he continued. "We understand that our students carry much responsibility. We require all involved to be flexible but also committed to the program. Our students live at home, have part-time jobs and family responsibilities. As a program, we understand their challenges and work hard to help students achieve inside and outside the classroom."
Among the strongest and most effective offerings for his students are opportunities to travel in and out of state to attend conferences, where they learn networking and leadership skills. For example, CAMP funded 10 students to attend the United States Hispanic Leadership Institute in Chicago this month.
In March, CAMP staff and students will travel to Western Oregon University to present at the Cesar E. Chavez Leadership Conference, an annual event that typically draws 2,000 Oregon Latino high school students. All 45 of the program's students will travel to Washington State University in April for the 2018 CAMP Conference. Joining them will be students representing the 14-member Northwest CAMP Consortium.
Next fall, staff will travel to the National HEP CAMP Conference in Puerto Rico. Over the next few months, they'll design a service project focused on assisting communities devastated by the recent hurricane events there.
Contreras hopes to continue the grant and expand the program in the near future.
"My staff and I are proud to empower the migrant community of Washington County," he said, smiling. "We are here to provide encouragement and support, and welcome interested students to visit our program. CAMP is all about student and family success."
The CAMP Project
The College Assistance Migrant Program is a federally-funded initiative designed to support students from migrant and seasonal farm worker backgrounds during their first year in college.
The program is recruiting now for the next 45 students from migrant farmworker backgrounds to study at the Rock Creek Campus next fall.
To get started, contact recruiter Angela Vasquez at (971) 722-7764, or email angela.vasquez@pcc.edu.
Or, learn more about the college's CAMP services.