This content was published: January 25, 2018. Phone numbers, email addresses, and other information may have changed.
Five PCC Public Safety officers recognized with Heartsaver Awards
Photos and Story by James Hill
The lifesaving skills of Portland Community College Public Safety Officers were put to the test recently and they passed with flying colors.
The American Heart Association awarded five officers with its Heartsaver Hero Award this month. The award is for their bravery that took place on on Dec. 28 at the Sylvania Campus when a Howard S. Wright construction worker suffered a heart attack.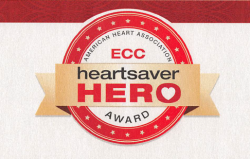 PCC Officers Jeff Fishback, Marcos Jiminez, Kevin Loberger, James Moir and Carissa Rudnick responded to the CC Building obout a person having a heart attack and took over doing chest compressions on the patient from his coworker. They continued the compressions for five minutes until medical personnel arrived. After another few minutes, first responders informed the officers they had a pulse. The patient was then transported to Oregon Health & Science University.
The American Heart Association learned of the officers efforts and in acknowledgment of their efforts presented them with the Heartsaver Hero Award.
"These officers and dispatchers Jenn Ruth and Stephanie Tshappat are to be commended for their quick decisive actions and teamwork," said Derrick Foxworth, PCC's Director of Public Safety. "They quickly assessed the situation and worked together to provide medical assistance and assist medical personnel to arrive at the scene in a timely manner."