This content was published: January 22, 2018. Phone numbers, email addresses, and other information may have changed.
Cascade's student playwrights feature their 10-minute plays in noted theatre festival
Photos and Story by Abe Proctor
Six original plays written and directed by PCC students will take center stage this month during one of Portland's best-known theatre festivals.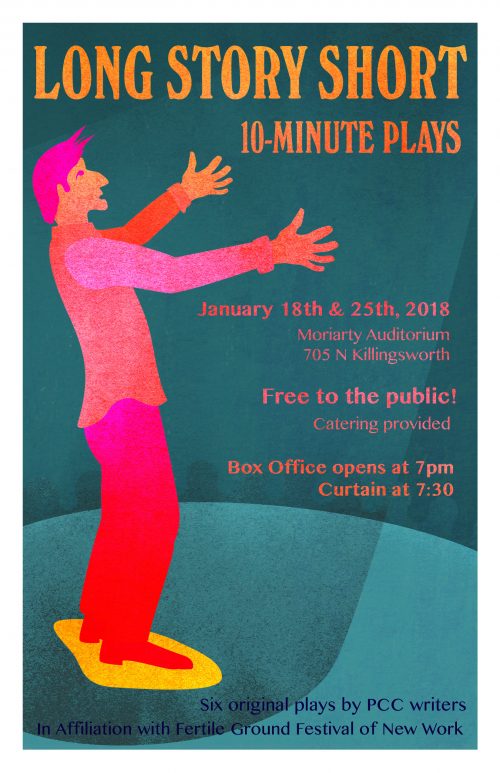 "Beautifully Ugly," by Tayde Ramirez; "Last Call," by Richard Sangeleer; "Sage," by John Pfeil; "5K," by J.J. Lostica; "Barcodes," by Garrett DeRose and David Traynor; and "Enough Wine to Kill a Horse," by Matt Sorensen and Brad Sosinski will premier as part of the 2018 Fertile Ground Festival of New Work. Showings are slated for 7:30 p.m., Thursday, Jan. 25, in the Moriarty Auditorium, Cascade Campus. Performances are free and open to the public.
The plays were written in the "Creative Writing: Scriptwriting" classes and celebrated in a handbook of 10-minute student plays produced during the summer 2017.
"Students are drawn to the power and compression of the 10-minute form," said Gail Jeidy, a scriptwriting instructor with PCC and creative advisor to the production.
The diverse works pose questions of sexuality ("Enough Wine to Kill a Horse") and coming to terms with family in the age of artificial intelligence ("Sage"). One showcases the dialogue between two runners in the 10 minutes before a championship race ("5K"); and another explores what happens when an everyday shopper meets a sentient self-check-out station ("Barcodes"). There's a complete telenovela in under 10 minutes ("Beautifully Ugly"), and a tortured take on the writing process ("Last Call").
"The students have gone above and beyond to make this event happen," added Jeidy.