This content was published: May 9, 2017. Phone numbers, email addresses, and other information may have changed.
President Mitsui celebrates PCC's instructors in recognition of Teacher Appreciation Week
Photos and Story by James Hill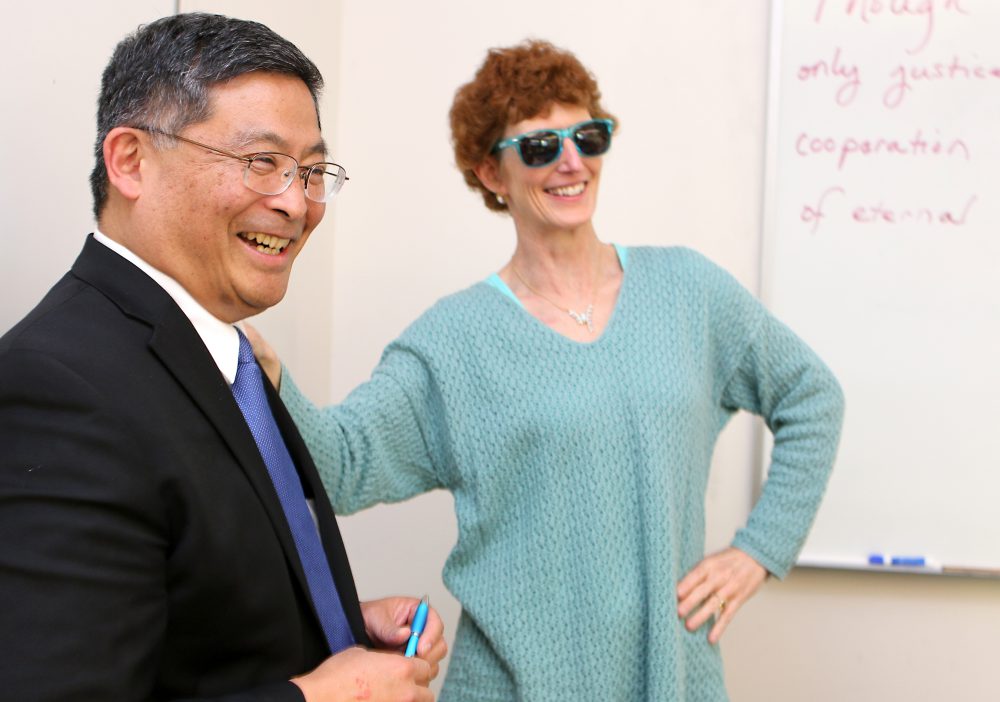 Psychology instructors Tony Obradovich and Cynthia Golledge got big surprise visits on Tuesday, May 9 – the president.
PCC President Mark Mitsui stopped by their classes to honor them with gifts for the work they do for students and the college. Mitsui is passionate about the effect instructors have on the community. He has said that everyday, teachers help to make our communities, our region, indeed our country, more equitable and inclusive, and more truly democratic. His classroom visits, which will continue this week, are part of PCC celebrating the national Teacher Appreciation Week.
"This Teacher Appreciation Week, I honor our community college instructors and educators," Mitsui said. "Thank you for your passion and your calling. Thank you for your commitment to our students and to your craft. Thank you for the central role you play in shaping and strengthening our communities."
In the afternoon, Mitsui stopped by ASPCC's Spring BBQ in the courtyard between the CC and HT buildings at the Sylvania Campus. The president not only chatted with students and listened to free music, but also enjoyed a $1 vegan lunch in support of student activities.