This content was published: November 28, 2016. Phone numbers, email addresses, and other information may have changed.
Trailblazing leader honored at PCC's Cascade Campus community open house
Photos and Story by Abe Proctor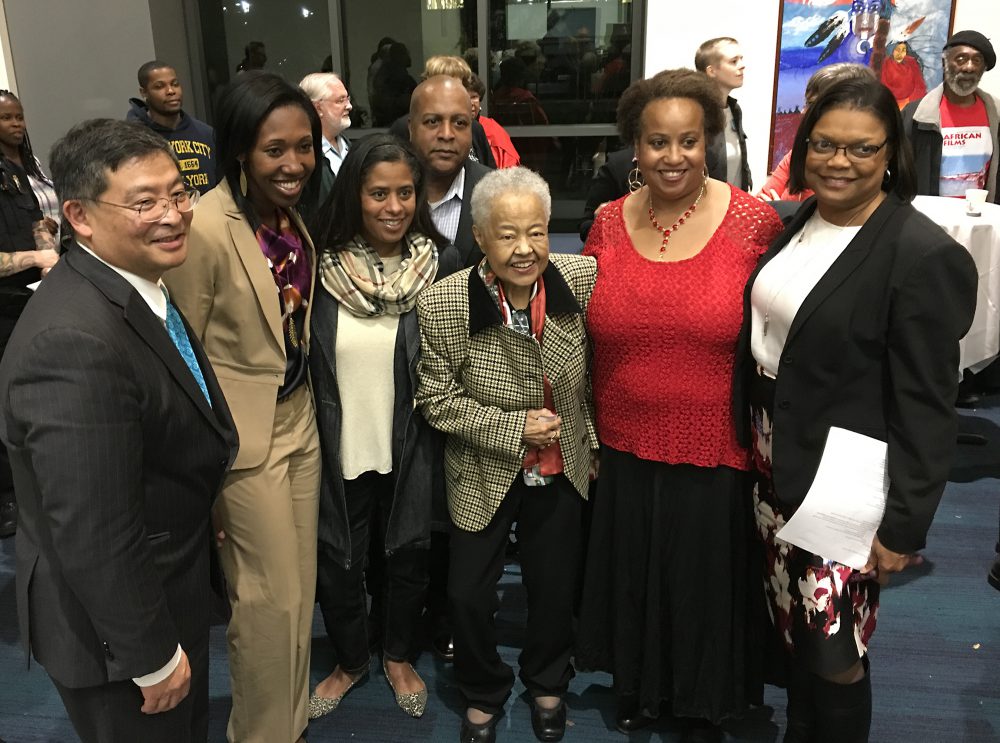 Community members packed the atrium of the new PCC Cascade Campus Library on Nov. 15 for a celebration of past accomplishments and the promise of things to come.
A performance from the renowned Jefferson Dancers kicked off the Cascade Campus Community Open House, which officially marked the end of the bond-funded construction campaign at Portland Community College's North Portland campus. The construction program – approved by voters in 2008 – added two new buildings to the campus, and renovated or expanded virtually every other, including the Library.
A slate of speakers, including PCC Board Vice-Chair Kali Thorne Ladd; PCC President Mark Mitsui; Cascade Bond Project Manager Rebecca Ocken; Hoffman Construction Co.'s Derrick Benneville; and Cascade student body president Alex Bell-Johnson.
Mitsui echoed the sentiment of the other speakers by praising the transformative effects of the bond work on the campus' ability to serve its students and the surrounding community.
"The benefits of this work is keeping our economy strong, diverse and thriving," he said. "You are providing the kinds of spaces and collaborations that enhance learning and enable new education opportunity. You are investing in community, with Cascade Campus being in the heart of four urban neighborhoods."
The evening also served as the culmination of the campus' children's book drive, as Cascade Campus President Karin Edwards presented the Children's Book Bank with nearly 200 books, all of which had been donated by campus students, faculty, and staff.
But the main event was yet to come. Following the presentation of the books, Edwards announced the dedication of a forthcoming Center for African American Community History in honor of longtime neighborhood leader and educational champion Evelyn "Evie" Crowell.
Crowell, who moved to North Portland from Michigan with her family in 1942, was a trailblazer for Portland's African American community. A teacher and librarian for Portland State University for most of her career, she was the first African American woman to lead the YWCA of Greater Portland. Crowell also served on the boards of the Oregon Symphony and Portland Center Stage, and has been an active member of the Portland chapters of the Links and Delta Sigma Theta Sorority.
More recently, she has donated more than $109,000 of her personal wealth to the PCC Foundation, establishing an endowed scholarship in her name and several others to support students enrolled in technical program's at PCC's Swan Island Trades Center.
The Evelyn Crowell Center for African American Community History – to be curated and installed in the Cascade Library over the next year – will tell the story of African Americans in North and Northeast Portland through words, pictures, and artifacts.
"It's humbling to be here talking about Evie and her life, because I truly believe that she has lived her life the way all of us should aspire to live – with courage, with tenacity, with love in her heart for her community and her fellow human beings," Edwards said.
The Evelyn Crowell Center for African American Community History, Edwards said, "will preserve this community's unique history for generations to come, so that no one will forget the struggles and triumphs of African Americans in Portland, and no one will forget the legacy of this remarkable woman, Evelyn Crowell."