This content was published: September 5, 2016. Phone numbers, email addresses, and other information may have changed.
JPMorgan Chase Foundation gives PCC's Career Pathways Program a boost
Photos and Story by James Hill
Portland Community College's Career Pathways Program and the PCC Foundation received a $100,000 grant from the JPMorgan Chase Foundation to expand access to career pathways for low-income students and youth of color.
The money will fund the Career Pathways Expansion & Outreach Project to bolster student outreach and recruitment and increase the number of students accessing college. In addition, it will expand the number of youths completing stackable career pathway credentials that lead to a degree and careers with advancement opportunities. The project will also develop the talent pipelines for the region's manufacturing, healthcare, and technology sectors by broadening the number of diverse youth who are skilled up and ready to enter the workforce.
"JPMorgan Chase is committed to helping communities make a long-term investment in increasing the access to career pathways and turning these opportunities into meaningful employment down the road," said JPMorgan Chase Northwest Philanthropy Manager Cat Martin. "We feel our support of the Portland Community College's Career Pathways Program is an important way we are helping to build the long-term success of the local economy."
The goal of the project, which starts this September, is to increase the number of youth completing Career Pathway credentials by 20 percent. Plus, it will enhance Career Pathways' existing workforce connections and partnerships with regional employers, Portland Public Schools and Worksystems, Inc. These connections and partnerships will expand the number of students participating in college success and leadership training, mentoring, and coaching, which are important to students building technical skills and college credits.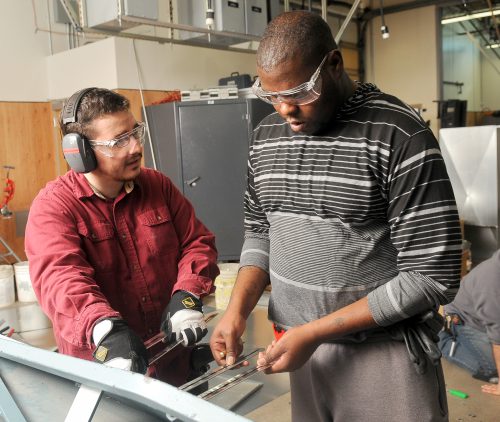 "PCC's programmatic breadth and depth, and its wide array of public and private partnerships, position the project to successfully advance the Career Pathways Program throughout the region," said Kate Kinder, Career Pathways Director. "This investment allows us to expand access to Career Pathways in the community, to increase the equity of college options and career opportunities for youth in particular. Not only will it help more youth reach their college and career goals, but it will also help meet the needs of the region's economy for a skilled and diverse workforce."
Career Pathways has been recognized by the White House for its student success and workforce development initiatives that offer youth a path to succeed in college and start on a career path. Each year the program serves between 300-500 students, and an additional 200 to 300 through partners. Over the past several years, the program has sustained a 94 percent credential completion rate, as students earn short-term, stackable certificates that prepare them for employment in high-growth, high-demand industry sectors, as well as provide a stepping stone to a college degree, and more.
Why is this new Career Pathways project important? Kinder noted that of the top-25 metro areas in the United States, Portland has the fifth-highest rate of "disconnected youth," meaning those who are not in school or working. The youth unemployment rate is 21 percent according to www.measureofamerica.org. In addition, data by www.serve.gov shows that by the age 28 only one percent of disconnected youth will ever achieve an associate or bachelor's degree, compared to 36 percent of the average population.
Meanwhile, regional manufacturing, healthcare, construction, technology, hospitality, and professional and business services sectors face shortages of skilled workers. By 2018, Oregon will be among the top five states where available jobs will require some type of college or post-secondary education, Kinder said.
About the JPMorgan Chase Foundation:
At JPMorgan Chase, we believe we have a fundamental responsibility to help our clients and our communities navigate a complex global economy and address their economic and social challenges. We use our strength, global reach, expertise, relationships, and access to capital to make a positive impact in cities around the world.
In 2015, the firm and its Foundation gave more than $200 million to thousands of nonprofit organizations across 47 U.S. states, the District of Columbia, and 43 countries. More than 47,000 employees provided 310,000 hours of volunteer service in local communities around the globe.
JPMorgan Chase works with community partners to create pathways to opportunity by supporting workforce development, financial capability, small business development and community development in the regions where we do business.
About the Portland Community College Foundation:
The Portland Community College Foundation aids and promotes the mission of the college by providing scholarships, equipment for teaching and training, special academic opportunities for students, and support for outstanding faculty and special programs. PCC is the largest institution of higher education in Oregon, serving nearly 90,000 students annually on four campuses.