This content was published: April 15, 2016. Phone numbers, email addresses, and other information may have changed.
PCC one of five community colleges nationwide to earn Tree Campus USA honor
Photos and Story by Janis Nichols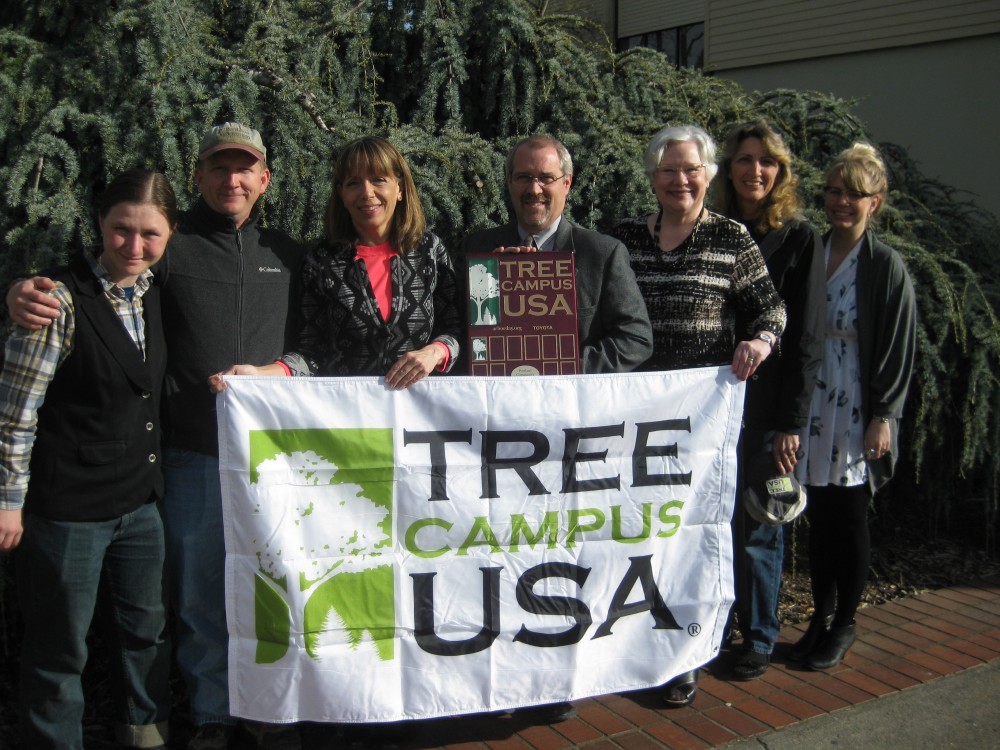 PCC is the only community college out of this year's five recipients to receive the Tree Campus USA award for 2015. Created by the Arbor Day Foundation, the honor recognizes PCC's exemplary commitment to the selection, protection and sustainable management of the thousands of trees that enrich its 1,500 square-mile footprint.
A formal Tree Campus USA award presentation was held at Rock Creek Campus in early April. Presenting the award was Paul Ries, urban and community forestry program manager at the Oregon State Department of Forestry. On hand to accept the honor were PCC Interim President Sylvia Kelley, Rock Creek Campus President Sandra Fowler-Hill, Landscape Technology Instructor David Sandrock, Landscape Instructional Technician Anne LeSenne, student Meara Gordanier and Interim Sustainability Manager Briar Schoon.
In accepting the award, the college has pledged to meet Tree Campus USA's five requirements which include the appointment of a tree advisory committee, the creation of a campus tree-care plan, a dedicated annual expenditures for its campus tree program, an Arbor Day observance and sustainable student service-learning projects.
"Landscape really matters to students," said Gordanier. "An orderly and beautiful campus is inviting, helps us relax between classes and is easy to use for recreation. It also reflects some of the college's values. The landscape of a college should in the end reflect its institutional goals."
In addition to the Arbor Day Foundation requirements, the District Campus Tree Advisory Committee has added to its list of goals a tree inventory; the propagation of the Medlar Tree (considered rare and highly valuable) and the setting a canopy goal that integrates the PCC Climate Action Plan.
"PCC embraces these requirements and views these standards as an opportunity to enhance what is perhaps the most distinctive landscape of any college or university in Oregon," said Sandrock. "Forests, meadows, wetlands, urban canopies, marsh land and grasslands offer students, faculty and staff of PCC an environment that speaks to the environmental values of the Pacific Northwest."
The Tree Campus USA designation aligns with the college's aggressive sustainability commitments as outlined in the college's Climate Action Plan. Among many other benefits, trees sequester carbon and assist the college with its greenhouse gas reduction targets of a 40 percent CO2 reduction by 2030 and 80 percent CO2 reduction by 2050 below 2006 levels.
Tree Campus USA is a national program created in 2008 by the Arbor Day Foundation and sponsored by Toyota to honor colleges and universities for effective campus forest management and for engaging staff and students in conservation goals. The Arbor Day Foundation and Toyota have helped campuses throughout the country plant thousands of trees, and Tree Campus USA colleges and universities invested more than $29 million in campus forest management last year.