This content was published: April 15, 2016. Phone numbers, email addresses, and other information may have changed.
Togetherness is the key at Cascade's Whiteness History Month session
Photos and Story by Abe Proctor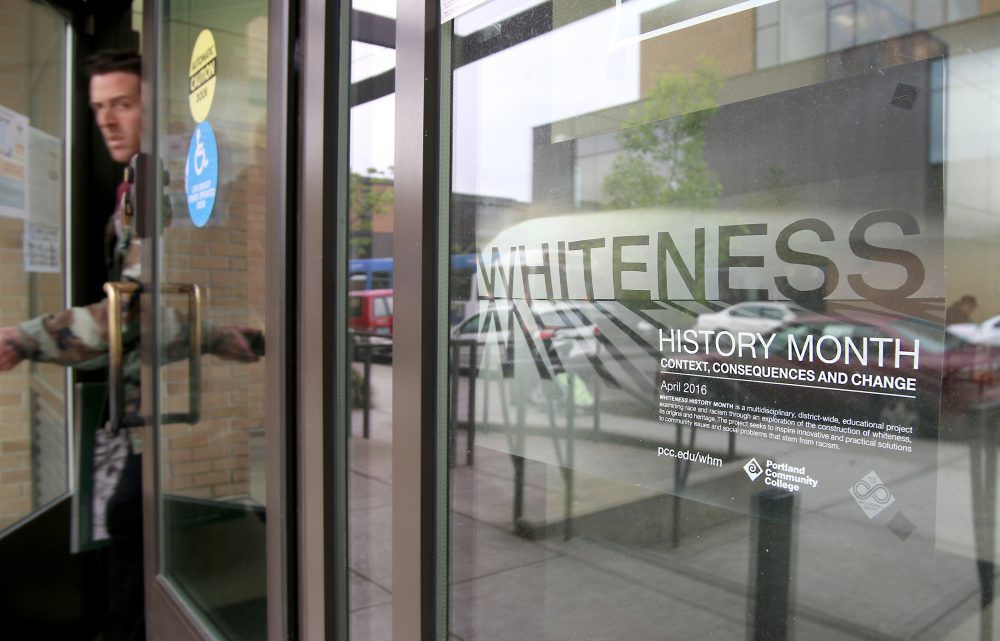 "We're all on this journey together," Bryan Hull said.
Hull, a composition and literature instructor at the Sylvania Campus, was co-presenting a Whiteness History Month session at the Cascade Campus with not one, but two weighty titles. The presentations were "Standard American English: A Racist Standard or Liberating Tool?" and "Parting of the Waves: How White Progressives Imagine Themselves in Relation to Race."
Hull was responsible for the "Parting of the Waves" portion of the presentation. His statement of inclusiveness was in reference to an illustration from "Conference of the Birds," an ancient Sufi text. This sense of togetherness, he said, was an intrinsic component that must be embraced by any white person with a real interest in bringing about a truly equitable world. It's not enough, he said, for well-meaning white people to set themselves apart or above others who might be less inclined to seek such equity. Like the birds in the Sufi tale, it's someplace we must all go together.
At first blush, this might seem to have nothing at all in common with the second section of the presentation. But more on that in a moment.
Hull's co-presenter, Cascade-based composition and literature instructor Jane Zunkel, spoke on the existence of a strict – and mythical – standard form of English as an extension of colonialism. How closely someone can adhere to this "pure" form of English, Zunkel said, is a means by which members of more privileged social strata – i.e., those who possess whiteness – can evaluate that person's relative level of "civilization" compared to the dominant culture and, by extension, how much that person will be accepted by the dominant culture.
Put another way, someone who speaks or writes in a "street" or "foreign" sort of way is likely to be viewed critically by those with the linguistic keys to the club of whiteness. A less-sophisticated use of English can be viewed, quite literally, as evidence of less sophistication, of a lower level of civilization, of an unfitness to travel in the circles of power and influence.
Perhaps, Zunkel suggested, it is more important to teach students how to communicate clearly and effectively than it is to adhere strictly to the guidelines of Standard American English. Perhaps it is a better idea for educators to equip students to hone their own distinctive voices than it is to serve as the linguistic gatekeepers of civilization and whiteness. Perhaps, no one dialect or mode of speech is inherently better than another.
"Students have a right to their own language, their own voice," Zunkel said. "It's our job to help them find it."