This content was published: April 25, 2016. Phone numbers, email addresses, and other information may have changed.
Longtime desire to assist people leads Nick Minch to rewarding career
Story by Celene Carillo.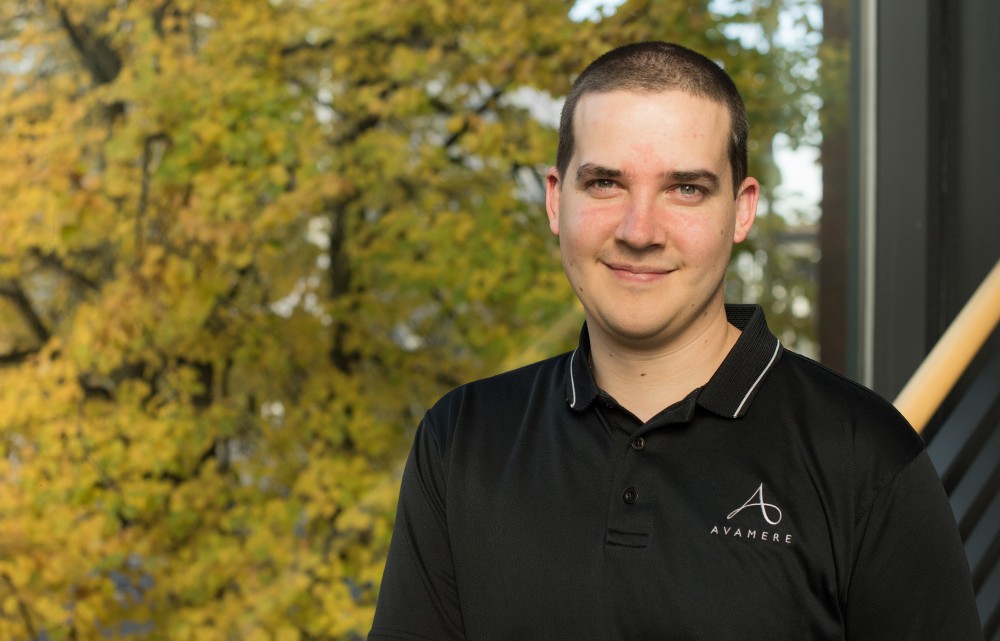 For Nick Minch, an accident-prone childhood and a passion for helping others sparked an interest in health care that led him to PCC. As kids growing up in Portland, Minch and his brother (both athletes) were in and out of the emergency room. In addition to more minor injuries, Minch suffered a broken leg and collarbone during his childhood—and his brother a broken neck. These experiences cemented Minch's respect for the medical profession.
"Seeing the level of care my brother received was incredible," said Minch, who is now director of the memory care unit at Regency Park. "I also grew up in a family of nurses, so part of me always knew I would want to make a career out of caring for others.
Minch earned his bachelor's degree in Community Health Education at Western Oregon University in 2011, but needed additional training before he could find full-time work in his field. He chose the Nursing Assistant Training Program through PCC's Institute for Health Care Professionals to help him take the next step.
"I knew PCC's program would put me on the job market with the skills I needed to get hired quickly," Minch
said.
One of the distinct advantages of getting trained as a nursing assistant through PCC is the pace of the program. After completing only 155.5 hours of training, students graduate with a certificate of completion and are ready to take the Oregon State Board of Nursing's competency exam.
"Most students complete this training in two to three months," said Linda Schneider, the director of PCC's CNA program and a longtime RN. "Students graduate with the knowledge to not only pass the state exam, but to get hired and begin caring for patients immediately."
Student split their time between the classroom and skills lab, and clinical practice. At the Glisan Care Center, the nursing and rehabilitation facility where Minch did his clinical practice, the knowledge he had learned in the classroom and in labs came together. Minch got to know his patients and heard their stories, and it affirmed his reasons for wanting a career in healthcare.
"Being a nursing assistant is more than just taking care of people," Minch said. "It's really about making someone's day a little brighter. As you start to get to know people you learn their preferences, you learn how to make them happy. Even things as small as having coffee ready for people when they wake up goes a long way."
After completing the training program and earning his CNA certification in 2013, Minch was hired at a memory care facility to work as a CNA on the night shift. While he enjoyed working directly with residents, he became interested in caring for residents and their families from a different side: administration.
"I found that I love being in a position where I can not only provide care, but oversee care others provide," he said.
Minch recently took a new job as director of the memory care unit at Regency Park, an assisted living facility in Southwest Portland. There, he's in charge of everything from staffing to service planning, to nurse supervision and meeting with families to make sure everyone is comfortable with how their loved one's care is going.
And since Regency Park is a long-term care facility, Minch and his staff can build strong relationships with the residents.
"I work with people right now who have dementia. I love hearing stories from them and their families, and learning who they were at different points in their lives," he said. "Forming a bond with residents and their loved ones makes it feel like a family."