This content was published: April 4, 2016. Phone numbers, email addresses, and other information may have changed.
Gary Payton engineers innovative STEM program outreach at Southeast Campus
Photos and Story by James Hill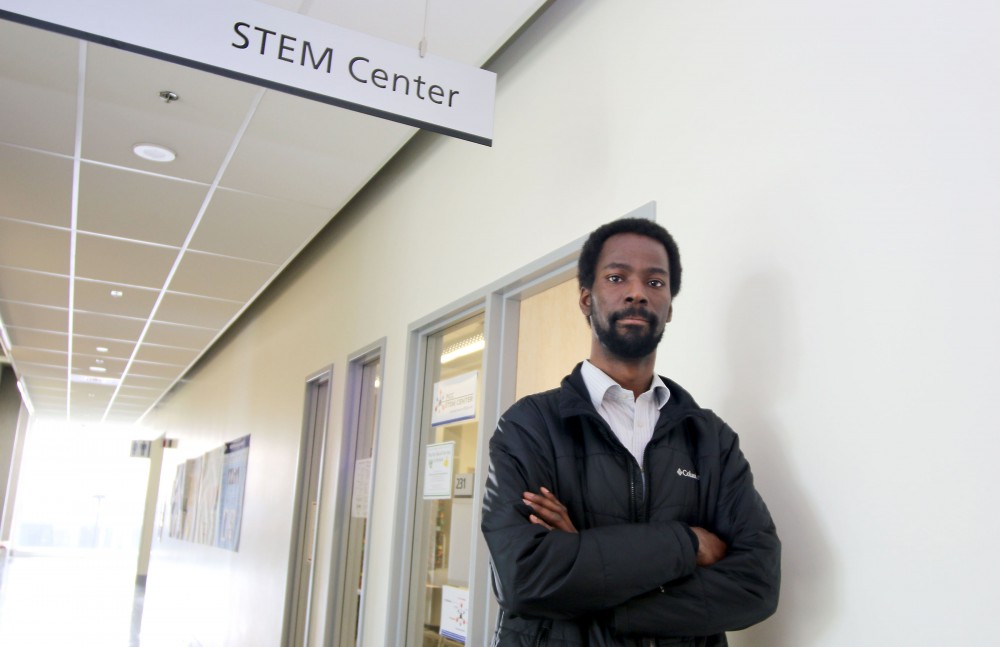 Gary Payton has some mad engineering skills.
He once converted a gas-guzzling automobile to an electric vehicle. Payton was a graduate student working as an intern with Fukui Byora, a metal parts company in Japan. He coordinated an electric vehicle club where he helped employees strip a gas-fueled automobile and bit-by-bit rebuild it into a fully-functioning electric car.
"We as Americans love to mess around with our cars but it's a foreign concept to workers in Japan," Payton said. "Out of all of them, only one was reasonably familiar with the inner workings of a car. The boss liked the idea of doing this. We completely dismantled it, even took the heating unit out behind the dashboard, which was a big job because there's a lot of stuff hidden back there."
Not surprisingly, Payton loves to invent, design and build stuff. In the STEM Center at the Southeast Campus, he has a digital guitar he created from wood and panels of wire, microprocessors and buttons that create sound. By pushing buttons where the strings are supposed to be on a real guitar and maneuvering a joystick on its arm, Payton can create a rainbow of sounds.
An engineering talent, Payton graduated from PCC's Faculty Diversity Internship Program and was selected for engineering faculty position last July. Soon after, he became the Southeast STEM Center Manager, overseeing programs and outreach to the campus and external communities.
The new STEM Center is located on the second floor of the Student Commons, part of the 2008 voter-approved bond measure construction that transformed Southeast into the college's fourth comprehensive campus in 2014.
The core of the center's mission is to get students at PCC and K-12 schools as well as community advocates excited about science. The center hosts STEM challenges, a weekly speakers series each term, as well as workshops and events for K-12 students from Portland Public Schools, the Black Parent Initiative, the Latino Network, the Native American Family and Youth Center, and the Urban League.
"Giving pre-college students and community members the opportunity to interact and learn on a college campus benefits everyone," said Sarah Rose Evans, education programs coordinator in Southeast's Math, Sciences & CTE Division. "The simple act of exposing kids to STEM opens doors for them and creates a whole cohort of students who know how awesome PCC can be."
Payton puts "Mission Awesome" into motion. This isn't a foreign concept to him, either. Besides facilitating the car conversion project in Japan, he helped to organize an innovation group at his last company, which built forklifts. The group brought together the company's engineers to brainstorm ideas.
"Not only do we want to build interest in STEM careers, but also interest in technology in general to enhance students' art or writing," Payton said. "It's a great way to expand their skills.
"We're still getting off the launching pad, but we hosted a Preview Day with high school students and it was packed," he continued. "The students all paid attention to what was said and were thankful for the tour."
Payton hopes to grow the offerings at Southeast's STEM Center and the pipeline of innovation where people are creating ideas, producing products and just, "making stuff." For those interested in participating in STEM Center activities, he said to email STEM@pcc.edu to see what's happening.
And, yes, another electric car is just around the corner for this crafty engineer. Payton reports the STEM Center will have a new Motor Makers Club on board very soon for students interested in designing and building an electric car.
"We really want to some day double the space of the STEM Center so we can have a full-sized shop with tools and equipment to accommodate an electric car," he said, also citing the possibility of adding more open labs, equipment and workshops with more space. "We hope to have a full load and a constant flow of people designing products."