This content was published: February 8, 2016. Phone numbers, email addresses, and other information may have changed.
Industry leaders talk Swan Island workforce development with PCC
Photos and Story by James Hill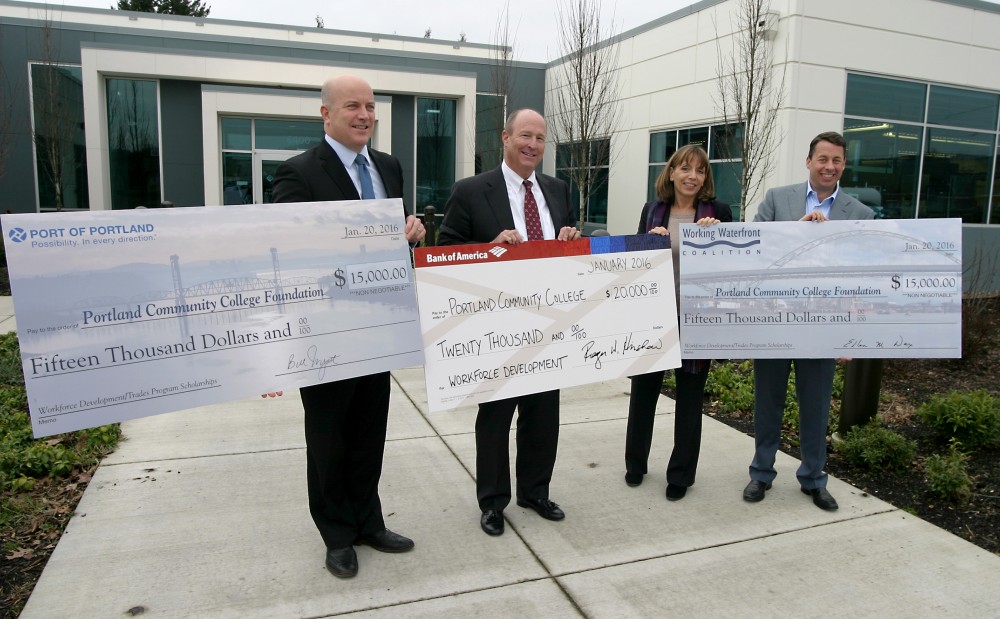 The manufacturing industry talked and Portland Community College listened.
The workforce needs of Swan Island and the region's manufacturing sector were front and center during a roundtable discussion in January. More than 60 local industry, business and community leaders met at the Swan Island Trades Center to discuss potential training opportunities that would give students the opportunity to work in family-wage jobs.
Hosted by the PCC Foundation and the Working Waterfront Coalition, the roundtable was preceded by a tour highlighting the various trades classes held at the new center (opened in 2014) like electrical and HVAC. Afterward, the PCC Foundation got a big boost when Interim President Sylvia Kelley accepted $50,000 in checks from Bank of America ($20,000), Port of Portland ($15,000) and the Working Waterfront Coalition ($15,000). The money will go toward supporting future trades program student scholarships and workforce development training.
However, the main event was the roundtable of industry movers and shakers. The conversation started with how PCC promotes workforce development and the partnerships the college has brokered with industry. Kelley called on the representatives in the crowd to further their involvement with college advisory committees by engaging with programs to keep curriculum on the cutting edge and help produce qualified trades workers.
"We want our students to support themselves financially," Kelley said. "We really believe our work makes a difference for the students and their families. It's life changing financially and emotionally. And we would like to hear about the type of training your businesses need."
Curtis Robinhold, Port of Portland's deputy executive director, discussed how the Port is preparing for the future through growth and building regional economic significance. He said the working harbor has more than 60,000 jobs, 27,000 of which are with the Port, and pay 10-15 percent better than jobs around the metro area.
"It's a really complex environment," Robinhold said. "There are a lot of jobs connected one way or another and are not necessarily all in the harbor. The scale of the environment is often lost on a lot of people."
Jack Isselmann, the Working Waterfront Coalition's board president and senior vice president of external affairs and programs at The Greenbrier Companies, presented on how the Working Waterfront Coalition is a regional economic driver and the importance of investing in workforce development. He commented that the coalition represents 100 companies on Swan Island that account for $7.6 billion in revenue, $3.6 billion in total payroll and generates $350 million in local and state taxes each year.
"These jobs and small businesses in the Portland harbor are a significant economic driver for the area," Isselmann said.
Rep. Lew Frederick said PCC's trades program and the family-wage jobs in the area help to reduce poverty rates. Growing up, he remembered folks talking about how young African-American men often would be discouraged to apply for manufacturing work in the area, resulting in a cycle of poverty. Building the trades center and its programs are key in combatting this issue, he said.
"The value of the trades center is clear," he continued. "You have to have people who understand how to do these jobs right here; you can't outsource them. We want to make sure everyone can be part of getting these jobs."
Roger Hinshaw, market president for Oregon and Southwest Washington for Bank of America, explored how the finance sector supports regional manufacturing through sustainable workforce development training and education, as well as providing access to capital for businesses. He said that Portland has the 17th largest manufacturing sector among the top largest 100 metro markets in the country.
"I'm a big champion of the manufacturing industry," Hinshaw said. "It's an under-recognized sector in the state and is a big deal for me. Twenty six percent of the state's GDP is from manufacturing. Our partnership with PCC has been a natural path for us. It's great to see all of the work PCC has done here."