This content was published: February 22, 2016. Phone numbers, email addresses, and other information may have changed.
College's leader on sustainability shows how PCC is on the forefront of a green revolution
Photos and Story by James Hill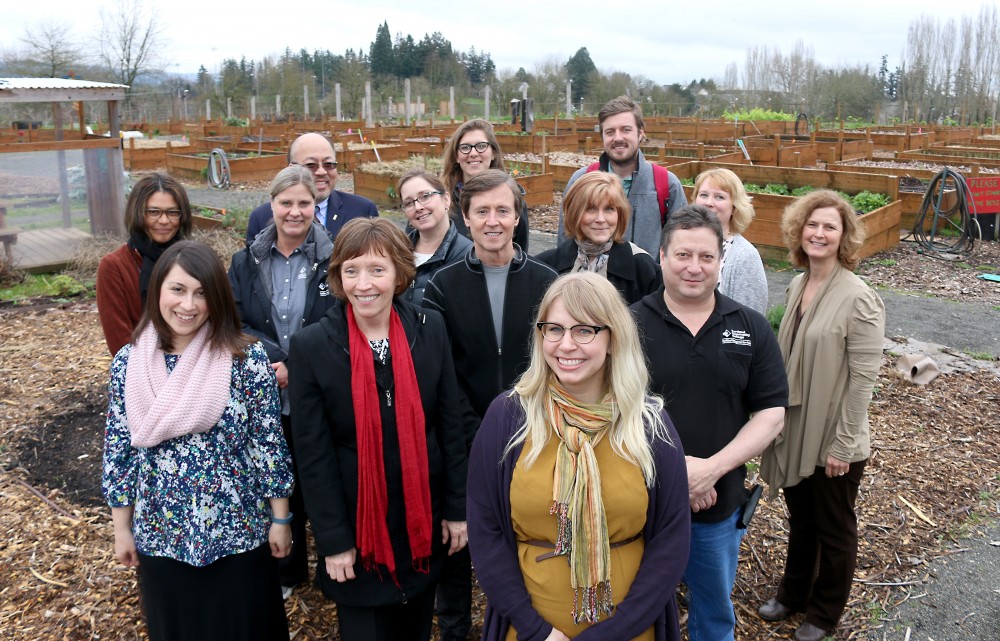 Sustainability isn't just a word at PCC. It's a way of life.
No one understands that better than Interim Sustainability Manager Briar Schoon, who sat down with us recently to explain how the college has emerged as a leader in all aspects of being green. Schoon, who has worked at PCC for three years, led the college's presence at the recent Oregon Higher Ed Sustainability Conference (OHESC) in Eugene. PCC had more than 20 staff and faculty who hosted presentations, panel discussions and poster sessions detailing the college's respected sustainability program.
This leadership role by PCC in the world of sensible sustainability practices has earned it national accolades and Schoon helps to make it happen. She is charged with integrating sustainability into all college operations and throughout academics. This includes coordinating the Sustainability Leadership Council, and working with Facilities Management and Auxiliary Services to integrate green operations. In addition, she collaborates with the SPARC Council and the Greater Portland Sustainability Education Network to advance sustainability curriculum, aligning with student sustainability initiatives and co-chairing The Green Initiative Fund committee. And, Schoon is busy promoting outreach and education to the college and external community, participating in committees and community groups as a PCC sustainability representative.
How did the conference go for you and PCC?
Schoon: It was excellent. I presented with our Grounds Manager and Sylvania Custodial Manager, sharing some of the innovative ways Facilities Management Services advances sustainability at the college, and sat on a panel that discussed utilizing "green" buildings as educational tools on campus. Both presentations brought a packed house and we had lots of great questions and feedback.
Did you receive feedback and inquiries into PCC's initiatives?
Schoon: I present at a lot of conferences and I am always receiving such positive feedback and interest in our programs. People are blown away by all that we have accomplished, especially given our size and scope. OHESC was no different. I had countless people ask about our program and how they could establish similar initiatives at their school.
How important was it to have speakers there telling PCC's story on sustainability?
Schoon: It is so important for a variety of reasons! Our motto for the college's Sustainability Program is "we're all in this together" and this extends beyond just the college community. At the end of the day we are working to increase our collective impact to promote ecologically-sound, socially-just, and economically-viable communities. When we present on the good work we are doing, others are inspired and may institute similar programs, thus increasing impact. We also benefit by learning from others and I have several tidbits I took back from the conference that I plan to integrate into our programming at PCC.
It also makes quite a statement to have PCC leadership attend these conferences. Three of our campus presidents attended and shared some of the great work we've accomplished and our continued commitment. For example, we just signed onto President Obama's Campuses Act on Climate Commitment in December.
What was your favorite moment, or biggest takeaway?
Schoon: One of the best things about conferences like these, is you get a renewed sense of purpose. It is quite invigorating to be reminded that there are so many wonderful people doing this work at the local, national and international scale.
How has sustainability evolved at the college?
Schoon: Our program has come a long ways since signing onto the American College & Universities' President's Climate Commitment in 2006. We have developed two iterations our Climate Action Plan with a cross-district Sustainability Leadership Council spearheading these efforts that have resulted in a seven-percent decrease in college greenhouse gas emissions. Due to ongoing energy upgrades and new energy efficient buildings we have seen a 65-percent reduction in energy use per square foot, surpassing our Climate Action Plan goal of 50 percent. We have students that commit part of their student activity fee towards the Green Initiative Fund, which has now funded or committed more than $700,000 towards sustainability projects. And our Sustainable Practices & Resources for Curriculum Council has provided three training sessions for faculty to incorporate sustainability into course curriculum and we now have more than 100 courses that touch on sustainability topics.
Tell us more about how PCC is leading community colleges in sustainable purchasing?
Schoon: PCC is one of a handful of schools in higher education that tracks and reports on its supply chain emissions publicly, meaning we calculate the environmental impacts of all of the services and products we buy as a college each year, which often contributes more than half of our greenhouse gas footprint. We have received national recognition for this, which has situated PCC as a leader in the sustainable procurement arena. We are also the only community college on the Founder's Circle of the Sustainable Purchasing Leadership Council and the Oregon Environmental Council's Healthy Purchasing Coalition.
We have promoted sustainable purchasing a variety of ways – by integrating sustainability into the competitive process; promoting product-specific purchasing criteria and guides; emphasizing infrastructure and practices that reduce the need to buy things to begin with (what I call preventative purchasing); and emphasizing reusable and recycled products. For example, installing bottle-filler stations and a reusable food container program have prevented over 152 MT of Co2e. Further, Facilities Management has reduced chemical usage over 70 percent by replacing general cleaners with ionized tap water and practicing integrated pest management. All of which reduce our carbon footprint.
What are the biggest programs or initiatives going on right now you are working on?
Schoon: We are always working on exciting ventures and currently a big focus for us is occupant engagement and education, which includes people understanding how their daily actions impact sustainability at PCC and on a broader scale by being more engaged in sustainable practices. Also, we have been working on a Strategic Energy Management initiative at Rock Creek, a big portion of which is educating and engaging occupants to reduce energy consumption. We are in the process of re-designing our waste signage, creating new displays to educate occupants on proper waste streams and have been piloting a program called the Mini Max System that provides staff with mini trashcans in place of their normal desk-side trash containers, which they are then responsible for managing. And, we are also busy preparing for Earth Week, which is April 18-22 this year. We have so many great events planned throughout the district. For example, we are co-sponsoring an event with the Sylvania Multicultural Center featuring Eriel Deranger, an indigenous rights and environmental activist. She will explore the connections between oppression and environmental injustice, and highlight movements that address this intersectionality successfully.
I really want to emphasize that I am so fortunate to work with a great group of passionate people that contribute to these efforts.
Why is sustainability so important to you?
Schoon: It may be cliché, but I like to live by the motto: "Leave this world a little better than you found it." I do this work because I want to leave a hospitable planet for all of Earth's inhabitants, and not just one that is ecologically-sound but one that promotes equity within our social systems as well. People tend to think that sustainability is only about the environment, but it is so much more than that. True sustainability finds harmony between our environmental, social and economic systems.
What do you hope to accomplish in the next year and what is the vision for sustainability at PCC in the next five years?
Schoon: For the next year or so, increasing hands-on sustainability learning opportunities will be a big focus. We have two learning gardens in development, adding to our two current successful learning gardens, and plans to promote our new sustainable buildings as living labs where students learn about ways to reduce environmental impacts within our built environment. We are working on an addition to our webpage that helps students and faculty align their learning outcomes with real-world sustainability projects. We also submitted for Tree Campus USA and Bee Campus USA status and hope to have these fully instituted this year. These will be a focus along with maintaining our current programs.
Within the next five years, we have plenty outlined within our Climate Action Plan and SLC committee goals. Some of which include establishing a sustainability coordinator at each campus, installing a Carbon Action Fund to fund greenhouse gas reduction strategies, expanding Strategic Energy Management efforts, and increasing the number of sustainability-related classes.