Please note: This was published over a year ago. Phone numbers, email addresses and other information may have changed.
Cascade Multicultural Center celebrates its new home with pop-up exhibit
Photos and Story by Katherine Miller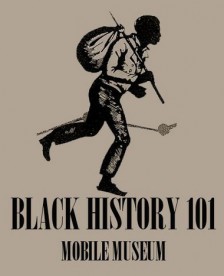 January 2, 2015
The Cascade Multicultural Center is now officially open in the new Student Union, built as part of Phase I bond improvements. The center is celebrating its new space on the top floor of the building by welcoming the critically acclaimed Black History 101 Mobile Museum to campus. This innovative traveling exhibit includes more than 150 artifacts of Black memorabilia spanning slavery to hip-hop. It is part of much larger collection housed in Detroit.
The pop-up exhibit will be held from 9 a.m. to 5 p.m. in Room 203 of the union. In addition, museum founder and curator Khalid el-Hakim will give a lecture from noon to 1 p.m. on the creation of the museum and the implications of Black history into the present.
"My mission is to raise the consciousness of the human family by sharing artifacts that celebrate the contributions, achievements and experiences of African Americans," says el-Hakim. "I want people to walk away as inspired as I've been as a collector and student of this history."
The event is free and open to the public.