This content was published: January 19, 2010. Phone numbers, email addresses, and other information may have changed.
Winter Powwow builds Native connections
Photos and Story by James Hill. Video by PCC Video Production.
Portland Community College and the Sylvania Campus Multicultural Center will be celebrating Native American culture and ancestry in January.
The college is hosting its 11th annual Winter Powwow (WACIPI) on Saturday, Jan. 23 in the HT Gymnasium at the Sylvania Campus, 12000 S.W. 49th Ave. Doors open at noon with grand entries at 1 and 7 p.m. The powwow is open and free to the public.
The 2010 Winter Powwow will feature master of ceremonies Bob Tom (Confederated Tribes of Siletz and Grand Ronde), whip man Ed Goodell (Confederated Tribes of Siletz), color guard by Northwest Indian Veterans Association and fry bread and Indian tacos provided by Fry Bread Man. In addition, there will be a college fair from noon to 4 p.m., many Native American arts and crafts vendors and a community dinner at 5:30 p.m.
Check out what else they have planned this year.
The powwow, which attracts more than 1,000 attendees every year, is a chance for Native American students at PCC to organize something that has a direct link to their culture. Daniel Soucy, 28, volunteers for the powwow and designed this year's poster. Soucy, who is Abenaki Indian, which hail from New England through to Quebec, grew up in New Hampshire and moved to Portland three years ago. Moving west, he became introduced to the way powwows are organized here and was instantly intrigued.
"It was also around that time that I discovered the frequency of the powwows out here," Soucy, a second-year graphic design student at the Sylvania Campus and member of the school's United Tribes Native American Student Association. "I started attending regularly and it really changed my life. I've decided to honor the traditions of my people, learn my language, and using my talents to help my people wherever needed.
"Powwows are a very important tradition of our people," he added. "They were originally a dance to honor the warriors who have returned from defending our ways. However, over time, powwows have become a place for the Native community can meet with one another and honor our traditions and pass them on to future generations."
Soucy is interning with the marketing department at the college and was assigned the job of re-imagining the powwow's poster. He said Wacipi had been using the same look and design for it's advertising for years and thought it was a time for an update.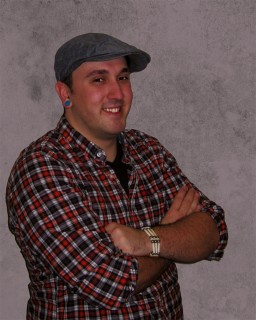 "I really wanted this event to have a specific purpose and set our school's Wacipi powwow apart so I accentuated the focus on honoring Native American youth and students," he said. "I feel like the hand illustration I did really reflects that, blending tradition with modern Native youth culture. I also made the colors more vibrant to reflect the look of an actual powwow."
His work on the powwow all has special meaning to him. Due to many tribes in the Northeast being unrecognized, or due to longer contact with European cultures and the assimilation that causes, he said powwows are few and far between where he grew up.
"I found my first one out here to be a profoundly moving experience that completely changed the path I was going down, and had me refocus my attention on my roots and traditions," Soucy said. "I have not had the chance to volunteer at any powwow as of yet, however I helped organize, wrote and read a speech at our United Tribes Club's Reconsidering Thanksgiving event. The club worked hard to bring together two drum groups and several dancers to give an exhibition in the CC Building, and to expose the true roots and meanings of Thanksgiving."
Native American student earns PCC Foundation scholarship
Barbara Gladue was selected for the first annual PCC Foundation Native American Student Scholarship in the amount of $1,000 for 2010.  Gladue was featured in last year's powwow publicity. Ten percent of the powwow proceeds go toward the Foundation scholarship.