This content was published: February 17, 2005. Phone numbers, email addresses, and other information may have changed.
Shakespeare's 'Winter's Tale' to debut at PCC
Photos and Story by James Hill
SYLVANIA CAMPUS – Great theater is coming to Portland Community College with the production of William Shakespeare's "The Winter's Tale." The play marks the college's 10th Anniversary of the Performing Arts Center.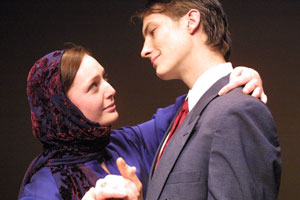 The production is staged by the Theater Arts Department at the PCC Sylvania Performing Arts Center, 12000 SW 49th Ave., 7:30 p.m. from Thursday to Saturday, March 3-5, and Friday and Sunday, March 11-12. There is a Sunday matinee on March 13 at 2 p.m., which will be interpreted for the hearing impaired.The story centers on King Leontes, who suspects that his wife Hermione is having an affair with his best friend King Polixenes, a terrible misjudgment that causes disaster and loss of all Leontes holds dear. With perhaps the greatest ending of any play, Shakespeare manages to amaze his audience, while showing the redemption often longed for, but rarely found. The student cast includes Jerry Hathaway (Forest Grove), Veronica Everett (southwest Portland), Brian Culp (southeast Portland), Leah Gibson (northeast Portland), Jessica Cohoe (north Portland), Larry Cutting (Hillsboro), Eleanor Cohn-Eichner (north Portland), Brittany Hancock (Newberg), Will Renwick (Tualatin), Chelsea Glasgow (northeast Portland), Andree Barnes (northeast Portland), Russell Dodge (Beaverton), Christopher Green (Beaverton), Rian Turner (northeast Portland), McKenna Twedt (Tigard) and Mike Chapman (Tualatin).Michael Najjar, theater arts instructor, serves as the play's director while Dan Hays (theater coordinator) is the set designer and Margaret Louise Chapman designed the costumes. The production will feature live music by Portlands River City Bluegrass Band, video projections, lush costumes and large-scale designs. Tickets are $7 for the public, $5 for students, seniors, PCC staff and children. Tickets can be purchased by calling 503-977-4949 or visiting the PCC Sylvania Bookstore.