This content was published: October 24, 2003. Phone numbers, email addresses, and other information may have changed.
?Kissed the Ghost' Exhibit to Show at Northview
Photos and Story by James Hill
SYLVANIA CAMPUS Portland Community College will host an exhibit of mixed-media paintings combining text and image at the Northview Gallery, located at the Sylvania Campus, 12000 S.W. 49th Ave.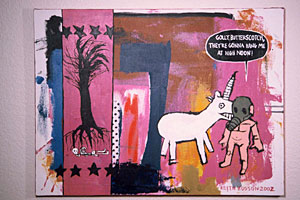 Keith Rosson's "And the Cobra Kissed the Ghost"will be on display at the gallery from Monday, Nov. 3 through Thursday, Dec. 4. Gallery hours are 8 a.m. to 4 p.m., Monday through Friday. There will be an artist talk and reception at 2 p.m. on Wednesday, Nov. 19 in the gallery, CT Building, Room 214. Rosson's paintings are reminders that the choices people make on any given day have an impact on those people and places around them. In short, he has developed a language of symbols, images and words that help comment on these choices."I paint about those near-intangibles like courage and hope, the guts and the heart,"Rosson said. "These are the things I find myself coming back to over and over again. I'm putting in my two cents about the paths we can take and the repercussions of the choices we make on any given day."Rosson has exhibited his paintings at the "Modern Zoo"of the Portland Center for Arts and Culture, Basil Hallward Gallery, Fireplace Gallery at Mount Hood Community College and Bollenbach Art Labs among other local venues. He has contributed his written work to various magazines, including "Heartattack,""Thrasher,""Maximumrocknroll"and "Avow."His book "The Best of Intentions,"which includes the first 16 issues of "Avow,"has recently been published by Fork in the Road Press in Vancouver, B.C. Rosson's paintings will be featured in an upcoming solo exhibition at the Skeleton Art Gallery in Santa Fe, N.M.For more information about the Northview Gallery exhibit, contact Marie Sivak, gallery director, at 503-977-4829.Photo Caption: "Better Dreams Than This."18×24?, acrylic, paper and correction fluid on canvas, 2002.