This content was published: May 16, 2003. Phone numbers, email addresses, and other information may have changed.
Kenny Carr: Reshaping Cascade's Jackson Hall
Photos and Story by James Hill
CASCADE CAMPUS – No plump orange basketballs. No screaming crowds. No leaping for rebounds in the paint. No, just a 50-ton crane and a ton or so more of elbow grease.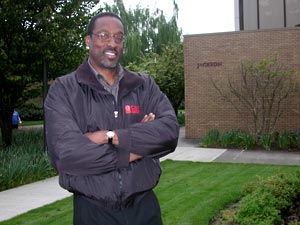 Kenny Carr, the former Portland Trail Blazer power forward, no longer runs the hardwood and dives for loose rebounds or frets over critical free throws. Today, the once gritty player now runs his own construction business, Carr Construction, and was an integral part of the new Jackson Hall addition construction at the Cascade Campus last winter.Carr's company worked on the structural steel framing and the joining of pre-fabricated slabs. All of it pieced together like a puzzle with help from the crane. Carr says there is plenty of coordination that goes into connecting the fabricated slabs, teamwork you could say, and it's a profession he relishes. Even in lean times, like in today's current economic conditions, Carr says he's thankful for schools like PCC."What has been a real catalyst in our profession is there's been a lot of construction by schools,"Carr said, happily viewing the final touches on Jackson Hall. "It's a big help during this slow period in the economy. And it's an enjoyable aspect to see the finished project."Kenny Carr, a long-time West Linn resident, is no stranger to the public eye. By the time Carr retired from the NBA he and his family had roots in Oregon. He stayed and established Carr Construction, after a friend gave him a taste of the business. "It was nothing planned,"explained Carr, whose company worked on a Cascade Campus project six years ago. "I had friends in the business and got started in 1986. I remember one of our first jobs was Columbia Villa. I started as a general contractor but eventually moved into the specialty work of sub-contracting in the early 1990s, which I like better."With the renaissance of the north Portland area, punctuated with the bond construction at the Cascade Campus, a focus of work has emerged that is helping to change the landscape of the community. Carr also has been part of the north Portland community and says he is proud to see it evolve in a positive direction."I've been extensively involved with this area for 21 years and have seen it grow,"Carr said. "We have had a lot of investment in the north Portland area and it's had a boom in construction lately, raising property values. It's been great to have been a small part of that."The soft-spoken Carr says his No. 1 objective during work for his crews, which can grow to as many as 50 to 60 workers, is to keep them all safe. "We make sure safety is the most important aspect in the total picture. The hard part is that it is difficult to keep track of all of a large crew's minor injuries. You could have a good streak for a while of no injuries and suddenly you hit a bad streak."Then there's the planning.Carr said that he plans three months ahead of time to ensure he always has projects lined up for his crew and to "keep things in the pipeline."He says he is always thinking far ahead of schedule and admits he likes to know where the company's going next. "We have very competent people,"Carr says of his staff. "So I want to secure future work to keep them going."PCC's Minority, Women and Emerging Small Business (MWESB) effort is an outreach program set up through the 2000 construction bond. The program networks with key organizations and businesses in the community to help spread contract money to underrepresented workers and companies. With this initiative, PCC allocated $2.7 million in 2002 contract money toward women, minority or emerging small businesses for the construction projects.