Fair Tips
Be Prepared Before the Fair
Know what to say
Prepare a 15-second pitch about yourself – what skills and accomplishments do you bring that will benefit this company. What makes you unique?
This video from Boston University Center for Career Development provides great tips to help prepare your Elevator Pitch.
Plan to wear a professional outfit – first impressions are critical and lasting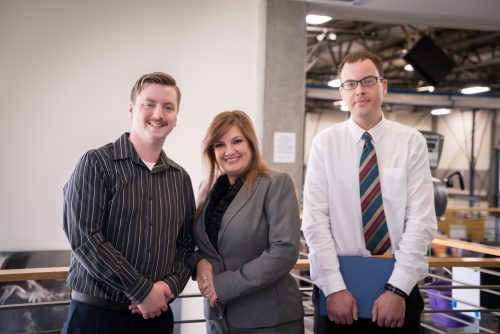 Dress business casual. Refrain from wearing perfume or cologne.
Employers strongly discourage mini skirts, tank/halter/sleeveless tops, low-cut or tight-fitting shirts, facial or tongue piercings, and visible tattoos.
Watch these videos to get more ideas on professional and business casual dress.
Employers say…
"Go to our website: look at our openings and the types of jobs we have, learn about our company and apply online."
A list of this year's attendees with links to their websites can be found under Employer Attendees.
It's a great way to find out current openings and apply online.
Look up information and do research on the companies you want to talk to. Impress them with your company knowledge and enthusiasm to work for them.
Glassdoor
Glassdoor is a resource to help you do some research on companies before you attend the fair
Prepare your resume before the fair – in case you're asked for it
It's less common at job fairs that employers are accepting resumes, they steer applicants to their online applications, however in the case you are asked for one, be prepared to offer a current resume.
At the Career Fair
Be patient, keep a positive attitude and show your enthusiasm for their company.
Bring a pen, folder or portfolio for your resumes, and perhaps a pad of paper.
Carry as little as possible (no coats or backpacks).
Turn off cell phone.
Talk to others while you are waiting in line. You may hear about opportunities of which you were unaware.
Approach employer representatives with confidence
Introduce yourself, make good eye contact, and offer a firm handshake. Be enthusiastic – smile and express interest in the company.
Know what type of position you are looking for.
Ask appropriate questions about job openings/descriptions, the organization, application procedures, etc. Click on Questions to Ask Recruiters.
Collect business cards and employer literature.
Don't just drop your resume on employers display table and grab free stuff. Try to get it into a person's hands and at least say a few words. Write a note on your resume to the effect of, "You were so busy that we didn't get a chance to meet. I'm very interested in talking to you." Look around the display for their business card and send them a follow up note with another copy of your resume.
Navigating the event
Go try your pitch out on an employer you are not as interested in before you go to your top choices.
When you visit your top choices; avoid standing in a long line to speak with one recruiter when you could talk with 3 or 4 others in the same time period.
Listen what questions others are asking and what recruiters are saying. You might get some ideas for good questions.
Explore options – A wide variety of companies will normally participate. This is an excellent opportunity to browse and indulge your curiosity.
Be flexible – Not all companies will have open positions or be interviewing on the spot. Be prepared to gather information and make connections with employers for possible future openings. Don't burn a bridge by expressing frustration about a lack of current jobs.
After the Career Fair
Send a thank you letter or email message
Thank employers for their time spent at the job fair. Restate your interest to those employers in which you are particularly interested.
Include a copy of your resume. Since most candidates will not follow up with employers after the job fair, this will make you stand out.