Internationalizing Initiative Summit: Envisioning Our Journey
Held Friday, April 18, 2008 at the Rock Creek Campus Event Center. The Summit was an all day event where participants gave ideas and recommendations and helped in creating a vision.
Goals for the Summit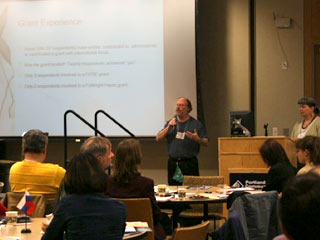 Inform participants of existing international efforts at the college
Create a vision that will guide us in our next steps of internationalization
Identify gaps in what we are currently doing
Develop a strategic plan to realize our vision
Our ever-changing global landscape presents us with distinct challenges for educating our students. We bring a range of perspectives to these challenges, perspectives based on our own experiences and professional and personal backgrounds. Our approaches are economic, political, scientific, practical, ethical, as well as deeply personal in nature. While potentially messy, this diversity of ideas is important – it is our wealth and creative force. Your diverse perspectives and creative ideas will help us set the course for internationalization at PCC. Read the recommendations that came out of the Summit.
Committees
Many people contributed to the planning and execution of the summit. The following committees were crucial to the success of this event. Click on a committee to see its members.
Planning Committee for the Summit

Committee members: Takako Yamaguchi, Yuli Auld, Cecilia Barry, Barbara Vanamerongen, Sylvia Gray, Bryan Hull, Deborah Sipe, Jane Rognlie, Karen Sanders, Dave Stout, Christina Cleary, Sarah Ouelette, Kelley Brayton, Linda Blanchette, Thomas Huminski, Jean Garside, Marlene Eid

Facts: Did you know? Committee

Committee members: Takako Yamaguchi, Yuli Auld, Jim Johnstone

Survey Committee

This group was responsible for working with Institutional Effectiveness to create and administer a college-wide survey. The purpose of the survey is to collect information from the college community on what currently exists at PCC in terms of international resources – both curricular and personnel.
Committee members: Rob Vergun, Linda Blanchette, Kelly Brayton, Michael Sonnleitner, Holly King, Melissa Manolis, Usha Ramanujam, Marlene Eid

Models Committee

This group was responsible for collecting information on how other colleges and universities around the country are addressing the issue of internationalization. The reading Packet for the Summit was put together by this group.
Committee members: Jane Rognlie, Linda Blanchette, Tom Huminski, Cynthia Kimball, Melody McMurry, and Charlie Scieracki

Study Abroad Committee

This group was responsible for evaluating the current status of study abroad at PCC and for gathering information on how other community colleges in Oregon and across the country administer such programs.
Committee members: Barbara VanAmerongen , Cecilia Barry, Cheryl Scott, Christina Cleary, Dave Stout, Takako Yamaguchi, Jane Rognlie, Sarah Bentley, Delyse Totten, Kelly Braton, Marlene Eid

Facilitators and Notetakers for the Summit morning workshops

Facilitators: Christina Cleary, Jean d'Arc Kakusu Campbell, Sylvia Gray, Esther Loanzon, Sarah Bentley-Quintero, Jennifer Newby, Cheryl Scott, Karen Sanders
Notetakers: Karen Sanders, Jean Garside, Amanda Harrison, Pattie Hill, Becky Hughes, Deborah Lomax, Nellie Long, Shannon McGaha, Gratia Minor, Wendy Thielen, Linda Timmins, Jessie Levine, David Stout, Magdalena Tolva, Dorinda Gustafson, Shawnna Bechtel
Evaluation
The Summit received high marks from attendees. See the tally of the evaluation results.