November Symposium on Chinese Histories
Brown and Clayton head Symposium bill in November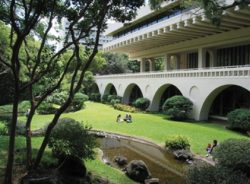 November 30, 2012
Directed by the Asian Studies Development Program (ASDP)
Funded by a grant from the U.S. Department of Education, ASDP, and PCC
This workshop introduces participants to Chinese Histories, focusing on how each affects Chinese culture and language. The symposium (principal lectures given by Dr. Shana Brown, Department of History, University of Hawaii, Manoa, and Dr. Cathryn Clayton, Professor of Asian Studies, University of Hawaii, Manoa), is open to all interested faculty, students, and community members. In addition to the public events, on Saturday two special sessions will support the core group of PCC faculty – "The China Cohort" – as they design courses and add modules to existing courses focused on China.
Schedule of events
November 30, Friday – Cascade TH 122
9-9:30am: Coffee and chatting
9:30am-12 noon: Professor Shana Brown, Department of History, University of Hawaii, Manoa (Open to the PCC and general community)
Title: The Long Tail of the Chinese Revolution: Why Maoism Still Matters, in Politics and Culture
Description: Understanding the continuing impact of China's twentieth-century revolutions has become complicated. Several decades of rapid economic and social growth can make it difficult to perceive where structures dating from the Maoist system and before are still relevant. But the long history of the Chinese revolution reveals important consistencies in expectations of good governance, as well as in the ongoing resonance of historical cultural forms. From photography to the Olympics to new social media, Maoism still matters.
Speaker's bio: Shana J. Brown is Associate Professor of History at the University of Hawaii, Manoa. Her areas of research include Chinese historical thought, visual culture, and women and gender. In 2011, she published Pastimes: From Art and Antiquarianism to Modern Chinese Historiography (Hawaii). Recent and forthcoming publications include essays on Chinese wartime photography, female artists, and the modern collection of Buddhist artifacts. She is currently working on a book project entitled Framing Revolution: Politics and Photography in Modern China.
12-1:30pm: Lunch
1:30-4pm: Professor Cathryn Clayton, Department of Asian Studies, University of Hawaii, Manoa (Open to the PCC and general community)
Title: Thinking about Chinese Nationalism
Description: If you've followed China the US news media over the past fifteen years, chances are you've seen recurring images of massive and sometimes violent protests against Japan, the US, and other countries whose actions are deemed violations of Chinese sovereignty. All too often, media representations of these expressions of nationalism fall into one of two long-standing stereotypes about China: either that the Chinese people are inherently xenophobic, or that they are being manipulated by a cynical and self-serving authoritarian government. In this talk I will try to move beyond these views to present a more nuanced way of thinking about the sources and courses of popular nationalism in China.
Speaker's bio: Cathryn Clayton is a cultural anthropologist of China and Associate Professor in the Asian Studies Program at UH-Manoa. Her research interests focus on the question of Chineseness – how and why it becomes a compelling form of collective identification (be it nationalist, diaspora, regional, civilizational) at different points in time and space. She has published on questions of sovereignty and cultural identity in Macau (a city in south China that was governed by Portugal from 1557 until 1999), and is beginning work on a new project about the cultural and legal identities of ethnically mixed families in the PRC. At UH, she teaches courses on nationalism in Asia, the Chinese diaspora, and gender and the family in China.
December 1, Saturday Morning and Afternoon
9am-1pm: Curriculum workshops (for cohort members)
This symposium is part of a three-year faculty and curriculum development initiative funded by a Title VI grant from the U.S. Department of Education and directed by the Asian Studies Development Program (ASDP). This includes six participating institutions of higher education – three universities, and three community colleges – of which PCC is one. The project mission is to establish and accelerate the integrated development of undergraduate Chinese language and culture. It focuses on the introduction and development of Chinese language courses while simultaneously building complementary humanities and social science curricula, including adding modules on China to other courses.
The PCC China Cohort is comprised of the following fourteen faculty members:
David Armontrout, History, SE Campus
Martha Bailey, Philosophy, CA
Kathy Casto, Composition and Literature, SE
Jeffer Daykin, History, RC
Kathleen Doss, Speech, CA
Sylvia Gray, History; Cohort Leader, SY
Bryan Hull, Composition and Literature, SY
Tom Huminiski, Composition and Literature, SY
Dorothy Payton, Architectural Drafting, SY
JulieAnne Poncet, Art History, CA
Hsiao-yun Shotwell, Chinese, CA and SE
Michael Sonnleitner, Political Science, CA
Grace Van Ness, Health, RC
Catherine Zimmerman, Sociology and Gerontology, SY
Other schools also part of the same grant include: Johnson County Community College (Overland Park, KS); Middlesex Community College (Lowell, MA); Missouri State University (Springfield, MO), and University of Texas, El Paso (El Paso, TX).