International Students
PCC welcomes students from around the world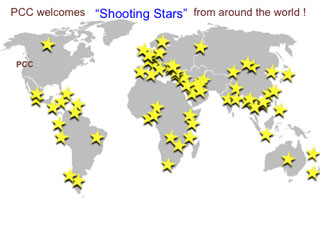 Afghanistan, Australia, Bahamas, Brazil, Bulgaria, Cambodia, Canada, Chile, China, Congo, Czech Republic, Ecuador, Ethiopia, France, Germany, Hong Kong, India, Indonesia, Iran, Italy, Jamaica, Japan, Kenya, Korea, Kuwait, Kyrgystan, Lebanon, Libya, Mali, Mexico, Moldova, Mongolia, Myanmar, Nepal, Nicaragua, Niger, Nigeria, Peru, Philippines, Poland, Qatar, Romania, Russia, Samoa, Saudi Arabia, South Africa, Spain, Sri Lanka, Sweden, St. Vincent Grenedines, Taiwan, Syria, Tanzania, Thailand, Tunisia, Turkey, Ukraine, United Arab Emirates, United Kingdom, Venezuela, Vietnam, Zambia
Facts regarding internationalization
2142 students were in ESOL, English for Speakers of Other Languages, fall term 2007.
560 PCC students are International students on F1 Visa, representing 64 countries.
25 students studied abroad with PCC during 2006-2007 in Nagasaki, Japan; London, England; Alajuela, Costa Rica; Oaxaca, Mexico; Barcelona, Spain; Florence, Italy.
14 participants attended Instituto Cultural Oaxaca, Mexico for Spanish cultural and language immersions during the summer 2007.
50 employees will have participated in staff development, Council on International Educational Exchange (CIEE) by year's end.
Over 100 employees attended Summer Institute of Intercultural Communications (SIIC).
The world's largest native languages are: Mandarin, Chinese, Hindi, Spanish, English, Arabic varieties.
12.1 % of Oregonians speak languages other than English at home.
191,000 Americans study abroad each year.
13 billion dollars are pouring into United States each year as revenue from international education.
90% American college students believe International students enrich their campus learning experiences.
Over 32,500 students, scholars and other exchange participants come to the U.S. each year.
88% American college students believe international education gives them competitive edge in global workplace.
"The world's economy is Oregon's economy. One out of four of all Oregon jobs is linked to export."
Over 565,000 international students from 200 countries study in the US each year.
One out of four Oregon jobs is linked to international trade. These jobs pay 46% more than the state average.
International cooperation on education contributes to education reform and education solutions for the U.S.