Commencement for students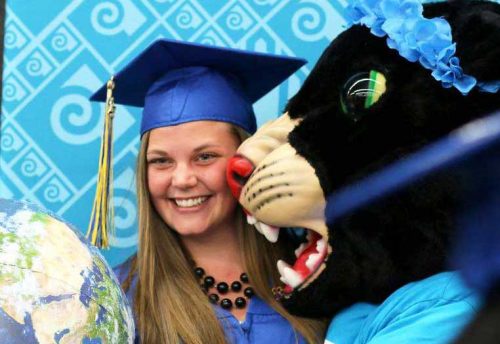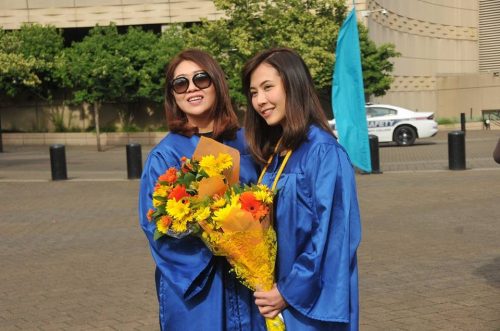 2023 ceremony details
Date:

Friday, June 16

Time:

Students need to arrive at the coliseum between 5:30-6pm.  Ceremony starts at 7pm.

Where:

Memorial Coliseum
300 N. Ramsey Way
Portland, OR 97227
Face masks are not required while attending the commencement ceremony. However, we ask that our community respect the choice of those who keep their masks on. We also request that everyone respect the choice of others who do not wish to wear a mask.
Planning on participating?
Eligible candidates for the 2023 Commencement ceremony have been sent emails regarding the RSVP process that is completed through our vendor, Marching Orders.
If you did not receive any email communication and you would like to participate in the 2023 Commencement Ceremony, you may still contact us. Please email records@pcc.edu from your MyPCC email and include your name, G# along with the degree that you will be completing.
Note: At the coliseum, you will be photographed or videotaped. By participating in the commencement ceremony, you permit PCC to publish your image in photo/video materials related to the commencement ceremony. The recording of the ceremony could also appear on the PCC website and/or social media sites including but not limited to YouTube and Facebook.
Important information for students
Commencement program
Only ceremony attendees are listed in the commencement program.
Caps and gowns
All students participating in the commencement ceremony will need to wear a cap and gown. Caps and Gowns are navy, gowns in colors other than navy cannot be worn in the ceremony. All gowns worn by graduates must be purchased through the PCC bookstore.
Caps and gowns will be sold at PCC bookstores from May 1 through early June. Cap and gown sizes are limited – get yours early for the best fit!
These items can also be ordered online!
2022 costs – subject to change in 2023:
Cap, gown and basic tassel: $32.45
Announcements: Price varies depending on announcement choice. Students can buy announcements at the bookstore or personalized announcements through Jostens.
Extra tassels: Standard tassel – $4.05, Bling tassel – $8.25
Honors cords and veterans cords
Honors: Students with a cumulative GPA of 3.75-4.0 at the time of commencement will be eligible to wear honors cords. Eligible students will receive an honors notice in their PCC email. You must bring this email to the bookstore to purchase an honor cord. Honor cords – $9.95
Veterans: PCC appreciates the service to our country from our veteran students. To honor this service PCC is happy to provide red, white, and blue cords for our veteran students to wear with their cap & gown at the commencement ceremony. Cords will be available at any campus Veterans Resource Center two weeks prior to the ceremony. There is no fee to receive the cord.
Take the shuttle to commencement
On the day of commencement, parking will be free at the PCC Cascade Campus, and Parking and Transportation Services will offer free shuttles from Cascade to the Memorial Coliseum. Friends and family are welcome to ride! Shuttles will leave from Cascade beginning at 4pm and will run approximately every 20 minutes. The shuttles will continue to run for 45 minutes after the ceremony.
From: Cascade Campus
To: Memorial Coliseum
When: Starting at 4pm, shuttle will run approximately every 20 minutes. The shuttles will continue to run for 45 minutes after the ceremony.
What can I bring to the ceremony?
Please do not bring valuables. There is no place to store them and unfortunately, things have been stolen in the past. Whatever you bring, you will take into the auditorium with you. There is not a changing area available. No food, drinks, gift baskets, presents, or helium balloons are allowed into the facility.
Due to increased security, the Memorial Coliseum is implementing a new strict bag policy to help insure the safety of our guests. The policy only allows bags 12″ x 12″ x 6″ or smaller inside the venue. Anything larger will not be allowed inside and guests will be asked to return their bags to their cars.
What about my guests?
The PCC commencement ceremony is open invitation and no tickets are required for guests. You can invite as many guests as you would like. See important information for your guests.