This content was published: October 24, 2014. Phone numbers, email addresses, and other information may have changed.
ORCC: Project Leaders needed to represent PCC for MLK Day of Service
Posted by hannah.cherry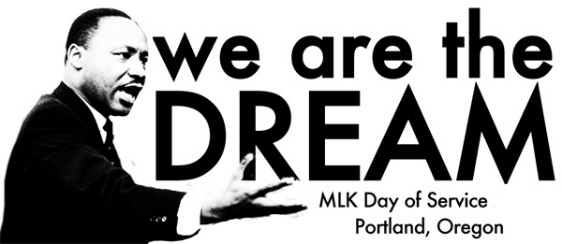 Project Leader Description
Oregon Campus Compact (ORCC), and the colleges and universities of the Portland metropolitan area are gearing up for this year's 2015 Martin Luther King Jr. (MLK) Day of Service. We would like to invite you to be a Student Leader!
ABOUT THE 2015 MLK DAY OF SERVICE
On Monday, January 19, 2015 over 1,000 students from Portland-area colleges and universities will unite to serve the Portland-area community. MLK Day is a collaborative effort of Portland-area universities and colleges facilitated by ORCC. To honor and commemorate Dr. King's legacy, we unity our community to serve the places that we live, work, and study. Annually, it is the largest mobilization of college students in the country on MLK Day!
WHAT DOES A PROJECT LEADER DO?
In order to manage the hundreds of student volunteers that will be serving on MLK Day, we need your help! Volunteer Leaders will be assigned a project and volunteers to manage. You'll ensure that volunteers have direction, materials, support, and motivation to get work done. You'll also help facilitate reflection activities with your volunteers following service. To prepare you for this experience, you'll be provided with training and support.
WHAT'S THE COMMITMENT?
Attend one of the Volunteer Leader Trainings (more info will be sent once you register)

November 5, Wednesday 5:00pm-6:30pm at George Fox University
November 11, Tuesday at Warner Pacific College
November 17, Monday 5:00pm-6:00pm at Concordia University in GRW Library Rm 300
November 21, Friday 4:30pm-6:00pm Portland State University
November 20, Thursday 5:30pm-7:00pm Mt. Hood Community College
Assist in recruiting students for MLK of service

When: November 12-January 5

Attend the Volunteer Leader Sunday Night Set-Up

When: Sunday, January 18, 2015

Serve and Lead Volunteers on MLK Day 2015

When: Monday, January 19, 2015
Questions?
Simeon Jacob
Oregon Campus Compact
simeon@oregoncampuscompact.org
503.406.567