This content was published: October 14, 2014. Phone numbers, email addresses, and other information may have changed.
PCC Sylvania 2014 E-Cycle Drive & Hard Drive Smashing Event
Posted by hannah.cherry
F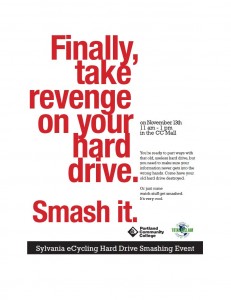 all term has started at PCC, and we're ready to help you eCycle your unwanted computer equipment! This fall, we'll continue to have two large bins available for your discards under the stairs on the 1st floor of the Sylvania Campus library during all library hours. If you have a large load, we have student teams ready to help you cart your donations to the library. Please contact Diane Shingledecker (dshingle@pcc.edu or 971-722-4099) to arrange for this.
If you're concerned about recycling computers with data on them, we have an exciting event coming up! On Thursday, November 13 from 11 am – 1 pm in the Sylvania Campus CC Building Mall, we will be "smashing hard drives". Technically, our students will be disassembling your computer and using machines created by PCC engineering students to bore a large hole through your disk drive. Come out to support this event, mark the date on your calendar, and join the facebook event to help spread the word!
For more information on our eCycling efforts, go to pcc.edu/ecycle.