Blue light emergency phones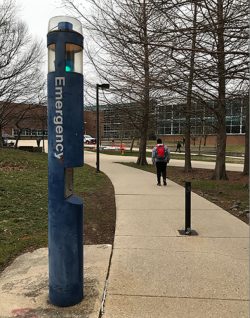 Blue light emergency phones are direct lines to the PCC Public Safety Department. With one push of a button, you'll be connected to help. Blue light phones help us pinpoint your location, are easy to operate, and are available 24 hours a day.
Don't hesitate to use a blue light phone to report:
Fire and medical emergencies
Crimes in progress
Accidents
Suspicious behavior or activity
Blue light phone locations
Phones are easy to recognize with a bright blue light on top.
See blue light phone locations at: Cascade, Rock Creek, Southeast, Sylvania, Climb, and Newberg.
The graphic information from the map on this page is also represented in narrative in the list.