This content was published: March 4, 2020. Phone numbers, email addresses, and other information may have changed.
Sylvania: February 24, 2020
Posted by janaya.bjornstrom
Man Exposes Himself in Sylvania Library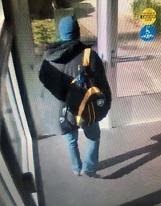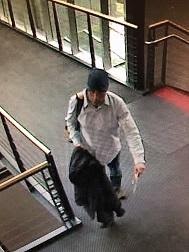 The person depicted in these photos is believed to have exposed himself to a female student on Monday, 2/24/20 at approximately 11:25 am at the Sylvania Campus Library.
On Monday, 2/24/20 at approximately 11:25 am, a female student reported that she went to the second level of the library and went toward the west side and sat down. While seated, she noticed a man next to her who appeared to be reading a magazine. The student reported that she observed the man exposing and touching himself. The student immediately left the area and called Public Safety.
He is described as a white male, 40-50 years old, wearing a blue beanie, white/light colored long sleeve dress shirt, jeans, carrying a yellow/black backpack with a green clip.
It was determined that the man involved entered the library at 10:46 am through the north entrance and left at 11:47 am through the south entrance.  If you have any information or see this person, call Public Safety at 971-722-4444.