Success stories
Tanya's story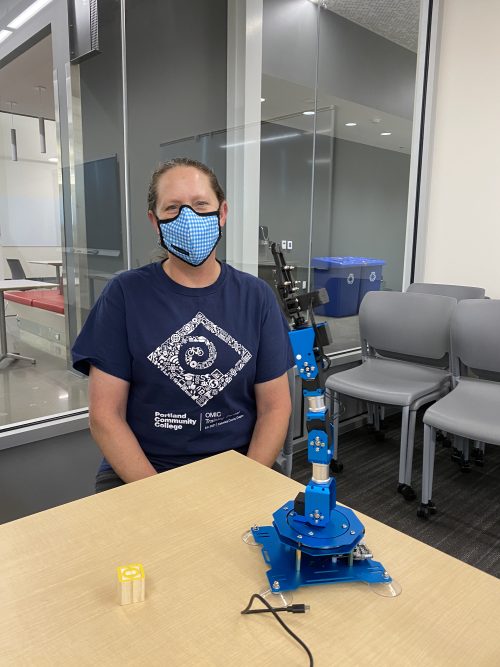 Tanya was exploring options for her next career when she learned about the On-Ramp to Manufacturing class being offered at PCC's OMIC Training Center. She shared that she almost didn't take the on-ramp class, but the consistent follow-up and encouragement of the instructor were what got her there. "The class was really inspiring," she said. "I was able to hear from employers, program advisors, and instructors, and to learn about different options for a career path. I was pleasantly surprised about the number, quality, and depth of the guests and presentations, and the different things we discovered and discussed. Also, the life skills, the personal support, and the diversity of the people in the class were great."
Tanya shared that she wished she knew about these options when she was younger. As a teenager, she dropped out of high school, got her GED through PCC, and began working minimum wage jobs. She eventually found her way to manufacturing and discovered her niche building patterns and molds. She says that she was always fascinated with creating things. Even as a kid, she liked to experiment with how different types of mud lent themselves to different shapes. She grew to really enjoy her work, especially the model-making part, and the combination of technical and creative. However, like many Oregonians in the midst of the pandemic, Tanya was laid off.
Tanya says that she had thought about going back to school even before her layoff. She had started her degree years ago but due to needing to work and care for her family, she wasn't able to complete her degree at the time. "I didn't realize how close I was," says Tanya. "Then, my instructor encouraged me to start the onboarding class and I learned I was only 13 credits away from graduating! Rather than being "something I would love to do someday" my instructor helped me put all of the pieces into place to make it happen. I learned that classes are actually pretty flexible, convenient, affordable, and accessible."
After hearing from CADD instructor Adam Scheible in the on-ramp class, Tanya said, "This is a person I really want to learn more from." She connected with an advisor and learned that the CADD class would count towards her degree, giving her both needed workplace skills, as well as helping her towards her goal of an Associate's. Tanya began studying CADD at OMIC in the fall term of 2021.
After catching up with Tanya at the beginning of her first term, she says that class is going great. She appreciates the small class size and the great energy of her instructor. Tanya is already thinking about how she can give back to the community when she graduates. She says, "I have had support along the way, and now I want to be able to help other people who need support and encouragement."
Felipa's story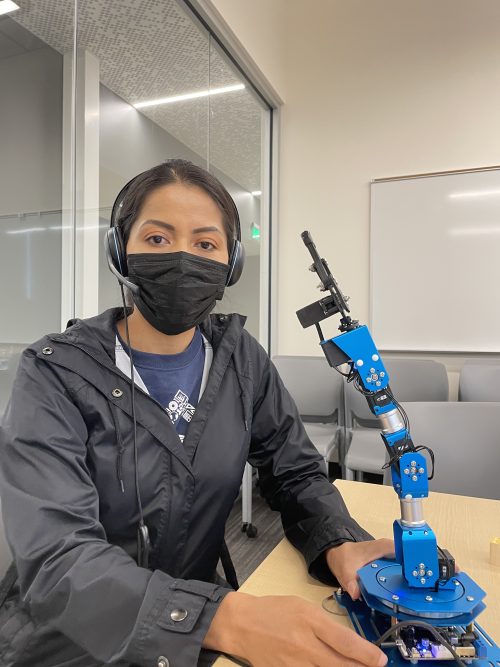 Felipa was referred to the Willow Creek Opportunity Center by her Career Pathways Coach after completing her GED in Spanish through PCC's Adult Basic Education program. She wanted to keep learning but wasn't sure which direction to go, so she signed up for two different on-ramps as a way to explore her options.
She started with On-Ramp to Healthcare and quickly determined that it wasn't the field for her, so she began the On-Ramp to Manufacturing.  After learning from five local manufacturing employers and seven different PCC manufacturing programs, she had found an industry that she wanted to explore! Felipa shared that the class helped her to get a better understanding of what it's really like on the job in a variety of different areas of manufacturing. She said she also appreciated getting to hear from all of the PCC manufacturing programs in one class.
Before the on-ramp started, Felipa told her instructor that she was unsure if her English skills would be strong enough, and was not confident with speaking in front of the group. But Felipa didn't let fear hold her back. By the last week of class, she had not only discovered that her English skills were strong enough, but she had become a leader in her robot-building team, troubleshooting tricky assembly issues, asking great questions, and supporting other students who needed help.
Felipa is now enrolled in reading/writing and math classes for the fall term and participating in digital literacy workshops through the Willow Creek Opportunity Center to prepare for being a credit student. She also has access to Voxy, a tool that helps English language learners build vocabulary for specific industries (including manufacturing).
Felipa is still deciding between a couple of different programs, but she now has some strong leads, and new connections to help her reach her goals. She shared that she is excited to keep learning and that this on-ramp class helped her build confidence as a student.
We can't wait to see what this intelligent, kind, and hard-working student accomplishes next and are so honored to be a part of her journey!