Join PCC's Day at the Capitol lobby event and make a difference
Photos and Story by James Hill
Join us for PCC's Day at the Capitol lobby event! Together we'll travel to Salem to meet face-to-face with legislators and tell them why affordable, accessible education matters to our community. Share your personal story of how Portland Community College has made a difference in your life and make your voice heard.
Your advocacy is critical as we urge the state to invest in PCC students. As the largest institution of higher education in the state, PCC helps create opportunities for over 50,500 students each year – many of whom are the first in their families to attend college.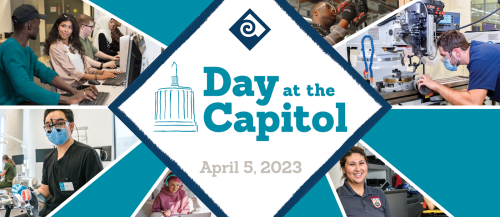 Sign Up
YES! I want to participate in PCC's Lobby Day!
Participation Request Form
(To request participation you must be logged into your MyPCC account)
EVENT:  PCC Day at the Capitol
DAY:  Wednesday, April 5, 2023
TIME:  9:00 am to 3:00 pm
Locations
Oregon State Capitol (900 Court St NE, Salem, OR 97301)
Salem Convention Center (200 Commercial St SE, Salem, OR 97301)
What is a lobby day and why does it matter?
Every day Oregon State legislators meet with different groups requesting support. PCC will be meeting with legislators on April 5 to ask them to fight hard for community college funding. An increase in state funding helps PCC avoid costly tuition increases, helps to retain staff and faculty, and ensure that we can provide equitable access to education for years to come. Be an advocate for PCC and share your story. Help us urge legislators to invest in PCC students and fully fund community colleges.
How can I participate?
Simply fill out the participation request form above and tell us a little bit about yourself. We also want to know how PCC has made a difference in your life.
Learn more about PCC's Day at the Capitol by visiting our website!