PCC Students: Learn about changes to childcare funding and employment requirements
Photos and Story by misty.bouse
Since Jan. 1, the Employment Related Day Care (ERDC) Program allows Oregon students greater access to affordable child care. The primary changes mean that students—in high school, a GED program or college—no longer need to work to qualify for child care assistance. Plus, all students will receive additional child care hours each week for study time.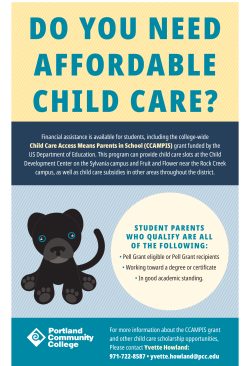 Also, financial assistance is available for students, including the college-wide Child Care Access Means Parents in School (CCAMPIS) grant funded by the US Department of Education. This program can provide child care slots at the Portland Community College Child Development Center on the Sylvania Campus and Fruit and Flower near the Rock Creek Campus, as well as child care subsidies in other areas throughout the district.  Student parents will qualify if they are all of the following: Pell Grant eligible (or Pell Grant recipients); working toward a degree or certificate, and in good academic standing.
How to Apply: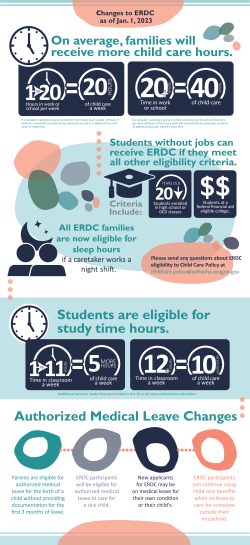 If you need child care and are working, going to school or are on medical leave from work, contact your local ODHS office or call 1-800-699-9074. Even if you have applied for child care in the past and did not qualify, many of the rules have changed and you may now be able to receive help paying for child care. Office locations and contact information is at https://www.oregon.gov/dhs/Offices/Pages/Self-Sufficiency.aspx.
For more information about the CCAMPIS grant and other child care scholarship opportunities, please call PCC Student Life & Engagement's Yvette Howland at 971-722-8587  or email yvette.howland@pcc.edu .