This content was published: November 15, 2019. Phone numbers, email addresses, and other information may have changed.
Strategic planning rolls out across the college
Photos and Story by Kate Chester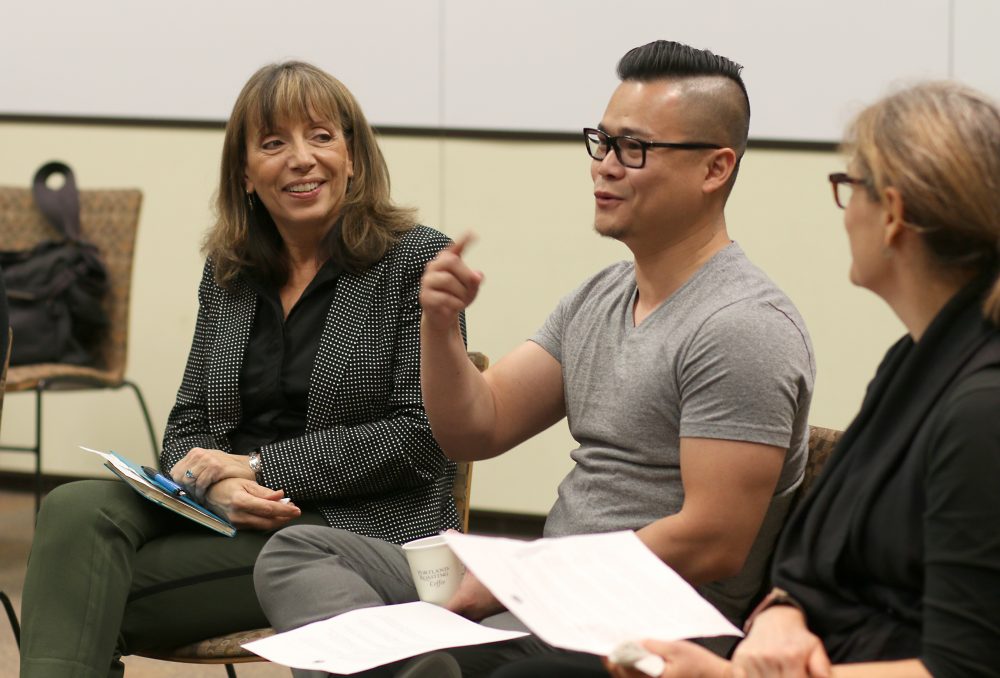 "Come on in, sit down, make yourselves comfortable," said Sylvia Kelley, PCC's executive vice president, as she warmly greeted attendees arriving for the Rock Creek Campus listening and engagement session related to the college's strategic planning process.
"Thank you for carving out time from your busy schedules to join us, and share your thoughts and ideas," she said as the discussion kicked off.
Rock Creek's listening and engagement session was one of several that PCC is hosting for students, faculty, staff and external community partners. Two more are set to take place: at PCC's CLIMB Center on Monday, Nov. 18, and at the college's Downtown Center on Tuesday, Dec. 3.
"Like all complex organizations, PCC must adapt to change — to stay competitive and relevant for our students," said Kelley.
"Throughout this process, we're re-imagining PCC's future, which offers the potential to drastically reshape the student experience, improve completion rates, and authentically weave equity and inclusion into our processes and outcomes," she said.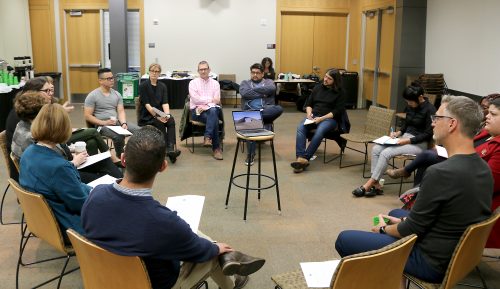 PCC embarked on the strategic planning process this fall, to create a tangible path forward that ensures the college delivers on its commitment to opportunity and equitable student success for the students and communities it serves.
"This is crucial for PCC's long-term viability, and it's exciting," Kelley said. "We're at a very important juncture in the college's history."
Strategic planning will continue through summer 2020, resulting in a plan that empowers PCC to make informed choices related to short- and long-term organizational direction. Building on the college's existing strategic plan and President Mark Mitsui's work plan, the new version will have a five-year scope yet offer a 10- to 20-year vision related to changing environmental factors and demographics, as well as potential opportunities on the horizon. The effort is being guided by two external consultants reporting to Kelley: Ian Symmonds and Sonali Balajee.
Beginning in January, a 15-20 person strategic planning steering committee, made up of college-wide representatives and a handful of external partners, will help shepherd the effort through next summer. Committee members are being determined by President Mitsui and will be announced before the end of the calendar year.
Listening and Engagement Sessions:
Monday, Nov. 18 — 10-10:45 a.m. (Managers); 11-11:45 a.m. (Staff); 2-2:45 p.m. (Open to All), at the CLIMB Center (1626 SE Water Avenue, Portland, Oregon 97214, Rooms #202 and #203)
Tuesday, Dec. 3 — 11-11:45 a.m. (Staff); 2-2:45 p.m. (Open to All); 3-3:45 p.m. (Managers), at the Downtown Center (722 SW 2nd Ave, Portland, OR 97204, Rose Room)