This content was published: November 18, 2019. Phone numbers, email addresses, and other information may have changed.
With instructor's support, Art student develops metal panther art based on Mexican heritage
Photos and Story by Sarah Rose Evans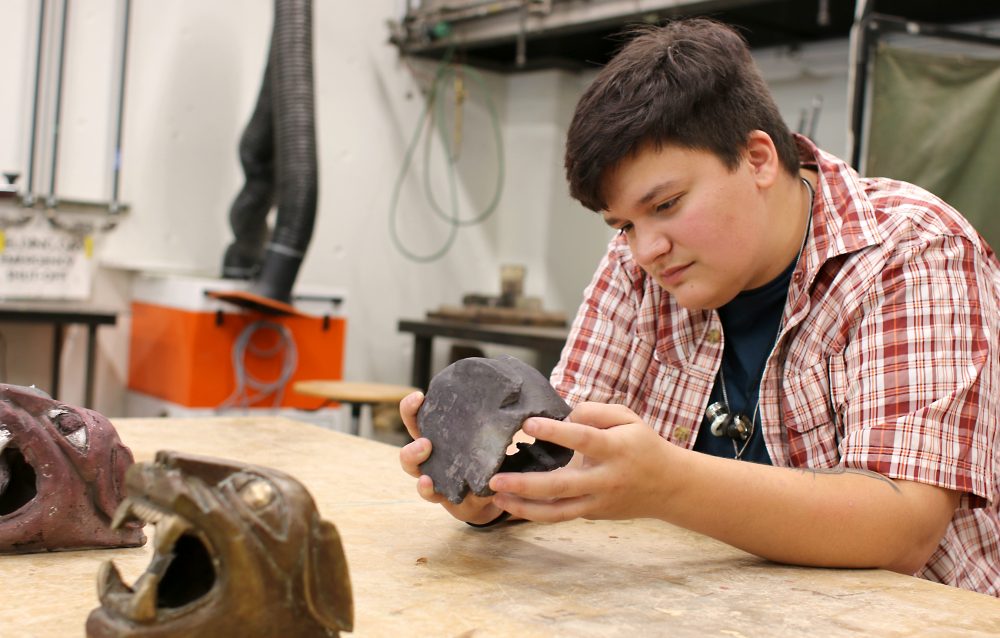 There isn't a technique or artistic medium that Portland Community College student Hal Shaw isn't interested in trying. From mixed-media to spray paint to sculpting with wood or plaster, Shaw wants to experiment with all of them, making the Art student a natural for Crystal Schenk's "Sculpture: Metals" class, which is taught at the Sylvania Campus.
Schenk is known for her willingness to research and explore techniques to help students achieve their visions.
"We wanted to learn something no one in the class had ever done before," said Shaw. "Ms. Schenk encouraged me to learn how to anodize, because none of us knew how to do that. And she helped my sculptures turn out better than I had hoped for."
Nineteen year-old Shaw, who uses the pronouns they, them and their, created a series of panther heads bearing a striking resemblance to PCC's popular mascot, Poppie the Panther.
Why panthers or this kind of artwork? Shaw's Mexican heritage provided the inspiration.
"I go to Mexico to visit my family, and I saw sculptures that inspired the panther heads," they said. "I was intrigued by the shape of the panther heads and began to research them."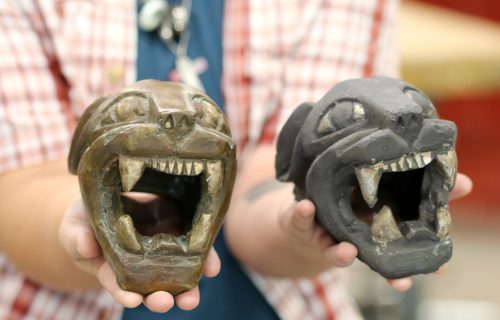 Shaw attributes the design to two influences: small replicas of helmets that Aztecs wore into battle, and alebrijes sold by craftspeople in Mexico. Alebrijes are brightly colored Mexican sculptures of fantasy/mythical creatures. Made for nearly 100 years, alebrijes were originally created and named by Pedro Linares, whose fevered nightmare inspired him to create brilliant, fantastical folk art.
To create the heads, Shaw used investment casting, a process that started with a wooden statue. Shaw made a mold of the statue with silicone caulk, then filled the caulk mold with wax. In order to make a mold that can withstand molten metal, Shaw repeatedly dipped the wax sculpture into a thick, soupy plaster liquid that is resistant to heat. They melted the wax out of the plaster mold, leaving a negative space perfect for melted aluminum and bronze.
When the metal cooled down, Shaw broke open the molds to retrieve the metal pieces. Some of the sculptures were left rough, and others were polished. The bronze sculptures were given a patina with copper sulfate and ferric nitrate, after which they were coated in wax to seal them.
Meanwhile, Shaw put the aluminum sculptures in a bucket of sulfuric acid, and attached it to their car battery. The action of turning on the car sent a current through the piece, allowing color to bond to the metal. It took an hour of soaking in the dye bath for the color to be fully bonded. Shaw then sanded the teeth and eyes with a grinder for contrast, and put it in boiling water to seal the dye.
In addition to the panthers, Shaw also made a bronze bunny and an aluminum wolf for the class.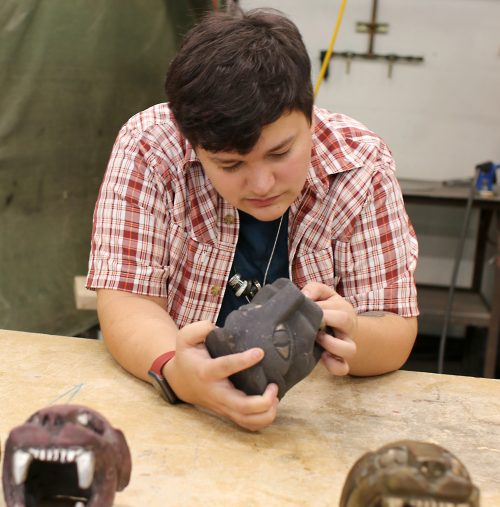 The Newberg resident is currently earning enough credits to transfer to a university, in addition to working toward a certificate in Java programming. Someday, Shaw hopes to be a video game designer, fusing their passion for art with technology.
It wasn't all about PCC in the beginning for Shaw. Raised in Brush Prairie, Wash., they graduated from Jesuit High School and enrolled in a local art college. The experience didn't click, and Shaw took a break before bouncing between PCC and four-year colleges. Finally, Shaw found their groove at PCC, where they can focus on art and programming with the support of instructors like Schenk.
"I needed more motivation and confidence, and teachers like Ms. Schenk, who recognize that things are not always as they look," Shaw said.
Schenk said the panther heads started off as a skill-building exercise where students learned to make silicone molds of objects. From there, Shaw ran with it.
The Art instructor said that Shaw has taken the metal sculpture class three times now, "and it has been great to watch them progress in both their ideas and skills. Hal has been extremely driven and hard working – learning metal casting and now welding. Their dedication to the class, willingness to explore avenues of creativity, and experiment with techniques is something all teachers hope for and is inspiring to fellow students."