This content was published: July 15, 2019. Phone numbers, email addresses, and other information may have changed.
Medical Imaging produces trained workers to fill a growing industry need
Photos and Story by James Hill
Portland Community College's Medical Imaging Department is having quite the year.
The department, which is a critical resource to meet industry demand for skilled workers, celebrated 14 graduates this spring; 10 of them are already employed. According to the U.S. Department of Labor, overall employment of radiologic and MRI technologists is projected to grow 13 percent from 2016 to 2026, faster than the average for all healthcare occupations.
Medical Imaging
Medical Imaging professionals work closely with physicians, nurses, allied health professionals and the public.
Program offers an associate degree in Radiography, and certificates in MRI and CT imaging.
"And this August, we will graduate another 32 Radiography students, with many of them already having secured positions with the clinics where they have been training," said Patti Winters, director of the Medical Imaging Department. "The job outlook remains very promising in the medical imaging professions."
One of these students is Jonah Scott, who is using his passion for photography to frame a burgeoning career in medical imaging. Scott is working as a temporary licensed employee with Tuality Healthcare in Hillsboro. He estimates he'll graduate and get certified this summer through the state and national exams because demand for radiography technologists in the field is at an all-time high.
"I wanted to help people, and I knew this was the most direct and rewarding field," Scott said. "PCC absolutely prepared me for my career and, if anything, over prepared me. Instructors show you what is clinically accepted and the ideal at healthcare facilities. They throw you curveballs that you'll see in the real world, to show you how things can go wrong."
The 30-year-old's interest in the medical imaging field stemmed not only from photography, but also because of personal loss. The California native was forced to "quickly grow up": His parents faced addiction issues, his family was impoverished, and he shouldered much of the responsibility of caring for his mother as she underwent cancer treatments.
Scott needed a change of scenery to transform his life. At the prompting of friends, he moved to Eugene and found employment at Radio Shack, where he worked his way up to manager. When the company went bankrupt, he headed north to Portland and enrolled in PCC's Medical Imaging Department to jumpstart a new career.
"Moving up here got me out of a position where I was going nowhere," Scott said. "It allowed me to get my feet under me and start a new life."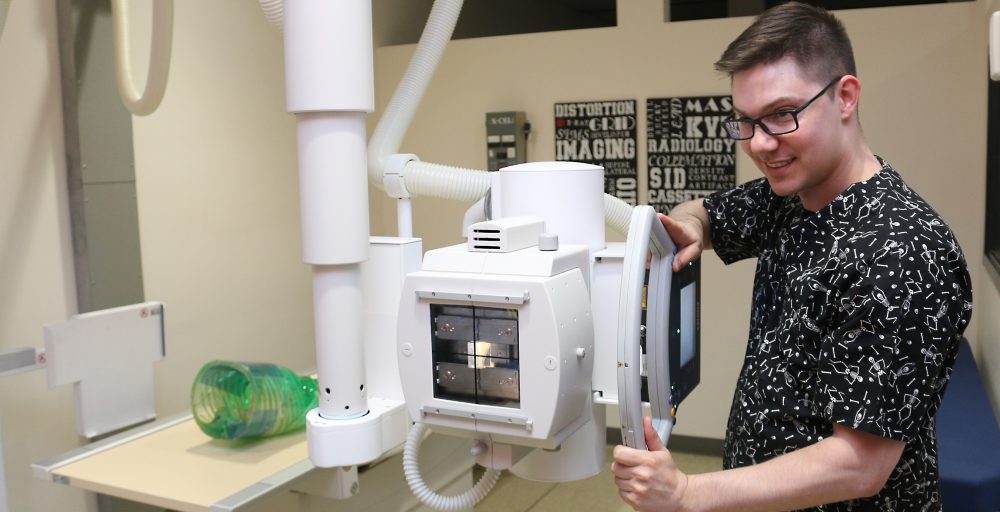 Scott works two days a week at Tuality under his temporary license, providing x-ray services in the emergency room. In addition, he takes rigorous classes covering anatomy, radiation, interventional radiology and patient care at the Sylvania Campus while also completing competency tests within his clinicals.
"Throughout this process, the goal is to earn these competencies," Scott said. "It's a perfect way to hone your skills."
Training as a radiography technologist at Tuality Hospital has been a perfect fit for Scott. His love and knowledge of electronics and cameras from his days at Radio Shack has made taking x-rays and imaging of patients an easy transition.

Scott, who represents his class with the Oregon Society of Radiologic Technologists, is earning his associate applied science degree in addition to his certifications. He hasn't decided what he wants to do after graduation but is spending time in a specialty rotation at Tuality where he watches professionals work in the MRI, CT, Ultrasound, Nuclear Medicine and Radiation Therapy departments. Eventually, his goal is to work in healthcare management in some capacity.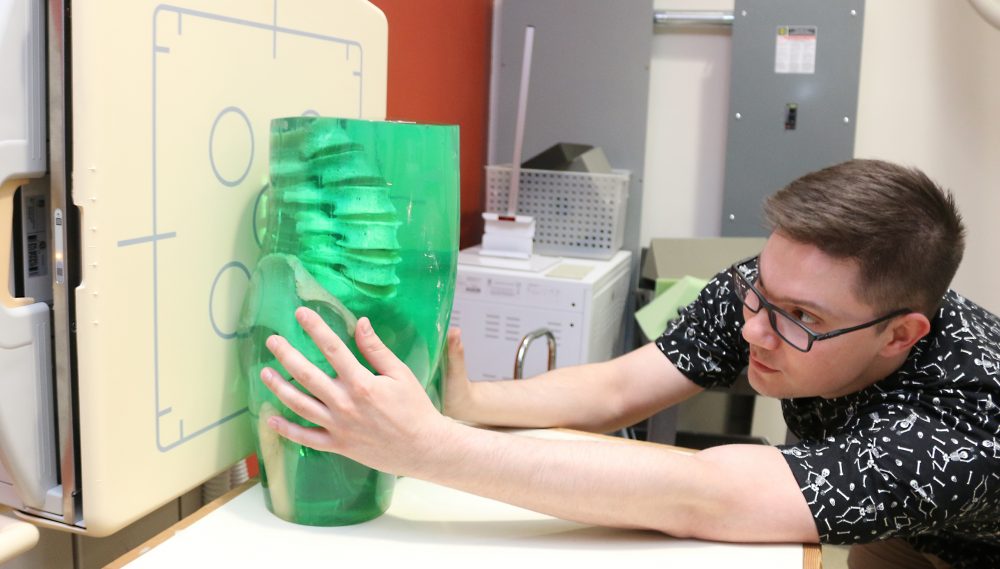 "The coolest part of the PCC program is the work," Scott said. "At the clinic, you are part of the trauma or ER teams and take x-rays. I'm in surgeries quite a bit and have to be scrubbed up. All of that is exciting because we are saving lives and solving problems. It feels good."
Scott said instructors have been critical to his learning. Their knowledge of industry standards and techniques have been invaluable to him. Instructors who have made an impact on him include Gayle Wright, who Scott said has an "encyclopedic knowledge" of radiography, and Abbie Berman, who has a way of connecting what they learn in class to the real world.
The love is mutual. Berman said Scott is very personable and has a bright future. She detailed how his engagement with his studies and enthusiasm within his cohort has been refreshing. She said he is a very quick study, and picked up on concepts and applications of radiation practices almost intuitively.
"He is a natural-born leader, a warm and magnetic personality, and is the glue keeping his class together," Berman said. "The best part to witness was how he helped tutor others in class, and led study sessions and groups so they could all learn from one another.
"As much as all students overcome challenges to finish a degree at PCC, Jonah truly showed determination throughout his time here, and approached every obstacle with a balanced and positive attitude that will surely serve him well in his future," she said.