This content was published: May 14, 2019. Phone numbers, email addresses, and other information may have changed.
Jesus Christ Superstar continues its run at PCC's Performing Arts Center
Story by Heather N. Lubay.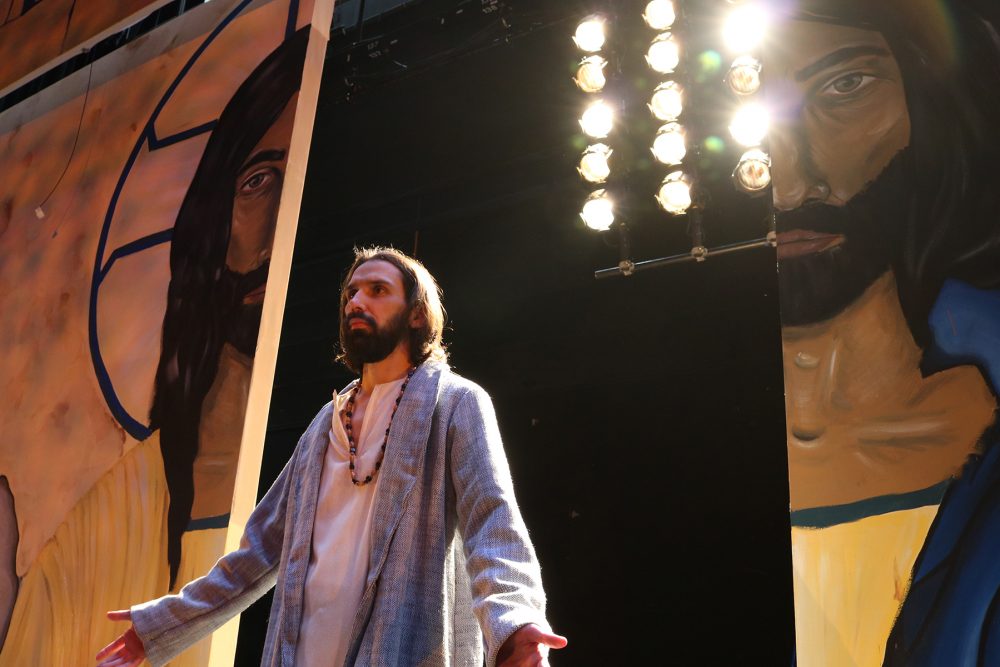 The Tony-Award nominated rock opera "Jesus Christ Superstar," with music by Andrew Lloyd Webber and lyrics by Tim Rice, opened this month at Portland Community College Sylvania Performing Arts Center.
Directed by music faculty Julianne Johnson-Weiss and choreographed by dance faculty Sara Parker, "Jesus Christ Superstar" features 25 songs and scenes, no spoken dialogue, and centers around the final week of Jesus' life leading up to his crucifixion.
The play, put on by the college's Theatre Arts Program, was written at a pivotal time in American history (the musical was first performed in 1971) and reflects the same societal issues that the country is experiencing today. Johnson-Weiss said these include racism and people with different perspectives not understanding each other.
"The issues are just as prevalent today as they were 50 years ago," said Johnson-Weiss.
The remaining schedule includes: 
7 p.m., Wednesday, May 15.

11 a.m., Thursday, May 16.

7 p.m., Friday, May 17.

7 p.m., Saturday, May 18 (American Sign Language interpreted).

2 p.m., Sunday, May 19.
For full details of the play, including ticket information, visit: https://www.pcc.edu/theatre/
The play focuses on the personal conflicts between Jesus, his disciples, the people of Israel, and the leadership of Rome, his relationship with Mary Magdalene and others. The show is filled with rock, gospel, folk, and funk themes, modern language, and high energy dance numbers.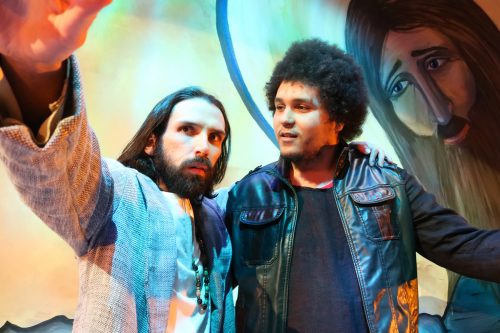 The spring production is a department-wide endeavor, combining the design and building talents of students behind the scenes with the acting, singing, and dancing by the performers on stage. In total, more than 70 students have contributed to the show.
"It's an opportunity for the students to apply what they are learning in the classroom," said Theater Coordinator Dan Hays, who is producing the play. "Everything from the acting, sound, lights, props, scenery, costumes, publicity, and box office are all staffed by students."
Student Amanda Cobb led the team who painted more than 1,500 square feet of murals, wailing walls, flooring, props, and furniture. This includes the three icons, which were inspired by the Deesis mosaic (which dates from 1,261 and is currently in the Hagia Sophia museum in Istanbul). It is featured in the large mural behind the actors. With stage design by Hays, there are many surprises in the scenery, which is used to propel the story forward.
Many full- and part-time faculty, and alumni helped with the show, offering guidance and suggestions as both instructors and theatre veterans. 
The student cast includes: Nicholas Chilcote as Jesus; Danny Hammel and Dave Cole as Judas; Sophia Ekdahl  and Stephanie Haralabatos as Mary; Hugo Stein as Peter; Noah Jaeger as John; Nicholas Paine as King Herod; TJ Pendarvis as Pontius Pilate; Daniel McIntire as Simon and Jeremy Abe as Caiaphas.
Ensemble members include Buffy Sikora, Becka Clemente, Chey Harrison, Chanel Ledford, Chris Raible, Devin Rose, Eun Ko, Grace Proschold, Isaiah Walker, Jirawat Ouichareon, Kimberly Pumphrey, Minjoo Jang, Noe Calderon, Naomi Mertens, William Soderberg, and Zander Smith.