This content was published: November 7, 2018. Phone numbers, email addresses, and other information may have changed.
Helping the hungry: 'Food for Parking Fines'
Photos and Story by Sarah Rose Evans
Are you a student with outstanding parking fines? If so, you can earn late fee-forgiveness by donating food to PCC's Panther Pantries!
The college's Transportation and Parking Services department is accepting food donations from Nov. 26 to Dec. 14, 2018. With each donation, PCC will remove the late fee on any citation, regardless of how old it is.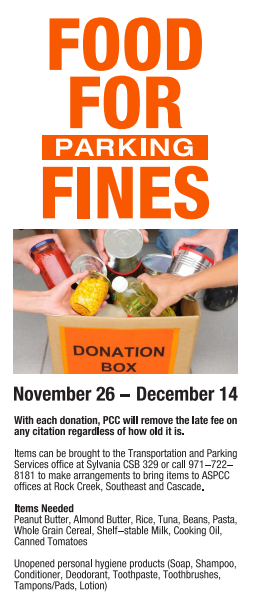 Non-perishable food can be dropped off at the Transportation and Parking Services office at Sylvania CSB 329, and Panther Pantries will get donations to needy students. Students can also call 971-722-8181 to make arrangements to bring items to ASPCC offices at Rock Creek, Southeast and Cascade.
The most desired foods include peanut and almond butter, rice, tuna, beans (both canned and dried), pasta, whole grain cereal, shelf-stable milk, cooking oil, and canned tomatoes. Homemade or non-commercial canned items cannot be accepted, nor can anything opened or used.
In addition to food items, new, unopened personal hygiene products also are welcomed. This includes:
Soap
Shampoo/Conditioner
Deodorant
Toothpaste/Toothbrushes
Tampons/Pads
Lotion