This content was published: July 2, 2018. Phone numbers, email addresses, and other information may have changed.
Helpful brother sparks a passion to learn in Cascade's student leader
Photos and Story by Abe Proctor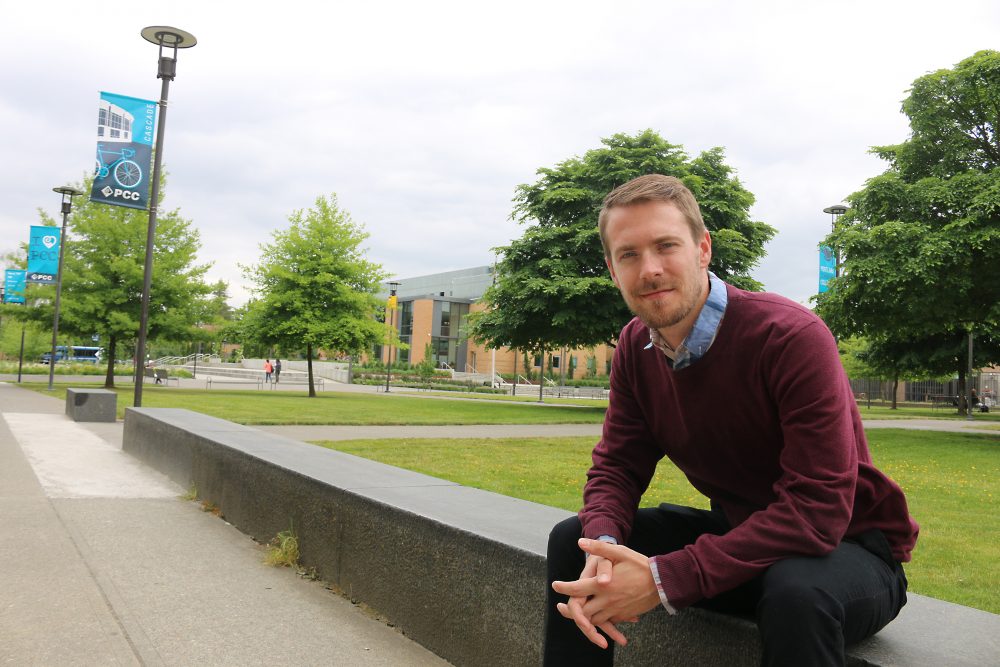 Nick Carmack has an appreciation of the benefits of an education.
Carmack is well on his way to achieving his educational goals after he was named Oregon's 2018 New Century Scholar by the Phi Theta Kappa International Honor Society this past spring and graduated from PCC in June. He's well on his way to something great.
"I want to change the world, but I don't know exactly how to do that yet," he laughed.
You wouldn't know it, but Carmack, the 2017-18 student body president at Portland Community College's Cascade Campus, has taken a longer route to academic success than many of his peers. A native of Utah, education was not a priority in his home as a child. He didn't graduate from high school; neither did his father or most of his siblings.
"It was apathy, really," he said of his early years in the educational system. "I ditched school. I didn't care enough to try."
Carmack transferred to an alternative high school and eventually gave up and dropped out with a vague plan to one day earn his GED. He worked a string of jobs that paid him little in terms of wages and even less in terms of satisfaction and purpose. Despite some relative success on the job — he managed to be promoted in each of his positions — he was adrift.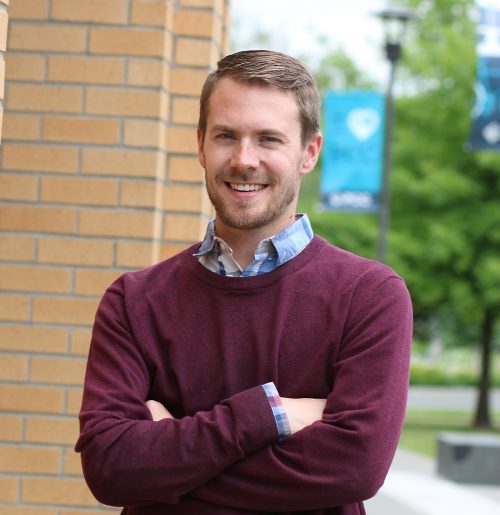 "I've always been a hard worker and I came to realize that I have some natural leadership skills — but I wasn't getting anywhere," Carmack said.
Along the way, however, he managed to discover something that had thus far eluded him — a passion for learning.
"Once I realized that I like to learn and read, I started living at the library basically," he recalled. "I just decided I liked learning, liked absorbing information."
The turning point came when his brother, who was the only of his siblings to have finished high school, made Carmack a tantalizing offer: "Come live with me in Portland and you can go back to school. I'll help you look into getting a Pell grant."
There was only one choice. Carmack's brother, as it turned out, lived only a few blocks from PCC's Cascade Campus in North Portland. Carmack took the GED exam, passed it, and then took to college like a fish to water. He applied for financial aid, enrolled in classes in the fall of 2015, and found his way into student leadership at Cascade.
"It kind of fell into my lap," he said. "I saw that there was an orientation for Phi Theta Kappa and decided to check it out. They said something about paid positions for 10 hours a week, and I said 'Why not?' "
It was one of the best decisions he ever made.
"Student leadership changed my life for sure," said Carmack.  "It gave me a broader perspective and world view. I learned to treasure diversity. There's such a diverse group of students — I interacted with people I wouldn't have normally, for sure. I've been told my whole life that I'm a natural leader, but never had the opportunity to use and grow those skills. It's given me the freedom to do so many different things."
Carmack, who earned a PCC Foundation scholarship based on his advocacy for underrepresented students, has had a hand in several projects that will endure beyond his time at Cascade, including leading the effort to establish a learning garden at the campus, which is scheduled to open this fall. He's also been closely involved in the push to open an all-user restroom in the Cascade Student Union, and is now working on expanding the Cascade Clothing Closet, which provides clothing items to needy students.
This spring, he took part in student government's annual Alternative Spring Break, in which PCC student leaders traveled to Washington, DC, to lobby Congress on behalf of community colleges on subjects like Pell grants, SNAP benefits, food insecurity, and gun control. Along the way, he toured Georgetown University and traveled to New York.
Amid all of this, he's maintained a 3.95 grade-point average and is planning to transfer to a four-year institution — hopefully Georgetown. He credits a number of people for aiding in his success, including PCC instructors Cynthia Kimball and Peter Hohn, as well as Cascade Career Services Coordinator Becky Washington, and the student leadership staff – Chelsea Kimmett, Ashley Hansen, and Kendi Esary.
"Both Peter and Cynthia helped me in ways they will never know — I basically lived in their offices during office hours," he recalled. "I asked them how to get the most out of college, and they gave it to me straight. And Becky really helped me to understand what I want out of my life. That's something you just don't get at most colleges."
He also credits his brother, not only for giving him a place to live but for helping him to see that going to college was within reach.
"My brother recognized that I liked to learn," Carmack said. "He gave me books, encouraged me to watch videos about things I'm interested in. He helped me to believe it was possible. When you're getting bad grades, consistently failing classes, it's hard to believe in yourself. When I decided to go to PCC, it was full steam ahead."