This content was published: June 6, 2018. Phone numbers, email addresses, and other information may have changed.
Congresswoman Bonamici honored by community college coalition
Photos and Story by James Hill
The Coalition of Adult Basic Education (COABE) gave Congresswoman Suzanne Bonamici its highest honor and did it at Portland Community College.
On Tuesday, May 29, local members of COABE, which includes Portland, Chemeketa, Clatsop and Mt. Hood community colleges, handed Bonamici the Champion of Adult Education Award in front of adult basic education and English for Speakers of Other Languages students at the Rock Creek Campus.
The organization honored the congresswoman for her work on the PARTNERS Act, which promotes registered apprenticeships and other work-based learning programs for small and medium-sized businesses within in-demand industry sectors. Along with the PROSPER Act (which prepares students through expanded access for careers and degree completion), Adult Basic Education students are able to find pathways to living-wage jobs and degree completion.
In addition, the Congresswoman and U.S. Sen. Roy Blunt took the lead on a "Dear Colleague" letter to the appropriators that sought support for all Workforce Innovation and Opportunity Act authorized programs.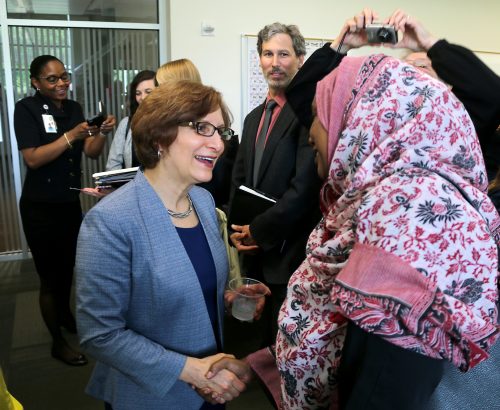 "It's really meaningful for me to be receiving this award at a community college," said Congresswoman Bonamici, who got her start in higher education in the Legal Assistant Program at Lane Community College. "I'm honored to work on issues that recognize that within K through 12 education, not everyone is on the same path, and we need to engage all students regardless of what their passions or learning levels are. We have to make those opportunities available."
Since 2012, Bonamici has represented the First Congressional District of Oregon, which includes Washington, Yamhill, Clatsop, and Columbia counties and part of Multnomah County. She is the Vice Ranking Member and a leader of the U.S. House Committee on Education and the Workforce. She sets national policies that give students support and opportunities that lead to their success in school and in life like with the PARTNERS and PROSPER acts. She is a regular at PCC, touring the college's STEM labs, hosting roundtables to learn how to improve healthcare and careers for low-income students, and championing workforce training programs.
"She is such an advocate for our students and community colleges overall," said PCC President Mark Mitsui. "She loves visiting students and is so inspirational. She is committed to their futures."