This content was published: May 1, 2018. Phone numbers, email addresses, and other information may have changed.
Sylvania Spotlight: Sylvania Auto Shop hosts SkillsUSA championship
Photos and Story by Celina Baguiao
The Automotive Service Technology Program hosted 66 high school and college students, 20 industry volunteers, and 15 PCC student volunteers for the Oregon State SkillsUSA Automotive Contest on April 27. PCC didn't have any student competitors, though.
The SkillsUSA Championships are competitive events showcasing the best career and technical education students in the nation. Contests begin locally and continue through the state and national levels. The philosophy of the championship is to reward students for excellence, to involve industry in directly evaluating student performance and to keep training relevant to employers' needs.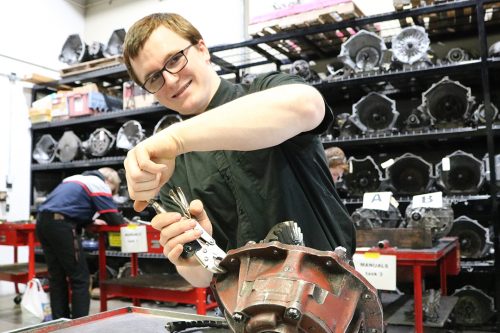 "This is our opportunity to help support the great work taking place in the high schools and colleges that have automotive programs," said faculty department chair Russ Jones. "It is also a great place for SkillUSA to host the automotive competition because we have the necessary cars, tools, parts, computers, service information systems, and professional space it takes to host the event. The high school students who participate also have a chance to see our program up close and personal."
Contestants demonstrated their ability to perform jobs and skills based on the task list outlined by the National Institute for Automotive Service Excellence and the National Automotive Technicians Education Foundation. Workstations consisted of on-vehicle, simulations, bench and component testing and a written test. The participants were judged on technical competency, accuracy, quality, safety and ability to follow directions.
The winners will move on to face competitors from other states at the national competition.
Graphic Design Program Students Re-imagine Literary Classics Covers
Forty students in the Graphic Design Program redesigned dust jackets for old literary classics and are now on display on the second floor of the Sylvania Campus Library.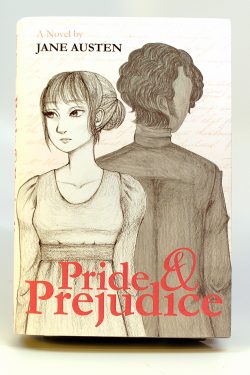 The students brainstormed 20-plus covers and had to research their assigned book, its author, and the time and place in which it was written. They then crafted their new design to reflect a core theme or element from the book, while giving new life to these classics through a dynamic, modern design that would draw the eye of potential readers or give collectors a new edition to place on their shelves.
"I challenged my students to distill the books' thematic elements down to one striking design that would draw the interest of a potential new reader, or make a collector want to revisit these classics," said Daniel Soucy, graphic design instructor. "While learning about publication design, students were pushed into taking creative risks — all while producing a real-world project that is ready for publication."
The design work will be on display until the end of the term at the Library.
Ice Cream Social Connects Campus Community

The Sylvania Campus President's Office hosted the annual Ice Cream Social April 26 in the Amo DeBernardis College Center Building and served nearly 500 students, faculty and staff.
"This yearly event is always a great way for everyone to take a second and relax and enjoy ice cream with the campus community," Sylvania Campus President Lisa Avery said. "This is the second year we have invited students to participate and it was a huge success!"
The organizers also teamed up with the Earth Week celebration and made a conscious decision to use reusable mugs, to not create extra waste. The event also raised $122 for the Sylvania Food Pantry.