This content was published: May 9, 2018. Phone numbers, email addresses, and other information may have changed.
Tony-nominated 'Bus Stop' travels to PCC for spring theatre production
Photos and Story by Celina Baguiao
Portland Community College's Theatre Arts Program will debut its spring production "Bus Stop" May 17-20 at the Sylvania Campus Performing Arts Center (12000 SW 49th Ave.).
The Tony-nominated drama based on William Inge's 1955 play is set in a diner outside of Kansas City on the evening of a snowstorm that has interrupted a bus trip, leaving its quirky band of passengers stranded. What ensues during their short time together is a chance for each character to grapple with their loneliness and find friendship.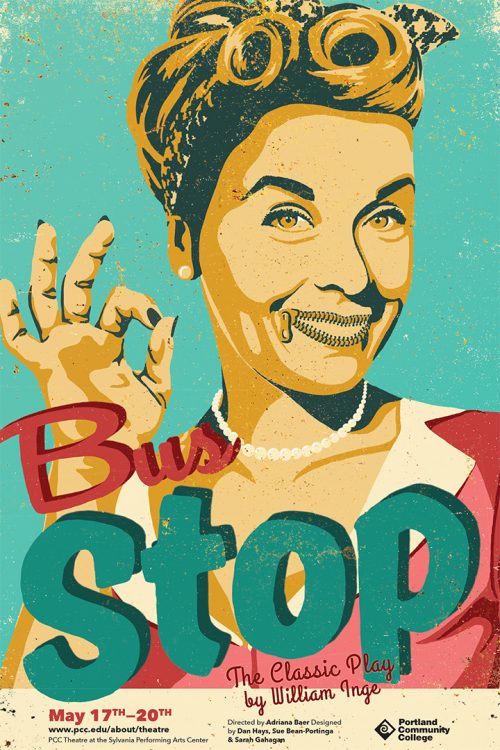 "The play was written in the early 1950s and the themes are applicable to that time," said Patrick Tangredi, program director. "In essence, the men have a patriarchal attitude and the women have a deferential approach to relationships. In one instance a man tries to kidnap a woman that he is falling in love with to influence her to fall in love with him. Though this doesn't seem to be the stuff of comedy, Inge addresses the issues with his trademark deft and compassionate writing."
This eight-person cast is comprised of students from the Theatre Arts Program and will be guest directed by Drammy award-winning director Adriana Baer.
"This gorgeous and surprisingly funny production invites audiences to join us on a heartfelt, delightful 90-minute journey to a now lost mid-century, middle America,"  Tangredi said. "It gently shows us both what we have left behind, but also how far we have come."
The current show will run just over 90 minutes with no intermission. The content for this performance is suitable for 14 and older.
General admission tickets are $10, and $5 for students, seniors and veterans. At 11 a.m. on Thursday, May 17 and 2 p.m., Friday, May 18, guests can pay-what-you-will. Tickets can be purchased at the Sylvania Bookstore and at the box office one hour before curtain. On Saturday, May 19, the performance will be a sign language interpreted performance.
Performance dates and times:
11 a.m., Thursday, May 17 (pay-what-you-wish matinee).

7 p.m., Thursday, May 17.

2 p.m., Friday, May 18 (pay-what-you-wish matinee).

7 p.m., Saturday, May 19 (sign language interpretation).

2 p.m., Sunday, March 20.
For more information about the show or our Theatre Arts Program, visit www.pcc.edu/theatre.