This content was published: December 11, 2017. Phone numbers, email addresses, and other information may have changed.
New report finds Future Connect makes critical impact on students' lives
Photos and Story by James Hill
Portland Community College's Future Connect Scholarship Program is getting high marks.
A new report by Education Northwest indicates the comprehensive scholarship program has had a positive impact on completion rates for first-generation and low-income college students. This evaluation demonstrates how Future Connect improves first-year grade-point averages and credits earned, improves persistence to the second year of college, as well as increases three-year completion and transfer rates.
In particular, the program boosts college completion or transfer rates within three years by 11 percent. And, students in the program love it — approximately 90 percent said the program helps them accomplish their career goals, and has changed their lives.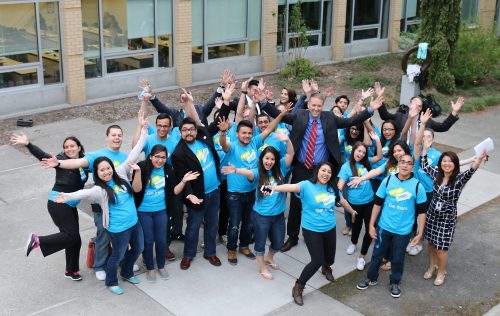 "Not only do students feel very positive about the support they receive from Future Connect — the hard data is there to back them up," said Michelle Hodara, practice expert in applied research and postsecondary success with Education Northwest. "Future Connect is leading to substantial gains in postsecondary success and is a promising model of how to support first-generation and low-income students."
Launched in 2011, Future Connect targets these high school students within school districts located in Multnomah County, Hillsboro, and Beaverton. The program focuses on eliminating barriers to attending college by way of on going support throughout a student's time at PCC. Future Connect uses scholarships, career guidance and personal advising to help students complete their degree and move on to four-year universities and colleges.
"At first, I thought going to PCC was not a good idea because I wanted to go straight to a four-year university like other students I know," said Beaverton resident Leslie Gonzalez Vasquez, who is studying to be a nurse. "Looking back now, I am thankful to have come to PCC because of the guidance and support of Future Connect. It has helped throughout my transition to college by having a coach to help me with the obstacles I encountered."
Future Connect addresses a critical need. First-generation and low-income college students face financial, social, informational and academic barriers to college completion because of the high cost of postsecondary education, the complexity of navigating college life, misalignment between high school and college academic expectations, and a general lack of guidance and information. The program, which has served 1,631 students between fall 2011 and fall 2016, aims to build a sense of community through peer mentors and coaches who provide advice and goals.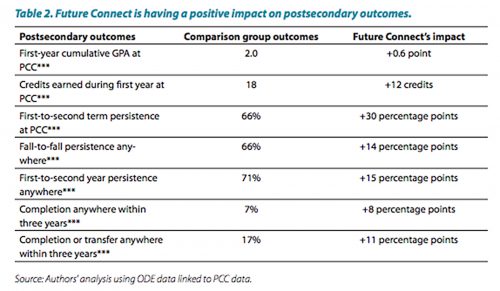 "Future Connect works hard to provide a sense of belonging for students at our institution," said Josh Laurie, Future Connect manager. "We do this through our coaches' connection to students and through our ability to adapt, as a program, to student needs. Student feedback, gained from this evaluation, highlights the importance of these two approaches."
Key Findings on Future Connect:
On average, Future Connect students have earned a 2.5 GPA and 27 credits in their first year, and among students who started in fall term, 76 percent persisted to the following fall term.
Ninety-one percent of the students returned for a second term after their first term at PCC.
Eighty-three percent returned the next academic year regardless of what term they started.
Between fall 2011-14, 24 percent completed college or transferred to a university within three years. Specifically, 12 percent graduated and 12 percent transferred.
Future Connect increased students' first-year GPA by 0.6 point, which represents an increase from a C to a B average.
The program increased the number of first-year credits students earned by 12, which represents an additional term of credits for a full-time student. Early credit momentum in the first year, particularly in a program of study, is tied to increased likelihood of graduation.
The college's proven track record of bolstering equitable student success is getting a boost in other areas, as well. PCC has joined Achieving the Dream, a comprehensive, national reform movement focused on student success. The network of higher ed institutions, coaches and advisors, state policy teams, investors and partners are helping more than four million community college students across the country to better their chances of greater economic opportunity through education and to experience equitable success as part of that journey.
For PCC President Mark Mitsui, Future Connect ties nicely into this effort.
"We want to help our students not only get here, but to succeed once they've arrived," Mitsui said. "We have rededicated ourselves to creating opportunity and equitable student success to change the trajectory of our students' lives."
The Education Northwest evaluation concluded that: "Providing long-term financial and advising support that addresses multiple barriers to college access and success may be the key to substantially improving completion rates for low-income, first-generation, and other underrepresented college students…Continued funding and research are both essential to supporting the improvement, sustainability, growth, and replication of Future Connect and similar programs across the country."
For the entire Education Northwest evaluation, view the full report, or read the evaluation summary.
About Education Northwest: Chartered in 1966 as Northwest Regional Educational Laboratory, Education Northwest now conducts nearly 200 projects annually, working with schools, districts, and communities across the country on comprehensive, research-based solutions to the challenges they face. Its wide-ranging projects are making an impact in areas such as school improvement, community building, literacy, equity, and research and primarily work in the five Northwest states of Alaska, Idaho, Montana, Oregon, and Washington.