This content was published: December 4, 2017. Phone numbers, email addresses, and other information may have changed.
Every term, instructors, staff and students gather to discuss timely, pertinent issues
Photos and Story by James Hill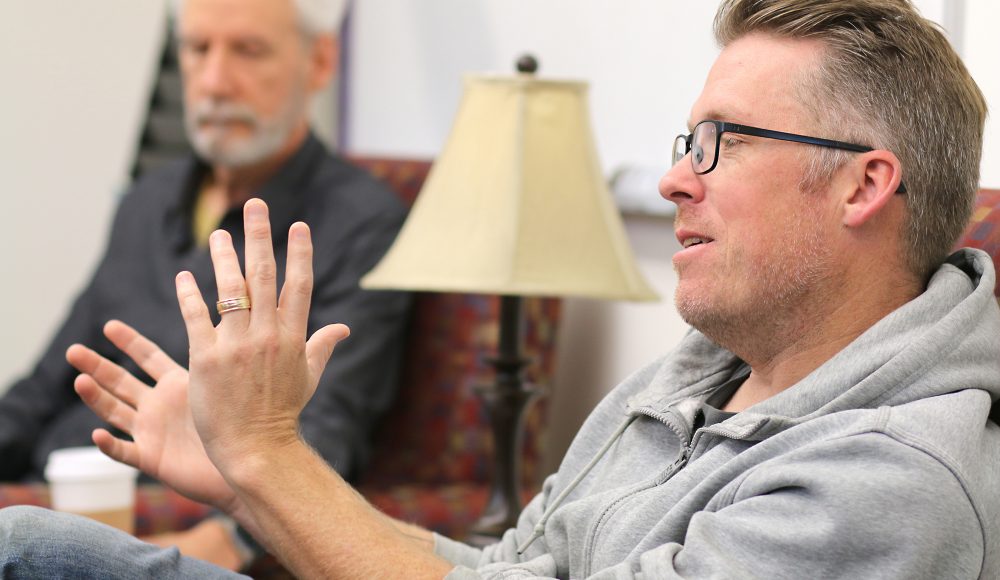 The discussion began with Colin Kaepernick of the National Football League, and what ensued was a spirited discussion about patriotism in America.
On a dreary and cold fall day, a modest gathering of Portland Community College staff and faculty sat in a circle within the comfortable confines of the Sylvania Campus Teaching Learning Center. The focus of the conversation was "Patriotism and Protest," where attendees evaluated the associated philosophical and practical issues. Despite differences of opinion — and the potential for conflict given the topic — there was no shouting, aggressiveness, petty insults or mock gesturing. People shared their thoughts, listened, and learned in a respectful manner, exploring a national issue that has been everything but these things.
The group explored a myriad of questions:
What does patriotism look like and who decides?

Do we have a duty to be patriotic?

Are certain types of protest unpatriotic?

When does patriotism become a destructive idea?
"While Colin Kaepernick galvanized the conversation, this is something that has been stretching back in history with athletes since as far as I can remember — this idea that if you protest during some sort of athletic event, it's somehow out of place," said John Farnum, philosophy instructor.
The Center for Civic Participation at PCC (CCP@PCC) regularly presents conversations dedicated to current topics of concern that affect the college and community. Its "Meaningful Conversations" is an informal, discussion-based format where facilitators strive to create a place for open and honest dialogues that challenge participants to think about and reflect on difficult topics. The effort is part of a broader movement to create alternatives to polarized, adversarial, and polemical conversations. The sessions are held every term; the date and time for the 2018 winter term is being scheduled.
"I'm always excited to have these conversations," Farnum continued. "For me, I want to learn something new from others who attend. The new information can change my mind in different ways."
The CCP@PCC is inspired by the work of the National Issues Forum model developed by the Kettering Foundation. The underlying philosophy is that people need to come together to deliberate and discuss common problems. With decision makers often far removed from the everyday person, participants believe that democracy requires ongoing, informed dialogue among citizens in order to be effective and successful.
Farnam added that all points of view need to be brought to the discussion table, but expressed within a structure that helps people listen and learn across their many differences. Leaders of this movement at the college include Farnum, Matt Stockton (philosophy instructor) and Neal Naigus (PCC community partnerships manager).
A similar approach could be applied to addressing differences embedded within the national conversation about whether what Kaepernick did on the football field in 2016 (kneeling for the anthem before his NFL games) was unpatriotic and has the response to it been appropriate. Currently, the ex-San Francisco quarterback hasn't found work with any NFL team, and some suspect it's because of his anthem protest.
During the "Meaningful Conversations" event about patriotism, computer science instructor Michael Trigoboff responded, "There is a saying, 'family, right or wrong,' which I totally subscribe to. Somebody in my family could do something really bad, but it's my family and I feel different toward my family than other people. It's more of a tribal, emotional thing than anything intellectual."
The discussion raced on but never got heated: Just a rational point-and-counterpoint roundtable between people. Something that is typical of CCP@PCC's "Meaningful Conversations" — and that seems scarce these days, in the greater community.
The Lowdown on CCP@PCC
The CCP@PCC is inspired by the work of the National Issues Forum model developed by the Kettering Foundation and is a forum where people come together to deliberate and discuss common problems. Format mirrors:
Focus on an issue such as health care, immigration, Social Security, or ethnic and racial tensions.
Led by trained, neutral moderators, and use an issue discussion guide that frames the issue by presenting the overall problem and then three or four broad approaches to the problem.
Participants work through the issue by considering each approach; examining what appeals to them or concerns them, and also what the costs, consequences, and trade-offs may be that would be incurred in following that approach.
Learn more about the National Issues Forums.