This content was published: April 24, 2017. Phone numbers, email addresses, and other information may have changed.
New speech lab makes public speaking easier for students and staff
Photos and Story by Janis Nichols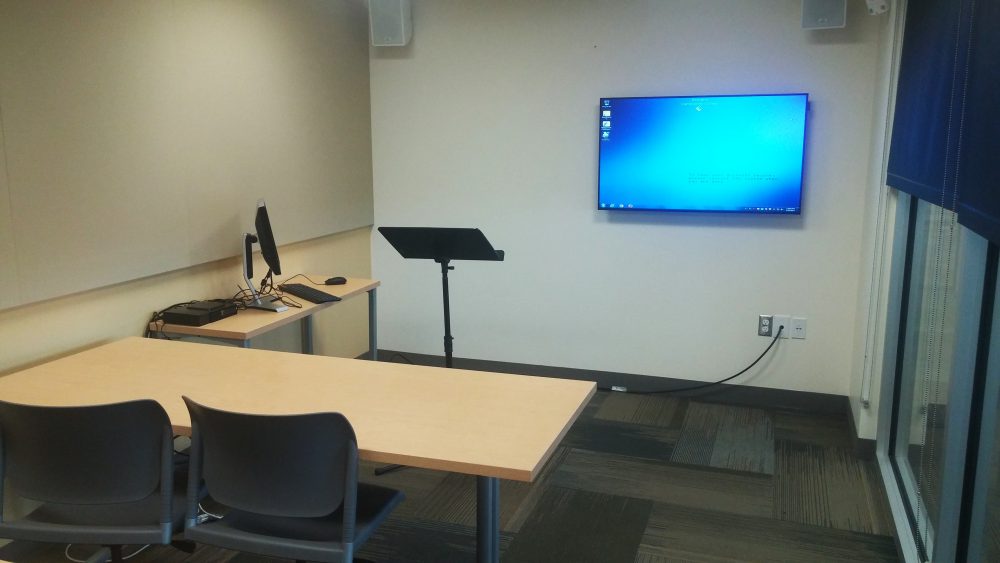 Students and faculty at Rock Creek no longer have to practice their presentations in front of their bathroom mirror. The new speech lab in the Student Learning Center in Building 7 provides a dedicated space for students and faculty to practice their presentations. The lab includes built-in equipment, allowing speakers to fully practice using audio/visual aids. There's even room for an audience of four to help people shake their fear of public speaking.
"This new resource connects students and faculty to success in the classroom," said Karin Gitchel, coordinator of the Student Learning Center. "The lab is an extension of whatever class or project the student is connected to. We have welcomed students and faculty from Speech, English, Communication, Vet Tech, English for Speakers of Other Languages, Business Administration, ASPCC and even a few people who will present at the Rock Creek TEDx event May 25."
Along with providing the equipment to help students practice with audio/visual aids, the room offers students the opportunity to record their speeches for self-critiques.
Gitchel also encourages all users to invite classmates to the practice sessions. "Friends are more likely to be supportive, but classmates who share a class or project will have a better understanding of what the assignment is about and will know if the presentation has met the intention."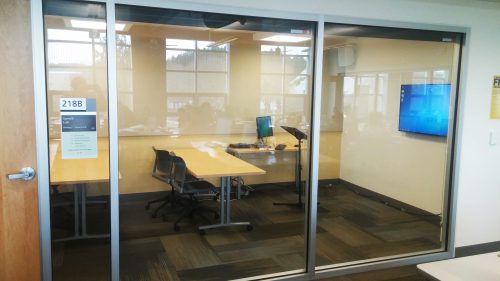 Chris Edwards, a PCC communications studies instructor, said the lab had been on a Subject Area Committee (SAC) list for years. "While other campuses are planning to open a lab, I believe Rock Creek now has the only speech lab in the district." The lab is open to all PCC students Monday through Thursday, from 8 a.m. to 5 p.m., and on Fridays from 8 a.m. to noon.
Students are encouraged to reserve the lab ahead of time at the front desk of the Rock Creek Student Learning Center, but if the space is free students can check it out in 30-minute blocks.
The lab stems from the collaboration of the Rock Creek Dean of Instruction; the Dean of Social Sciences, Communications and Health; the SLC; Information Technology; and Facilities Management Services.